Monty's Good Burger and Postmates Link for The Weeknd's After Hours Til Dawn Menu
Donations will be made to The Weeknd's XO Humanitarian Fund.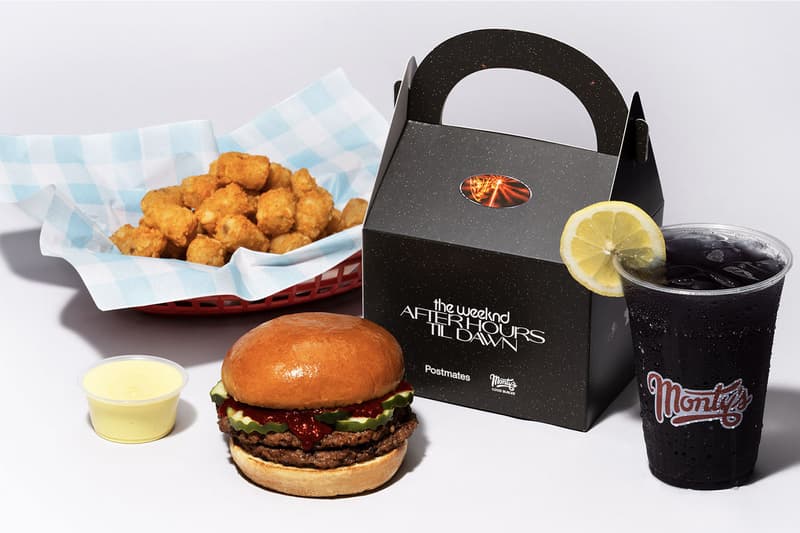 Monty's Good Burger has teamed up with Postmates for a special After Hours Til Dawn Menu with The Weeknd as he makes a tour stop in Los Angeles.
The one-time only meal is curated by The Weeknd himself and inspired by his ongoing tour, which kicked off earlier this July. A double Impossible burger with a limited-edition chipotle ketchup and pickles on a brioche bum make up a part of meal, aided by a side of tater tots with spicy habanero dipping sauce and a limited-edition lemonade with activated charcoal. The meal will be packaged in a limited-edition box exclusively available via Postmates, along with an After Hours shake whipped up with oat-based soft serve, white chocolate and cherries.
In addition to the meal, Postmates and Monty's Good Burger will be making a donation to The Weeknd's XO Humanitarian Fund, which is powered by United Nations World Food Programme (WFP) and administered by World Food Program USA. "For the XO Humanitarian Fund we thought it would be amazing to be able to donate money to people suffering from hunger through our work with World Food Program USA and have an After Hours late night meal from one of our favorite places in LA," the artist said in a statement.
The Monty's Good Burger x Postmates After Hours Til Dawn Menu launches September 1 at 11 am with a price of $27.99 USD, while the shake is priced at $9.99 USD. Monty's Good Burger at 8432 West Third Street in Los Angeles will remain open until 3am for pickup via Postmates in celebration, and those who visit the location will receive a free meal and the chance to win tickets to The Weeknd's show on September 3.
Elsewhere in food and beverage, Wingstop debuted 12 new chicken sandwiches.