You Can Now Read the Official Comedic 'Elden Ring' Manga for Free
"This cannot be the Tarnished we're after."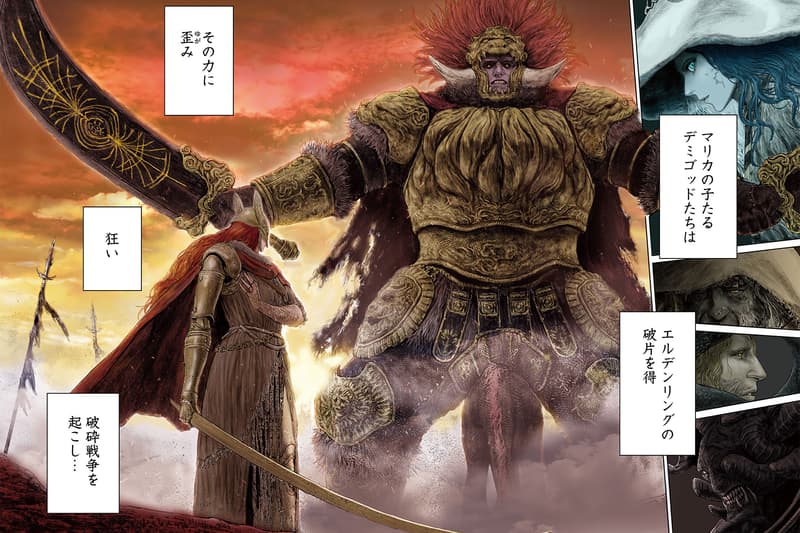 FromSoftware's acclaimed video game Elden Ring has just been turned into a comedic or gag manga. The genre usually takes the form of episodic chapters where specific jokes that only those familiar with the title will understand.
Serialized by KADOKAWA with art by Nikiichi Tobita, ELDEN RING: The Road to the Golden Tree is launched free on the online magazine for teens COMIC Hu where the first chapter was revealed on September 4. There are currently two chapters, with "Probably a Shrine Maiden" as the most recent release. Fans of the video game and the comedic style of manga can expect the third chapter to release on September 19. Head over to Comic Walker to read them for free.
The site has the manga described as:
Aseo, a poor, Tarnished wretch, finds himself cast out into Limgrave—naked, penniless, hopeless, and maidenless. His only hope in his harsh, unforgiving new home is a mysterious woman named Melina. She urges him to follow the guidance of grace to the Erdtree that looms over the Lands Between. But it won't be an easy road; a cast of colorful characters awaits Aseo along the way—Patches the Untethered, Blaidd the Half-Wolf, Margit the Fell Omen, Godrick the Grafted, and of course, Ranni the Witch…With little but a loincloth between Aseo and certain death, he strikes out for the first stop on his quest: Stormveil Castle. Will he make it there, or will his journey end before it even begins?
アクションRPG『ELDEN RING(#エルデンリング)』初のコミカライズはなんとギャグ漫画!無料WEB青年誌COMIC Hu @comic_hu にて連載開始!

現在2話まで公開中!
英語版の同時連載して
おりますのでご注目を!#ELDENRING #comic
English versionhttps://t.co/YWYLc3Zyye

— KADOKAWAさん@本の情報(旧:KADOKAWAの電子書籍情報) (@kadokawa_san) September 5, 2022
In other manga news, Yoshihiro Togashi announces that he is hiring staff for Hunter x Hunter.