The Great Louis Vuitton Battle
Martine Rose v Telfar Clemens v Grace Wales Bonner: who will take the crown?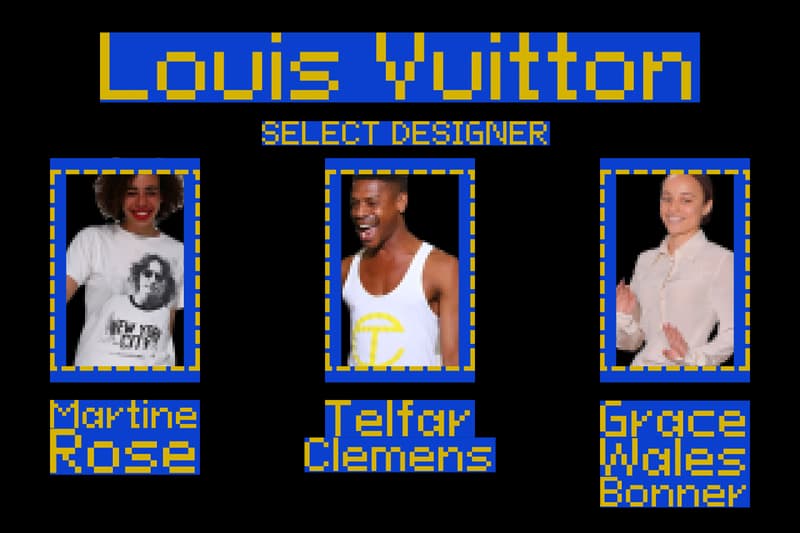 Louis Vuitton is a blockbuster luxury house, and it's looking for its next hitmaker. High-profile collaborations and celebrity-status Artistic Directors have seen it become a reshaper of the fashion scape (while also making a case for logomania). But there's more to LV than its red carpet status and mass appeal, and since its foundations in 1854, it has played home to a roster of visionaries that have taken the brand's foundations and translated them within contemporary realms.
Kim Jones' seven-year tenure birthed the high-low collaborative energy we find today with Louis Vuitton x Supreme, inspiring competitive labels including Gucci, Balenciaga, and Prada to work with more accessible names to reach new audiences. Likewise, Marc Jacobs (who was at the helm of womenswear from 1997 to 2013) ushered in collaborations with Takashi Murakami to create grail-status bags, and who could ever forget the impact of Virgil Abloh?
With no formal training, Abloh's humble beginnings of founding PYREX VISION, working with Kanye West and co., developing Off-White™, and becoming the Artistic Director of Louis Vuitton Men's shows what a visionary of great proportions he was. From recent team-ups with Nike on the Air Force 1 to working with NIGO on multiple capsules, there are almost too many moments to recall that evoked Abloh's daring spirit and shaped the house as we know it today.
Abloh's best moments have become the cornerstone of Louis Vuitton's contemporary identity. We know and love it for its leather accessories that break traditional boundaries as trunks became personal daily carries, but also for its more daring approach to menswear as it introduced skirts, structural (sometimes quite literally, à la LV FW21) and often whimsical or even comical undertones to clothing and accessories: need we remind you of the paint can bag, carrot charms or SS19's florals?
Louis Vuitton was the apogee of Abloh's creativity, demanding attention for not just his clothes, but for what his tenure meant. He was the first Black man to lead the brand, and one of the few at his level in the entire industry. Shows like FW21's "Ebonics / Snake Oil / The Black Box / Mirror, Mirror" pushed theatrical and sartorial boundaries with commentary on menswear traditions, Black culture and Black Lives Matter movements, COVID-19 and more.
With this in mind, the next person to take the reigns at Louis Vuitton has big shoes to fill. Rumors of who would become Abloh's successor have been circulating since late 2021 – Riccardo Tisci was up for debate and might be a contender seeing Burberry is reportedly looking at replacing him – while names like Kerby Jean-Raymond, Samuel Ross and Heron Preston have all been murmured by the glitterati.
But as we gear closer to Louis Vuitton's next fashion show, which is set to close Paris Fashion Week on October 4, rumors are now becoming more poignant as suggestions of Martine Rose, Telfar Clemens and Grace Wales Bonner emerge as potential candidates for Louis Vuitton Menswear's next Artistic Director. Ahead of the big reveal (because we must stress, the house is yet to confirm anything), Hypebeast makes a case for each of the contenders.
Martine Rose
The brand of Jamaican-British designer Martine Rose has humble beginnings, founding her eponymous label in 2007 as a small-batch shirting brand that went on to become a critically acclaimed label loved by Kanye, Rihanna, Drake, Bad Bunny, Hailey Bieber and many more. Her brand is subcultural and nuanced, researched and distinguished by its own aesthetic – one that depicts London as a melting pot of communities, influencing the direction of fashion in the British capital and around the world while also referencing and representing those that define her understanding and language of fashion design. It's this that draws parallels between her and Abloh, creatives that commented on the cultures around them and made clothes that spoke to these people. Rose's shows in Tottenham and Camden echo this mantra, while sneaker collaborations with Nike on the Shox MR4 dissect London-centric undertones while also proving her weight as a designer with partnerships in mind.
For SS23, Rose showcased a cosmopolitan collection that was displayed in a latex-clad room. At the time, she told Vogue Runway how she's inspired by different people; "it's always the people on the edges and in the corners and in the shadows that I want to hang out with." This fits well with the energy Abloh had injected into Louis Vuitton, as the latter had frequently referenced skateboarders, queer culture and the arts.
Rose is a seasoned designer and has since been awarded the ANDAM prize for emerging designers in 2017. She was shortlisted for the LVMH Prize, and in 2018 she was nominated for the British Fashion Council's Menswear British Designer of the Year.
Her work is at the top of the menswear ladder and sitting on the racks of the biggest retailers in the world while also adorning many a fashionista's wardrobe. If Louis Vuitton is her next step, it is sure to elevate her as a name for OG collectors while simultaneously welcoming a darker, sexier era of future LV collections. In short, Rose's innate understanding of making the everyday luxurious and vice versa serves as the perfect recipe for a heritage label saturated in classic undertones.
Telfar Clemens
Next up is Telfar Clemens, the accessories titan that has swept the globe off its feet through embossed leather goods. Going strong for over 15 years, the Liberian-American designer founded his eponymous label in 2005 and has since crafted a few classics of his own.
Most notable is the vegan leather Telfar Shopping Bag. Recognized as the "Bushwick Birkin," the NYC-based designer has set the handbag quota high through quality, status and versatility available to all. Over the past decade, Clemens has proven that he is at the top of his game, celebrating Black queerness in the process.
What to expect from the designer might be a bit unpredictable, but he sure would hit a home run in the accessories department. His understanding of making hit accessories is likely to be attractive to Louis Vuitton, with its roots in luggage and leather goods. While the house's accessories are unlikely to be as affordable as Clemens' own work, it could see a continuiation of the energetic and fun bags that have become a staple of Abloh's LV.
Clemens could deliver a slew of thrilling accessories paired with vibrant sportswear. His previous menswear collections have grown to embody an oversized aesthetic, often calling on draping techniques, utilitarian details and a bulk of branded graphics, which would fit well into the newer LV aeshtetic. While the late Abloh cemented his design philosophy in reimagined menswear silhouettes, Mr. Telfar could be set to deliver a new take through upgraded athleticwear that remains elegant yet communicates a deconstructed approach through paneled constructions, again, leaning well into that newer side of LV.
Grace Wales Bonner
Finally, we have Grace Wales Bonner. A true British fashion pioneer that brings together her European heritage with an African diasporic narrative.
Recognized for her approach to sportswear carved with a tailored edge, she delivers refined delicacy to an everyday staple wardrobe. As one of Britain's most impactful designers, Bonner is identified as a great in the menswear space. Since launching her namesake label in 2014, the designer has received an influx of awards, including the LVMH Young Designer Prize, the CFDA International Men's Designer of the Year award and was named a Member of the Order of the British Empire for her contribution to U.K. fashion.
The British-Jamaican menswear designer explores the development of Black agency through poetic collections that tell a story. Her culture is communicated without fail, lodged in every garment at all times. Examining the previous through luxury concepts, Bonner serves an eclectic attitude channeled into relaxed forms that exude elegance.
At Louis Vuitton, she could supply a whirlwind of creativity, and much like Abloh, introduce a fresh take to the house's design language. From soft suiting to enhanced casualwear, we could soon see handcrafted garments sit alongside leather outerwear and sleek overcoats, matched with patterned sets and vibrant detailing that resonate with her lifestyle experiences and cultural lineage.
With this, Bonner could be a good fit for the brand as her representation of menswear, infiltrated with an informed understanding of Black culture, harks back to the messaging that Abloh pioneered.