Will Louis Vuitton Honor Virgil Abloh's Legacy in Choosing His Successor?
The late designer hoped to be the first — but not the last — Black artistic director at the luxury house.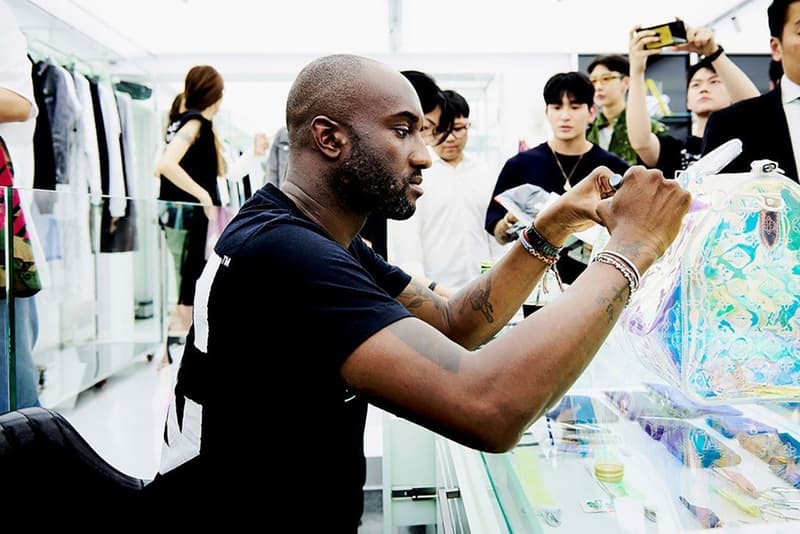 To even begin to consider who might fill the space left by Virgil Abloh at Louis Vuitton, after the designer's sudden death in late November, is an emotionally fraught task. At last week's posthumous showing of his final collection for the brand in Miami, discussions from some guests about a possible successor were swiftly hushed. It was, the consensus went, too soon.
In an interview with WWD shortly after Abloh's passing, Louis Vuitton's chairman and CEO Michael Burke confirmed that the brand's January collection had been largely completed by Abloh, and that his team "don't have to worry about June", stressing that there is no immediate urgency in announcing who could follow him.
But even as Abloh's friends and admirers mourn his loss, the fact remains that a new artistic director will, inevitably, need to be chosen for such a behemoth of a brand, which has significant lead times on the production of its collections. In the WWD interview, Burke seemed to acknowledge as much, noting that "the death of a designer is traumatic, but it's not the death of the brand. Not at Vuitton." He drew comparisons, too, to the void left at Fendi by the passing of Karl Lagerfeld, which was eventually filled by Kim Jones.
It's a fair comparison. Abloh's work for Vuitton wasn't just culturally impactful; it was widely considered to be commercially significant, too (although that's entirely anecdotal, as LVMH doesn't share sales figures for specific brands). Beyond that, it brought an entirely new generation of young male consumers into the Louis Vuitton's stores, and gave it a jolt of modernity, dynamism, and inclusivity.
Abloh's philosophy as a creator was built on the idea that he would open doors for Black creatives.
Following that act will be no mean feat. Certainly, there are a raft of high-profile and hotly-watched designers currently without a permanent creative director role: among them Daniel Lee, who left Bottega Veneta suddenly last month, and Kris van Assche, who has been largely off-radar since exiting Berluti earlier this year. Either of those would, in many ways, be unsurprising hires.
The brand may also look to Riccardo Tisci, whose relaunches of Burberry and Givenchy carried a similar fusion of sportswear and luxury to the work of Abloh. Haider Ackermann, who was brought into LVMH before for a too-short tenure at Berluti, could take Vuitton in a refined and purist direction. And Craig Green, who has yet to take on a creative directorship at any luxury house, has proven himself as one of the most significant emerging designers of his generation.
But Abloh's working ethos, and his philosophy as a creator, was built on the idea that he would open doors for more Black creatives, and prove to the fashion industry's sometimes antiquated mindset that people like him could flourish at a luxury house. As his team acknowledged in the announcement of his death, Abloh's driving principle was to encourage young people like him: "everything I do," he said, "is for the 17-year-old version of myself."
It would be a lost opportunity, then, if Louis Vuitton failed to consider the generation of brilliant Black designers that had grown around Abloh, and to honor him by looking to them for his successor.
There are a couple of immediately obvious candidates. Abloh's contemporary, friend, and global creative director of Reebok, Kerby Jean-Raymond, may be the likeliest, given the critical acclaim and commercial success of his collections. Jean-Raymond's work, thus far, has been more explicitly political than Abloh's, touching as it does on subjects including Black Lives Matter, police brutality, and the overlooked contributions of Black creators to American culture. For a house like Louis Vuitton, which typically tries to avoid such emotive discussions, he could be viewed as a riskier proposition than Abloh's relatively uncontroversial output.
But Jean-Raymond has consistently shown a poise and sophistication in his clothes — most spectacularly in his triumphant Spring/Summer 2020 show — which would be a smart fit for the grandeur of a house like Louis Vuitton. And his sense of occasion and showmanship would be elevated by the resources provided by such a role.
Shayne Oliver, the founder of Hood By Air, is also likely to be in consideration. While his subversive, sexually charged collections are far more extreme than those Abloh created, he has also proven himself to be a canny marketeer. His heavily-branded 'HBA' products gained significant commercial traction during the brand's peak, and his one-off SS18 collection for Helmut Lang was rapturously received.
Abloh's former proteges and collaborators, Samuel Ross and Heron Preston, are also likely to be in consideration, given the success of their respective brands, and the more commercial leanings of their aesthetics.
But industry murmurings point to a different pair of designers as front runners. Firstly, Telfar Clemens, whose eponymous brand is one of this decade's most extraordinary success stories. His signature 'Shopping' bag has become a rare thing: a true grail item that's almost impossible to get hold of before every release promptly sells out.
With no splashy budgets, few appearances at fashion weeks, and an initially slow reaction from the mainstream press, it's a remarkable achievement. And for a house like Louis Vuitton, for whom bags and leather goods are the most significant money makers, his track record is likely to be enormously appealing.
Secondly, the British designer Grace Wales Bonner, who has more quietly and studiously built her brand as a celebration of Black brilliance. When the women's luxury house Chloe announced Gabriela Hearst as its creative director last year, many took to social media to complain that Wales Bonner had been overlooked.
And while she hasn't yet produced bags — and certainly nothing with the wildfire success of Telfar's Shopping bag — she has a greater reputation in ready-to-wear than Clemens. Her 70s-leaning silhouettes and deft touch with embellishment would translate easily into the output of a house like Vuitton.
As Burke hinted, it's likely that Abloh's successor won't be named for some time: at the Miami show, it was his design team who emerged to take their bows. Hopefully, though, Louis Vuitton will take heed of his words.
With Abloh gone, there's only one Black creative director left in a major Paris menswear role — Olivier Rousteing at Balmain. There are none in Milan. And the talent, clearly, is available. Vuitton has always been defined by its absolute commitment to excellence. Hopefully it will continue its commitment to Black excellence, too.