Los Angeles Lakers Honor Its MPLS Blue and Gold Colorway for 75th Anniversary Jersey
Paying homage to the franchise's roots in Minneapolis.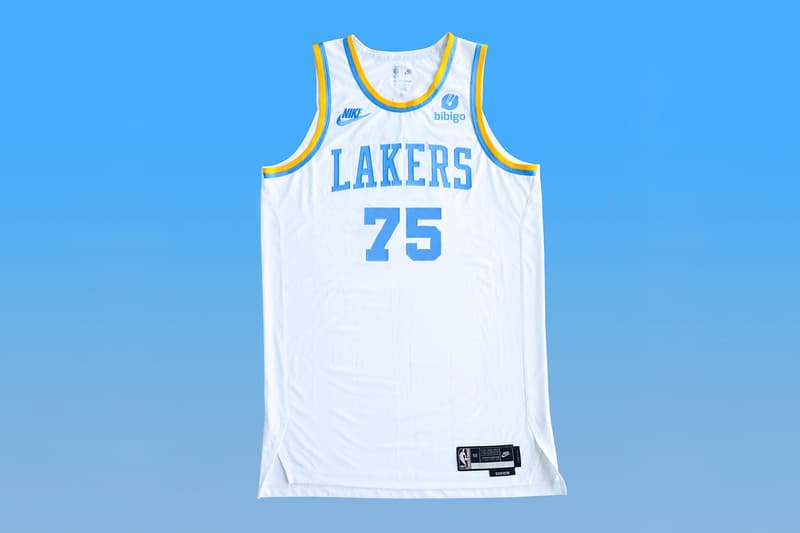 The Los Angeles Lakers is paying tribute to its humble beginnings in Minneapolis for its 75th anniversary jerseys.
The Classic Edition is dressed in shades of white, blue and gold, harking back to the '50s colorway used when they were still known as the Minneapolis Lakers. The uniform is billed as a recreation of "the Lakers' first-ever home uniform," with a white backdrop complemented by the light blue hues on the Lakers logo, jersey number and Nike and bibigo insignias. Hits of gold also land on the arm lining, creating a nice contrast to the jersey.
The franchise was formed in 1947 upon the purchase of the disbanded National Basketball League team, Detroit Gems. They began playing in Minneapolis and won the league's 1948 championship before moving over to the Basketball Association of America. The Lakers, led by George Mikan, won five of six championships, but began to financially struggle when Mikan retired in the late 1950s. They moved to Los Angeles prior to the '60-'61 season and have stayed there since.
Check out the Lakers' 75th anniversary jersey below.
Every legacy has a beginning.

Featuring the MPLS '50s era blue and gold, the Classic Edition recreates the Lakers' first-ever home uniform in honor of our 75th season.#Lakers75 x @bibigoUSA pic.twitter.com/2vepxr3DTV

— Los Angeles Lakers (@Lakers) August 8, 2022
— Los Angeles Lakers (@Lakers) August 8, 2022
Elsewhere in fashion, Loro Piana and Juventus are expending its collab to women's team and men's formal wear.