Jordan Brand Brings Bold Styles and Programming to WNBA All-Star Weekend
Taking place in Chicago, the basketball community celebrates women's contributions to the game.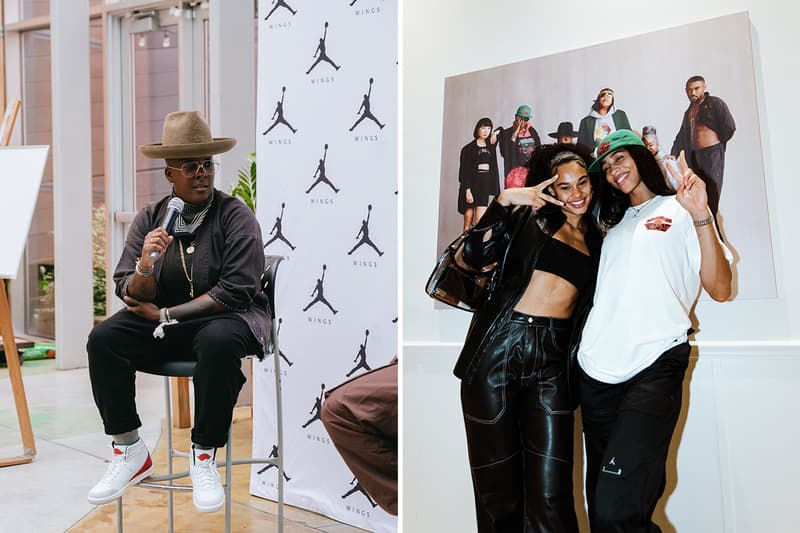 1 of 7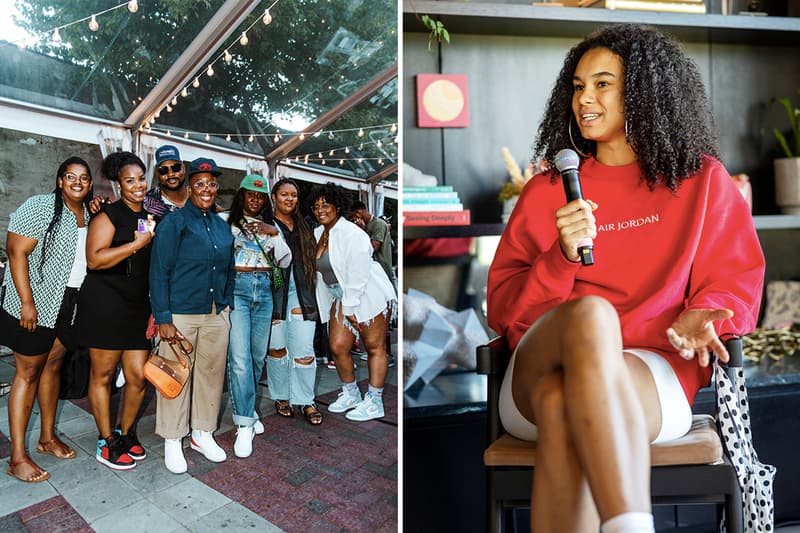 2 of 7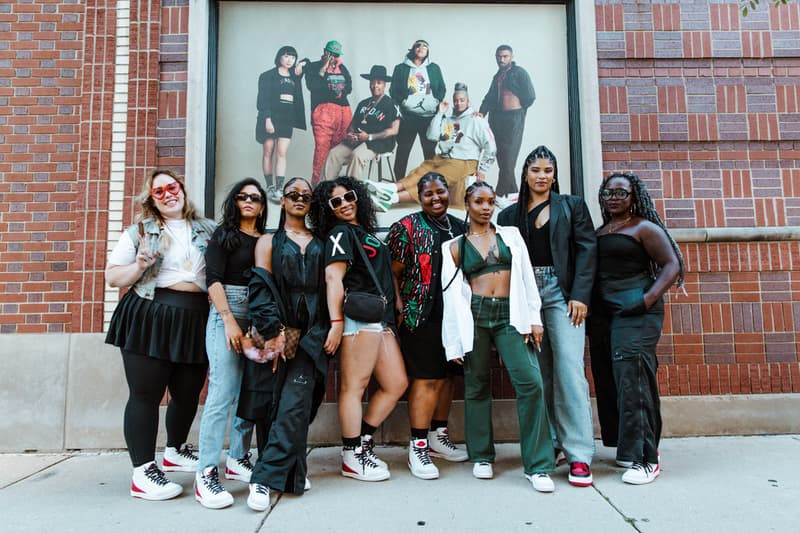 3 of 7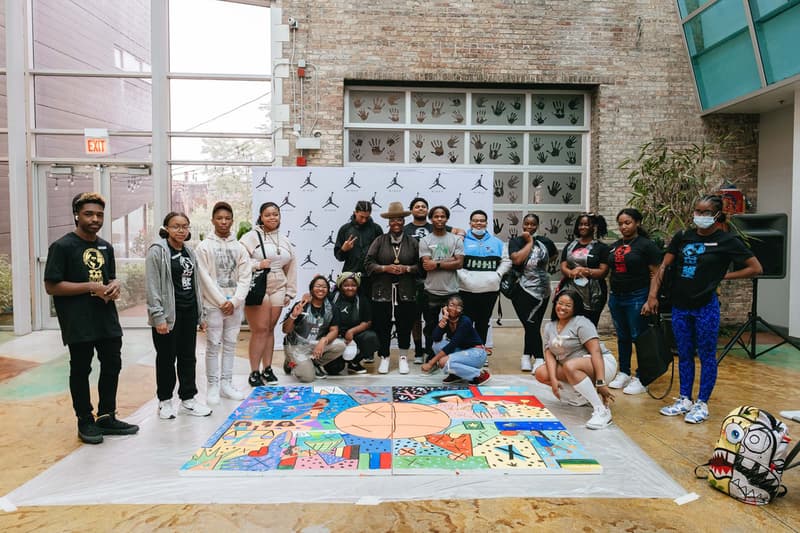 4 of 7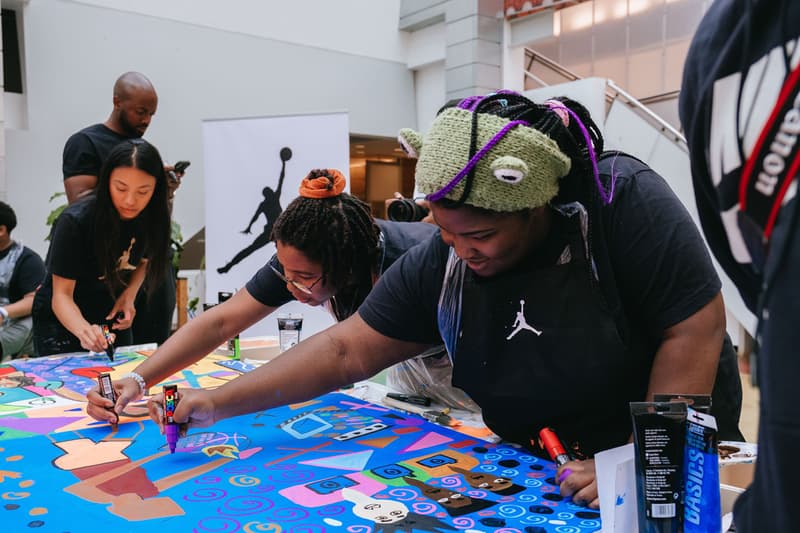 5 of 7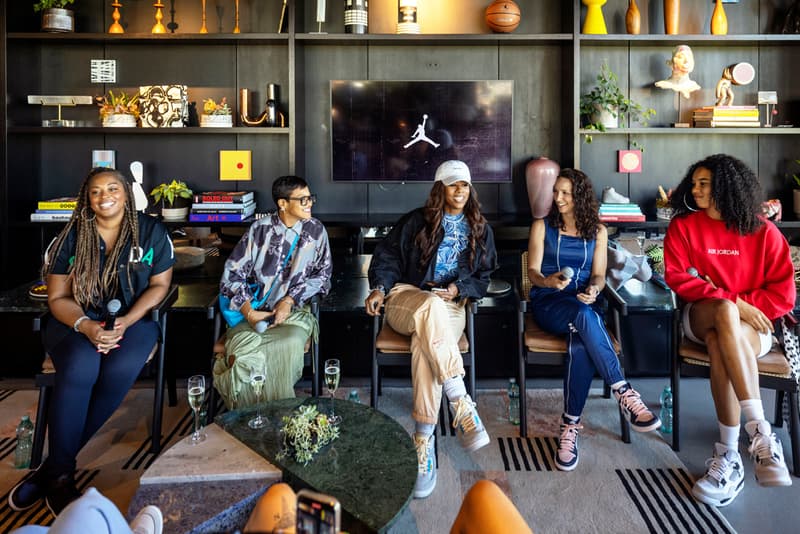 6 of 7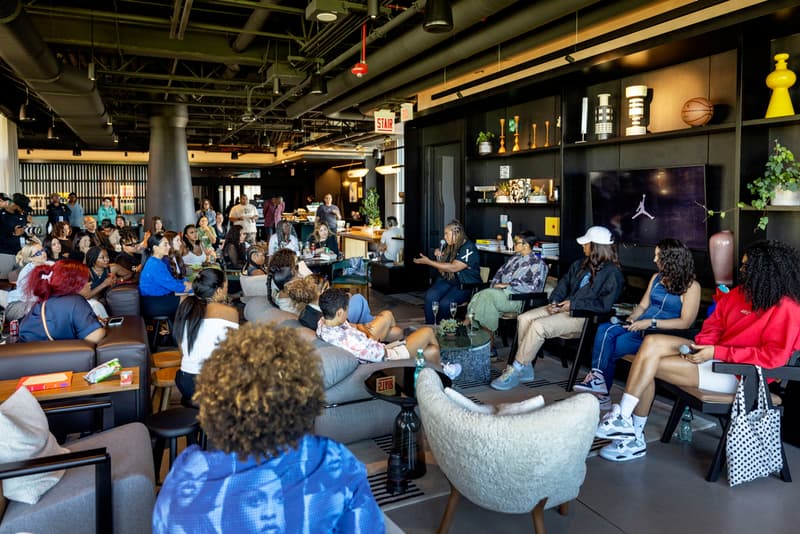 7 of 7
After a brief in-person hiatus, the WNBA All-Star Weekend returns with powerful programming for the league's ever-growing fanbase. Hosted in Chicago from July 7 to 9, the 2022 WNBA All-Star is an opportunity to celebrate these impressive athletes and amplify on-going efforts to increase intersectionality and empowerment within basketball. Providing a platform for these important conversations to take place, Jordan Brand led powerful programming to bring together creative communities, the 'In Forum' women's collective and its family of WNBA players.
Paying homage to basketball through fashion and art, Jordan Brand hosted a party at SVRN, a local boutique, to showcase its new collection with Nina Chanel Abney. The artist's guests mingled with WNBA players like Isabelle Harrison, Dearica Hamby and Arella Guirantes, who wore the Air Jordan 2 sneakers and apparel from the genderless collection. Although the collection's details portrayed milestones in Michael Jordan's career, the Jordan Brand x Nina Chanel collection is fueled by the motto that "In Chanel Abney's game, you don't have to be an athlete or an artist– everyone gets to play." To introduce these values to the next generation of basketball fans, Chanel also led a workshop and mural painting with Little Black Pearl, a Chicago-based, non-profit cultural art center.
The heavily photographed nature of WNBA All-Star creates a moment for players to wear their best outfits and rep the latest basketball releases. More than just an 'fit pic, these visual moments are a way for WNBA players to share their true personalities with a wider audience. "Fashion is an extension of our athletes brand and image. It is a way for them to showcase their personalities and own their identities," explains Jasmine Jordan, who heads Sports Marketing at Jordan Brand, "We want [our] athletes to feel supported, valued, and appreciated in every area that speaks to them and fashion is one of those areas."
Leading up to the All-Star Game, WNBA players participate in a buzzy Orange Carpet where they merge their personal styles with the league's formal dress code. While most players work with stylists, several Jordan Brand athletes were matched with independent designers in the Tunnel Walks initiative, which unveiled one-of-a-kind outfits that mixed Jordan athletic wear with bespoke garments. Known for their bold self-expression, Isabelle Harrison was paired with Kim Shui, who created a custom Kim Shui bolero and snakeskin skirt, and Arella Guirantes was paired with Vaquera, who created a superhero-inspired ivory lace cape and silver belt.
By matching the game-changing players with designers who are known for their risk-taking designs, Tunnels Walks adds a contemporary edge to the league's traditional programming. Michelle Walter, who works as the brand's Sr. Design Director of Women's Apparel, sees the Tunnel Walks project as a "cultural code-switch and turns the arena into a runway" while providing "a showcase for each athlete's individual style and how it relates to the brand and designer's ethos." While the final looks may have puzzled sports journalists, everyone notices the Jordan Brand sports bras, which points to the underlying message of the official alignment. Driven by the new energy of players in the league, the style of the WNBA is evolving and Jordan Brand is offering support in thought-provoking ways.
Throughout the weekend, the women of Jordan Brand's 'In Forum' collective captured programming that would be shared with their respective audiences. United by the goal of building communities, the 'In Forum' collective contributed from their own perspectives, interests and styles to the momentum around the WNBA All-Star Weekend at panel discussions and intimate discussions between its members. The presence of this dynamic group of women in Chicago strengthens the inclusive nature of the league and proves that anyone can be interested in the WNBA. Reflecting on the weekend's programming, Jasmine Jordan says, "Because the game of basketball has no gender, I believe all basketball fans should care about the WNBA because it continues to be the premier league that is pushing the envelope and setting the bar in ways that exceed the game."
As the conversation around basketball expands to include new intersections with style and empowerment, Jordan Brand will continue to support these communities through its upcoming summer programming. For more information about Jordan Brand and to shop its new collection with Nina Chanel, head to its website.