Defining Genres: How Director Stephen Fung Looks to Fuse Cinematic Storytelling With Web3
Incorporating his experiences with AMC's 'Into the Badlands' and Netflix's 'Wu Assassins'.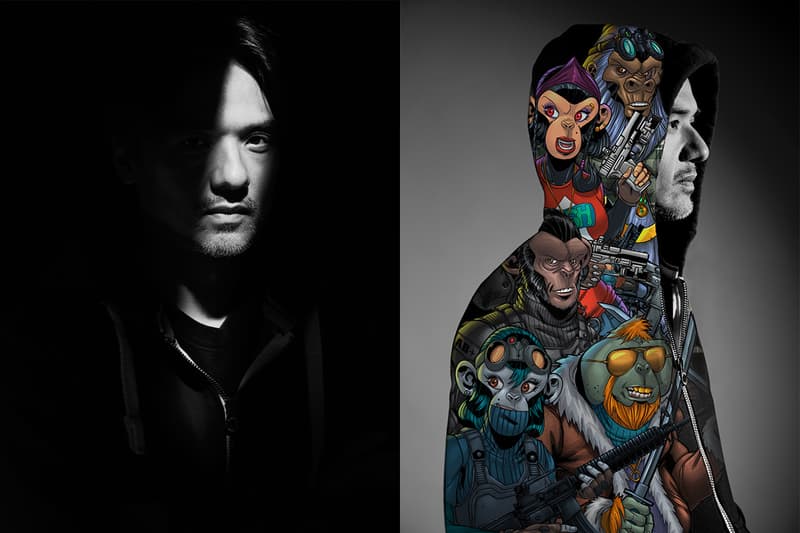 Stephen Fung is a man that's known for his work as a filmmaker. Those familiar with Asia's film scene, especially in the Hong Kong martial arts and police drama category would have heard the name – he's starred in over 40 films including such titles as Gen-X Cops, 2002, and House of Fury, to name a few. Moving off-camera, Fung's recent efforts have led him to see more of a directorial role, working on TV series like AMC's Into the Badlands and Netflix's Wu Assassins.
For his next ambitious project, Fung is continuing his role as director, but this time combining his love of cinematic storytelling and web3. Backed by the Everest Venture Group – the same entity invested in Dapper Labs, Animoca Brands, The Sandbox, and Yuga Labs – Fung has tapped into one of Media Asia's biggest IPs, Infernal Affairs, for the Departed Apes. 8,027 Departed Apes NFTs make up the web3 cinematic experience.
Joined at his studio along with his newly formed Grid6 Studios team, we sat down with Fung to discuss his transition from film to web3, what holders can expect from the project, and how Departed Apes looks to differ from the sea of upcoming NFT releases.
How did you even go from the entertainment industry to this?
I've always been sort of a tech geek, but it wasn't until 2019 that I really started exploring this whole new digital sphere. It started with cryptocurrencies in 2019. My first experience wasn't even good. I bought a cold wallet off Amazon – not the official vendor. Fortunately, BTC wasn't priced what it is now, and all I remember is the BTC was stored on it, and then when I went to plug it back in, it was gone.
Through my partnership with The Sandbox, I began to dive into different NFT projects. Revealing an NFT reminds me of opening a new toy on Christmas. The reveal is so much fun. I started thinking, "Wait hang on… I may be able to do this, I'm in the business of conveying emotions and I have a background in graphic design."
There are so many NFTs based on apes now. Was it a conscious effort to base yours around the primate?
There is a heavy focus on weaponry in the Departed Apes, and we wanted this project to have the art direction of classic American comics, like the ones I used to read as a teen. It just so happens that in our case, being set in a spin off universe of the Infernal Affairs trilogy, it makes more sense for an ape to be holding a gun than something like a penguin.
So what sets Departed Apes apart from all the others?
The first question I asked myself was "How can I create something different and fresh?" I had to go back to my roots as a filmmaker. No matter what story you want to tell, it is always about evoking emotions. In a nutshell, we have to do the things we love, and it just so happens the thing I love hasn't really been incorporated into the NFT space. With that, I decided to embark on this journey to create an NFT collection that enables owners to be immersed in a new kind of cinema experience.
Just like good characters in films, our NFTs evolve, they don't remain static. More on this will be revealed later on. Our approach is innovative, and at the same time, we recognize it is also looked at as an investment by many. Think of us as a startup. We've put together the right team to make sure this thing has a future with the community playing a large role in it.
Our Community is essential to us, whether you are an aspiring director, producer, writer, actor, critic or just a simple movie lover, we have something for you. How do we do that? Well, we will begin by holding AMAs with accomplished guest speakers from all over the world who's willing to share their experiences.
In the near future, we will hold a Writers' room within our community so they can be part of the journey to develop one of our key milestones. A Departed Apes animation feature.
We are a project that stems from the web3 space but will have end products that are tangible in the real world and for the mass. You will enjoy and participate in the full process of movie making, from start to finish. We will of course be casting from our future NFT holder's DEApes to star in the movie.
Could you reveal some of the members of your team?
I've teamed up with two top-notch companies in Asia, each with rich experience and successful track records in their own fields. Media Asia Films (Infernal Affairs, The Departed) and EVG, a leading web3 investment company and blockchain technology. Together we formed Grid6 Studios. Departed Apes is our first endeavor, and we will work hard to give something of quality to our community. We've also hired Marvel Cover Artist Logan Lubera as lead artist, to bring our apes to life. Those interested can find the company info for each of our partners over at Grid6 Studios.
What has the experience been like in developing your own NFT? How does it differ from creating a film?
It's hard to compare because NFTs is such a new medium. The system of making movies has been around for decades, it's a fully oiled machine whereas NFT projects are still at an infancy stage. The good thing is there's plenty of room for experiments because there are hardly any stats to analyse from. Hence no sure win formula, fair game. Regarding Departed Apes, we are in no hurry to mint. Timing is everything and we will keep building our community first. One of my favourite lines from the movie Field of Dreams. " If you build it, they will come."