Gunna and Young Thug Denied Bond In RICO Case
The Atlanta rappers face severe charges alongside 26 other YSL Records associates.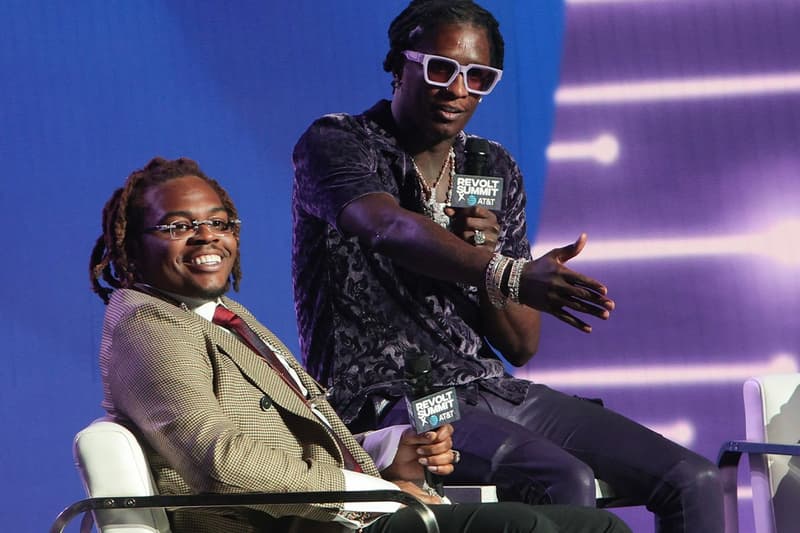 Gunna and Young Thug reportedly had their bond request denied on Wednesday. Both rappers are among the 28 Young Stoner Life Records associated indicted for violating the Racketeer Influenced and Corrupt Organization (RICO) Act.
Sergio Kitchens, better known as Gunna, turned himself in earlier this week and is indicted with criminal street gang activity, possession with intent to distribute methamphetamine, hydrocodone, and marijuana and theft by receiving stolen property. Meanwhile, Jeffery Lamar Williams, known as Young Thug, was arrested at his home on Monday and is facing charges of Possession of Marijuana with Intent to Distribute; Possession Of Sawed-Off Shotgun, Sawed-Off Rifle, Machine Gun, dangerous Weapon, Or Silencer; and three separate charges of Unlawful For Person Employed By/Associated With Criminal Street Gang To Conduct/Participate In Criminal Activity, along with facing seven additional felony charges on drugs and weapons possession after they were found in his home by police during a raid.
The Atlanta rappers are currently awaiting trial. Stay tuned for more news.
In other music news, take a listen to Kendrick Lamar's Mr. Morale & the Big Steppers here.