Tokyo's Iconic Nakagin Capsule Tower to Be Demolished
A handful of capsules will be unplugged and preserved in museums.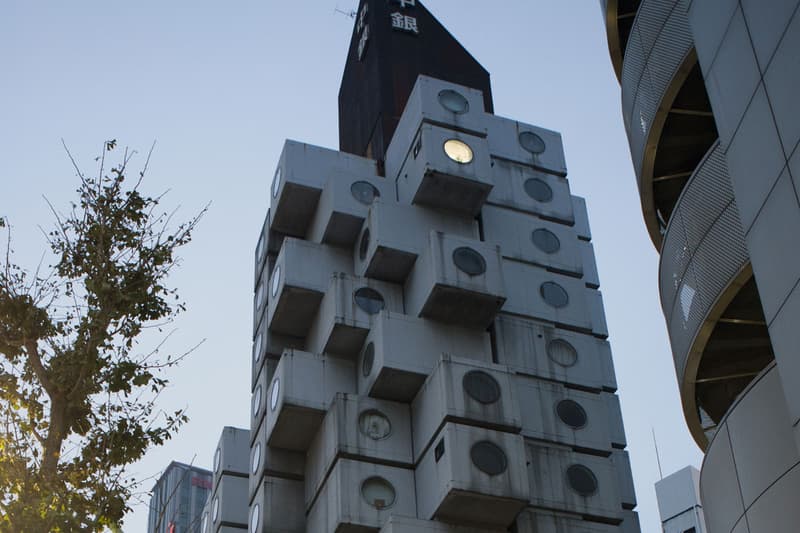 Located in Tokyo, Japan, Kisho Kurokawa's iconic Nakagin Capsule Tower is one of the last remaining examples of  "Metabolism," a movement that emerged in post-war Japan that fused modern architectural ideas with those of organic biological growth.
The Nakagin Capsule Tower once represented a radical forward-thinking concept for urban living, consisting of modular 108-square-foot capsules with large porthole-style windows and built-in appliances. Established in 1972, the building incorporates 140 independent capsules total across two connected 11-floor and 13-floor towers.
While capsules were originally designed to be unplugged and replaced every 25 years, renovations never took place and the building gradually became outdated. Tenants slowly began vacating and the building later became primarily used for storage, office spaces, and short-term stays for architecture enthusiasts. Despite efforts to preserve the building through fundraising, city intervention, and protection from UNESCO, attempts were ultimately unsuccessful, and the building is set to be demolished on April 12.
Tatsuyuki Maeda, a member of the Nakagin Capsule Tower Building Preservation and Regeneration Project spoke to CNN regarding the demolition explaining: "Japan does not have the legislation to preserve this kind of architectural culture. It is unfortunate that one of the country's most representative examples of modern architectural heritage will be lost."
While the building as a whole will be taken down, the preservation project currently has dozens of inquiries from museums such as Centre Pompidou in Paris to obtain the individual capsules for exhibition. Kurokawa's architecture firm is also looking to preserve the building in the form of a digital space.
"There is no doubt that the building was famous, but the Capsule Tower also had a certain charm that appealed to people," Maeda continued. "Everyone who stayed there was creative in his or her own way, and the community that formed was truly fascinating. I am sad to see it go, but I hope it will live on in a new form."
What a shame to hear that Kisho Kurokawa's Nakagin Capsule Tower will be demolished starting in April. Here are some photographs I made in 2014 and 2018. (h/t @MASContext) pic.twitter.com/oJKpze1hzo

— David Schalliol (@metroblossom) March 30, 2022
Elsewhere in design, Eames Institute of Infinite Curiosity looks to inspire the future generation of problem-solvers.