Marcus Smart Named 2022 NBA Defensive Player of the Year
The first guard to win the award in 26 years.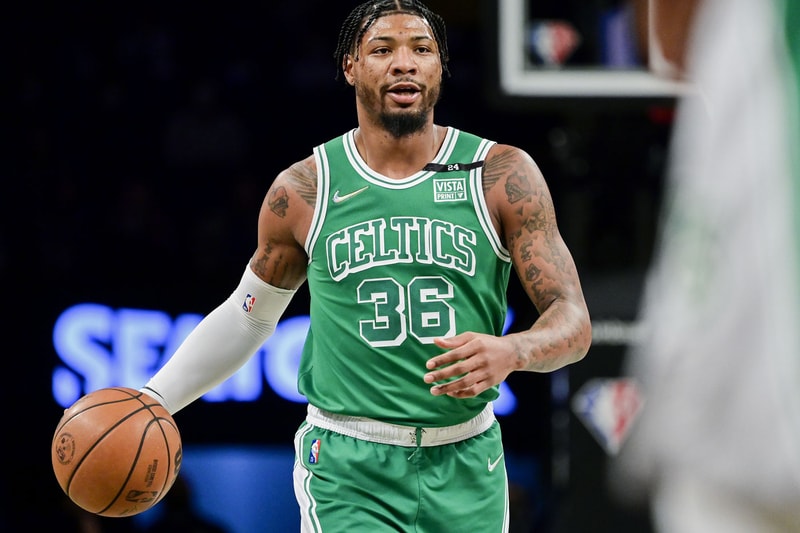 Boston Celtics' Marcus Smart has been named the 2022 NBA Defensive Player of the Year, becoming the first guard in 26 years to receive the honor. The last perimeter player to take home the award was Gary Payton in the 1995-1996 season. Smart received the most first-place votes by far at 37, with 18 second-place votes, and 18 third-place votes. His final points tally of 257 put him ahead of Phoenix Suns forward Mikal Bridges (202 points), Utah Jazz center Rudy Gobert (136 points), and Miami Heat center/power forward Bam Adebayo (128 points).
Smart becomes the second point guard and eighth Celtics player to be nominated for the award, joining Kevin Garnett who was nominated in his 2007-2008 season. His seasonal highlights include leading the Celtics to the top defensive rating in the league (106.2) with the least points allowed per game (104.5), and a personal record of seventh in the NBA in steals per game and first in loose balls recovered (1.1).
The full voting results and reactions can be found below.
Marcus Smart is the first guard to be named NBA Defensive Player of the Year since Gary Payton in the 1995-96 season. Smart is also the second player to win the award with the @celtics, joining Kevin Garnett (2007-08).

More ➡️ https://t.co/Y4VQicGkiq

Full voting results ⬇️ pic.twitter.com/9WX2L25o4M

— NBA Communications (@NBAPR) April 18, 2022
Really blown away tbh
Incredibly honored!
Just happy to be able to do get this award with our team and my brothers on the team.
This is for you mama! ❤️ I love you. pic.twitter.com/3xmhMluois

— marcus smart (@smart_MS3) April 19, 2022
A special moment today celebrating the heart and soul of our team, @smart_MS3 ☘️ pic.twitter.com/OPcgYbMmxt

— Boston Celtics (@celtics) April 18, 2022
Elsewhere in the NBA, Giannis Antetokounmpo, Joel Embiid and Nikola Jokic are the NBA 2021-22 MVP finalists.