Giannis Antetokounmpo, Joel Embiid and Nikola Jokic Are the NBA 2021-22 MVP Finalists
The league also reveals the full list of 2022 award finalists.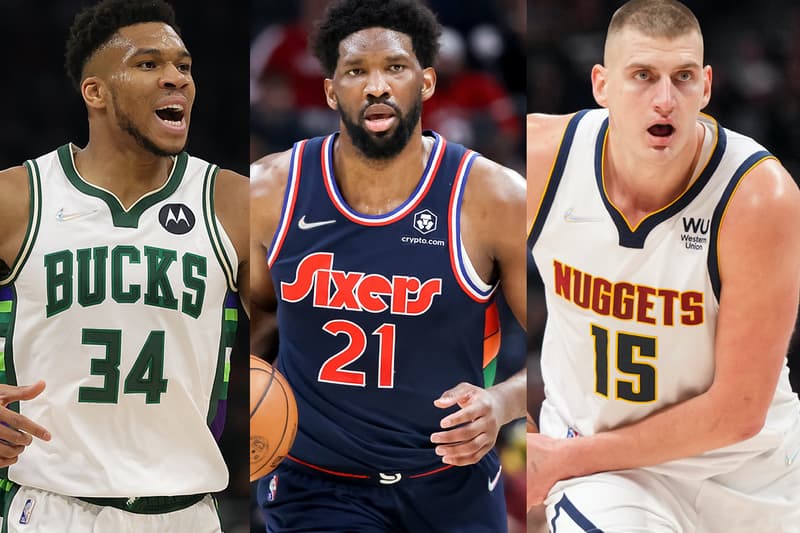 The NBA has revealed its official top three finalists for each of its six major individual awards for the 2021-22 season.
The list confirmed the rumored three-man race for the MVP title between Milwaukee Bucks' Giannis Antetokounmpo, Philadelphia 76ers' Joel Embiid and Denver Nuggets Nikola Jokic. Last year, the Joker came away with the MVP title, however, many are considering a tight race with the exceptional success of all three players. Just recently, Embiid clinched this season's NBA scoring title, making him the first center since Shaq to win.
The finalist for the Defensive Player of the Year award includes Mikal Bridges, Rudy Gobert and Marcu Smart. Last year, he remained the top choice for DPOY, winning the title in 2018, 2019 and 2021. Antetokounmpo won the title from Gobert in 2020. The NBA has listed Toronto Raptors' Scottie Barnes as a top contender for Rookie of the Year, alongside Cade Cunningham and Evan Mobley. For Most Improved, Ja Morant is a finalist amongst Darius Garland and Dejounte Murray. The NBA's Sixth Man of the Year finalists include Tyler Herro, Cameron Johnson and Kevin Love and Coach of the Year finalists feature Taylor Jenkins, Erik Spoelstra and Monty Williams.
Name our pick on who you think will take home these title awards.
In case you missed it, Drake recently dropped a $200K USD bet on the Warriors to win the 2022 NBA Western Conference title.
Poll
Who will win the NBA 2021-22 MVP award?
Joel Embiid
Nikola Jokic
Giannis Antetokounmpo