Gufram x Andy Warhol Reimagines Its Iconic CACTUS® Totem
Utilizing the Italian manufacturer's original 1972 mold.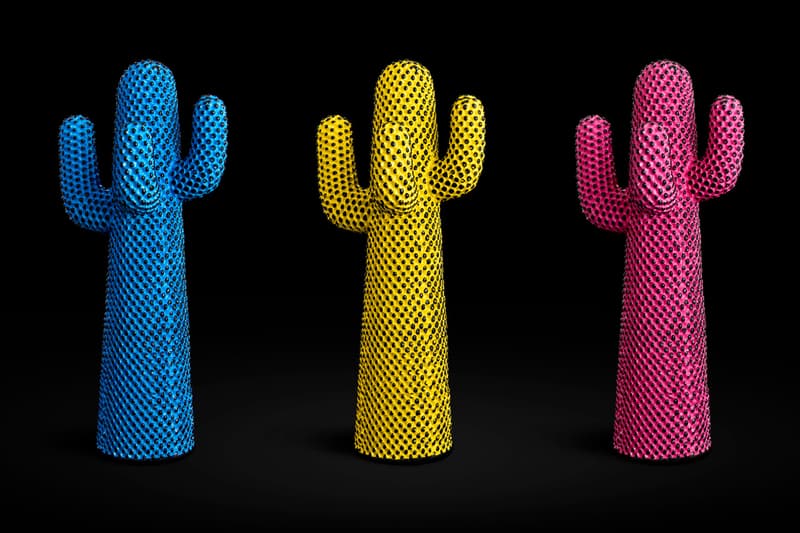 Italian design brand Gufram has debuted a collaboration with late pop artist Andy Warhol. Working with The Andy Warhol Foundation of Visual Arts, Gufram has created limited editions of its distinct CACTUS® sculpture in vibrant pink, yellow and blue shades.
Made using the original 1972 mold, the unique cacti are sculpted by artisans and painted with the company's own glue formula to give them a leather-like finish. For the new iteration of CACTUS®, presented on the 50th anniversary of the sculpture's debut, each colorway has received a 99-piece run.
The collaboration between Gufram and Andy Warhol feels so right that it's almost absurd that it has never happened before!," Charley Vezza, Global Creative Orchestrator of Gufram, said. "Finally the pop art genius encountered CACTUS®, the most pop design icon."
"We started off imagining how Warhol could have depicted the CACTUS® and then we created the 3D version by working with a trio of typically Warhol colors and highlighting their tips with black, just as in one of the artist's screenprints."
CACTUS® will be celebrated in an upcoming exhibition entitled "50 Years of Being a Cactus" at La Triennale di Milano. The show will take place during Milan Design Week, beginning on Friday, June 3, and wrapping up on Sunday, June 12.
In other design news, Funko paid homage to NBA legends in its latest drop.