Best New Tracks: Kehlani, Future, Justin Bieber x Don Toliver and More
10 music projects to dive into this weekend.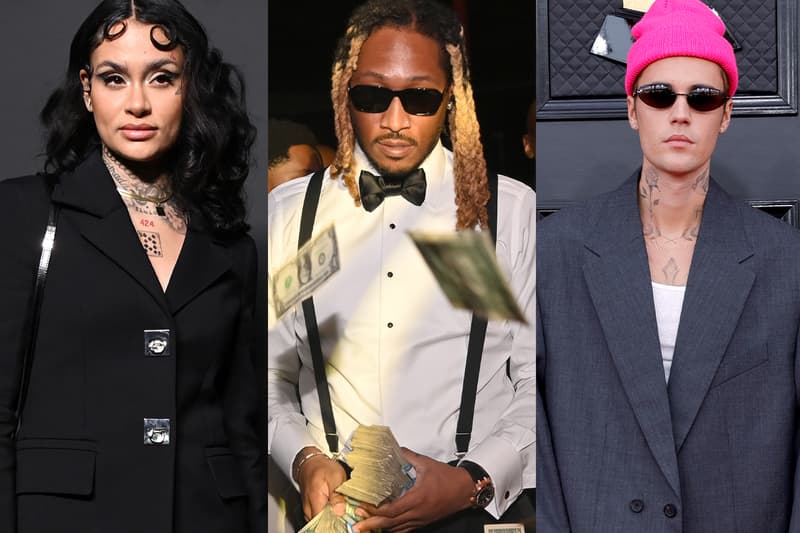 As the week in music comes to a close, HYPEBEAST has rounded up the best projects for the latest installment of Best New Tracks.
This week's list is led by releases from Future, Kehlani and Justin Bieber x Don Toliver, who released the albums I NEVER LIKED YOU and blue water road, and the collab "Honest." Also joining this week's selection are offerings from pgLang's Tanna Leone, GIVĒON, Sampa The Great x Denzel Curry, Toro y Moi, Ovrkast., Amaal x Syd and Yellow Days.
Future - I NEVER LIKED YOU
After two long years, Future returns with his ninth studio album I NEVER LIKED YOU. Enlisting the help of the likes of Ye, Drake, Young Thug, Gunna and more, he explained to GQ that he created this record in order to "showcase my skills as far as melodies and topics and being vulnerable." He continued, "I'm putting myself out there. Sharing my lifestyle with the world. Sharing my pain with the world. Sharing my ups, sharing my downs with the entire universe. I believe in the energy of the universe and manifestation."
Listen: Spotify | Apple Music
Kehlani - blue water road
Kehlani's blue water road project is a journey. The 13-track project hears her collaborate with the likes of Justin Bieber, Syd and Thundercat, who helped her bring her vision of transparency and vulnerability to life. "blue water road is a destination in my mind," she said in a statement. "I'm giving everyone access. It's an emotional journey, a sexual journey, and a spiritual journey. To me, the album is like a glass house. It's light, transparent, and the sun is shining right through it."
Listen: Spotify | Apple Music
Justin Bieber x Don Toliver – "Honest"
Shortly after dropping the teaser "I Feel Funny," Justin Bieber is back in business with "Honest," his first official single Justice's "Ghost." Featuring Don Toliver, the Canadian artist opened up to Apple Music 1's Ebro Darden about his genuine admiration for the Cactus Jack signee. "He's got such a unique, I mean, the best way to say it is his swag. I don't know if that word is dated, but… he just has this like little bop about him and he's very unique, he's very Houston," he said. "Shout out to Houston. We're going to be in Houston on Friday I believe. And so, yeah, I just love his melodies these are honestly insane. He has a really amazing cadence to his songs and his music. And I'm just a genuine fan. He's very unique. And he just is himself. And that's what I love about any artist that can just has a lane and does what they do and does it well."
Listen: Spotify | Apple Music
Tanna Leone - Sleepy Soldier
Rising star and New Gen: Spring 2022 honoree Tanna Leone delivers his debut project Sleepy Soldier via Kendrick Lamar and Dave Free's pgLang. The Los Angeles-based artist dives into his inner struggles and the concept of human connection, utilizing his unique melodies and introspective lyrics to bring his thoughts out creatively. Sleepy Soldier arrives after the single "Picasso," which he explained came from a more negative state of mind. "I was in a darker, angrier place in my life and I needed to send a message to everyone listening," Leone said of the track. "Being tired of where I was; I needed to express my frustrations while speaking my truth."
Listen: Spotify | Apple Music
GIVĒON - "Lie Again"
GIVĒON is prepping for the release of his upcoming debut studio album with its second single, "Lie Again." The soulful ballad features production from Don Mills and is described by the Long Beach singer as "a story about the internal war with oneself, battling the acceptance of the ugly-truth, and the refusal to embrace the ghosts of your lover's past." He adds, "Detailing the complexities of overlooking red flags to remain blissfully ignorant in the name of love."
Listen: Spotify | Apple Music
Sampa The Great x Denzel Curry – "Lane"
Sampa The Great joins forces with Denzel Curry for her latest single "Lane," an anthem reminding listeners that she's not a one-trick pony. "Like my identity isn't set on one thing, you know? And so, the idea of Lane came about, because as a hip hop artist, I don't just do hip hop. It's hip hop, it's R&B, it's reggae, it's Kalindula, it's home music, you know?" she told Apple Music 1's Zane Lowe. "And it should never be one thing. It should never be boxed in one thing. And so that's what Lane is about, is breaking all those boxes, creating new lanes for anyone who's like you, who doesn't just fit in one box, and making noise while you do it."
Listen: Spotify | Apple Music
Toro y Moi - MAHAL
Chaz Bear/Toro y Moi takes inspiration from '60s-'70s rock and '90s post-rock music for his seventh studio album MAHAL. "I wanted to make a record that featured more musicians on it than any other record of mine," Bear explains in a statement. "To have them live on that record feels grounded, bringing a communal perspective to the table." As a result, 'MAHAL' is lush and surprising at every turn, from the cool-handed "The Loop", which recalls Sly and the Family Stones, to the elastic psych rock of "Foreplay" and the dizzying Mulatu Astatke-recalling of "Last Year".
Listen: Spotify | Apple Music
Yellow Days - Slow Dance & Romance
Yellow Days finally drops off his first solo project in two years, Slow Dance & Romance. His first EP of 2022, the five-track offering hears him further explore his soul, jazz and funk inspirations, giving listeners an exciting preview of what else he's ready to share this year.
Listen: Spotify | Apple Music
Ovrkast. – "Gol' Chane"
Ovrkast., another one of HYPEBEAST's New Gen: Spring 2022 honorees, releases his first solo single of 2022, "Gol' Chane." The two-minute track is short but sweet, and hears him explore the dubious mid-20s space of making your own money, maintaining loving relationships with family and friends and how materialism changes a person's perspective.
Listen: Spotify | Apple Music
Amaal x Syd – "Lullaby"
Amaal revisits her 2021 EP Milly with "Lullaby," the project's loving "extension single" featuring a guest appearance from Syd. The rising R&B songstress shares, "This song depicts a very innocent, pure type of love. We're not hiding any emotions or letting insecurities get in the way. Syd and I are singing from our own perspectives about the feelings that are raw and real to both of us," She adds, "Syd has such genuine energy and wants to see women win. Working with her on 'Lullaby' was an absolute pleasure."
Listen: Spotify | Apple Music