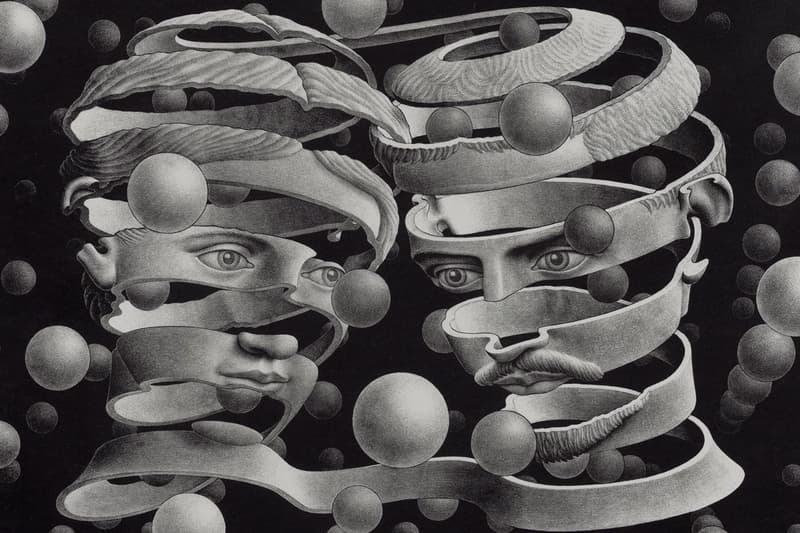 M.C. Escher Gets the Recognition He Deserves in New Retrospective Exhibition
On view at The Museum of Fine Arts, Houston until September 5.
---
Despite his artistic ability and global appeal, M.C. Escher rarely got the shine he deserved at major art institutions. The Museum of Fine Arts, Houston (MFAH) seeks to change that through a new retrospective exhibition on the late-Dutch master. "Virtual Realities: the Art of M.C. Escher from the Michael S. Sachs Collection" showcases an extensive collection of rarely seen work, including 200 prints, 100 drawings and interactive auxiliary rooms.
Escher first gained recognition in the 1950s for his self-proclaimed "mental images" that predominantly depicted various black and white scenes that mathematically blended with one another. His work would go on to feature in Time and Life magazine, and garnered a cult following amongst the psychedelic movement of the 1960s and Rolling Stones frontman, Mick Jagger.
Sachs has been an Escher collector since the 1970s, having acquired 90 percent of the artist's estate in 1980. Although he's sold half of the collection since then, Sachs, a one-time clinical psychologist, sought to celebrate the long-overlooked artist to commemorate 50 years since his passing this month.
"Virtual Realities" is on view at MFAH until September 5, 2022.
Elsewhere in art, Austin Lee tells it "Like It Is" at Jeffrey Deitch.
Museum of Fine Arts, Houston
1001 Bissonnet St,
Houston, TX 77005