Spotify Launches Hands-Free Music Smart Player 'Car Thing'
Designed for seamless streaming on the road.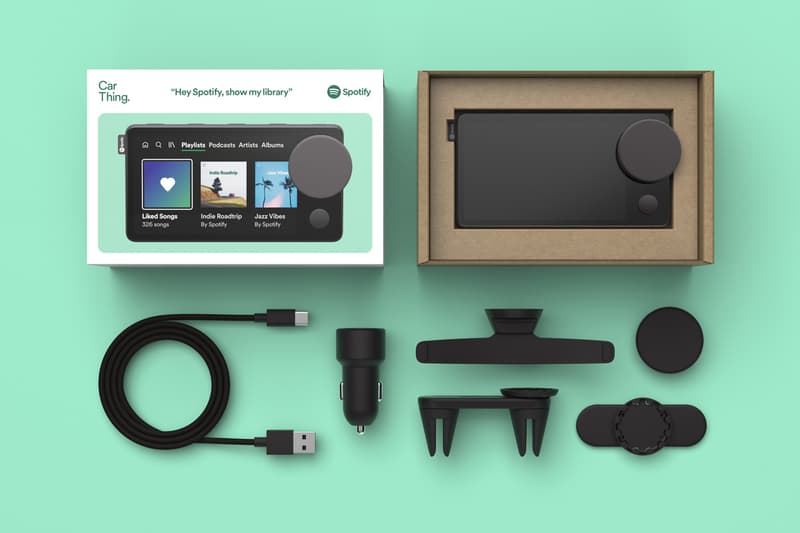 Spotify first debuted its accessible automotive music player, Car Thing, to a limited number of Premium users last October and was reported to have amassed a waitlist of more than two million people. Now, the streaming platform has rolled out the device, which is its first piece of hardware, to the public.
Car Thing provides a way for users to listen to Spotify on the road without looking down at their phones. Attached to the dashboard and connected to power via a 12 V power adapter, the device connects to phones through Bluetooth and to car stereos with an external cable such as a USB or AUX cord.
Listeners can direct the advice with "Hey Spotify" voice commands, followed by their request. Car Thing also has a rotary knob to swipe through song collections and a 4-inch touchscreen.
Additional buttons at the top of the device offer the option to queue preset playlists, podcasts or programs, as well as to pull up the settings menu.
Spotify said that in its exploration phase of Car Thing, it learned that users were listening to Spotify in the car more than they had before. The streamer received feedback on the features users want, such as a dimmed Night Mode and an "Add to Queue" command, both of which it's working on incorporating into the device in a future update.
Car Thing is now available to purchase for $89.99 USD on Spotify's website. The device requires a Spotify Premium subscription plan and a phone with a mobile data connection.
In other tech news, Sony launched its Aibo robot dog in a limited Black Sesame edition.