Spotify Launches First Streaming Device Called 'Car Thing'
It is being offered at no-cost except shipping to select U.S. customers.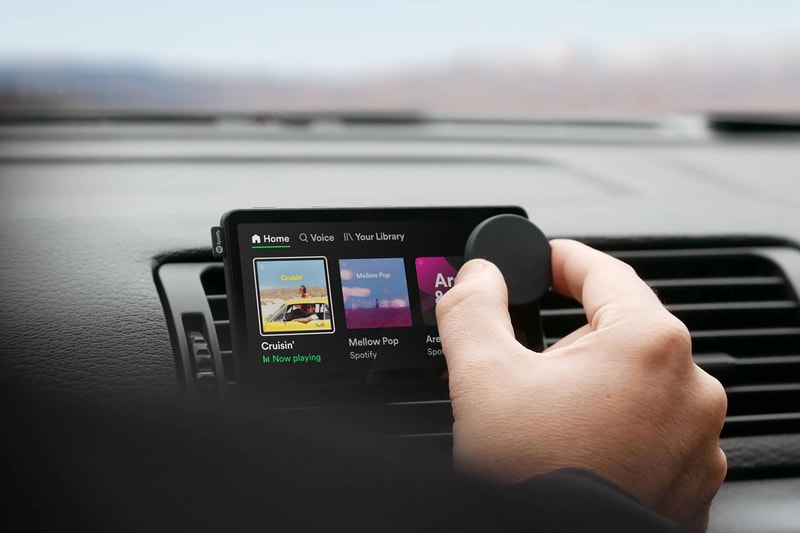 Spotify has launched its first smart player called "Car Thing," which hooks right onto your car's air conditioning vent and enables hands-free audio listening.
Spotify says that the Car Thing is "its own thing," designed to shift usage away from cell phones for music, news and podcast streaming. "Car Thing has one job and does it awesomely," the company says on its website introducing the new gadget.
The device requires users to have a paid Spotify premium membership and a smartphone with WiFi or mobile data capabilities. The device uses voice recognition — users can say "Hey Spotify" to enable commands — and features a dial so users can play, select and browse through Spotify's offerings.
The company said it was inspired to create the audio hardware because many people listen to Spotify while driving. The company stressed that the device was not meant to compete with existing in-car infotainment systems.
"Our focus remains on becoming the world's number one audio platform—not on creating hardware—but we developed Car Thing because we saw a need from our users, many of whom were missing out on a seamless and personalized in-car listening experience," the company said. "No matter the year or model of your vehicle, we feel everyone should have a superior listening experience."
Car Thing is currently available to U.S. customers only as a limited product launch on an invite-only basis. It is being offered at no-cost except shipping, and is expected to retail for $79.99 USD when it becomes more widely available.
Spotify is in a good position to expand its offerings, as streaming services made up 83 percent of the music industry's revenue in 2020, according to an annual report released by America's Recording Industry Association. Spotify also expanded its reach into social media platforms with the purchase of live audio chat app Locker Room last month.