Nike Presents the 2022 Doernbecher Freestyle XVII Collection
Designs include the LeBron 19, Dunk Low, Air Jordan 5 Low, Blazer Mid, Nike SB Stefan Janoski, NikeCourt Zoom Vapor Cage 4 and the Air Force 1 Fontanka.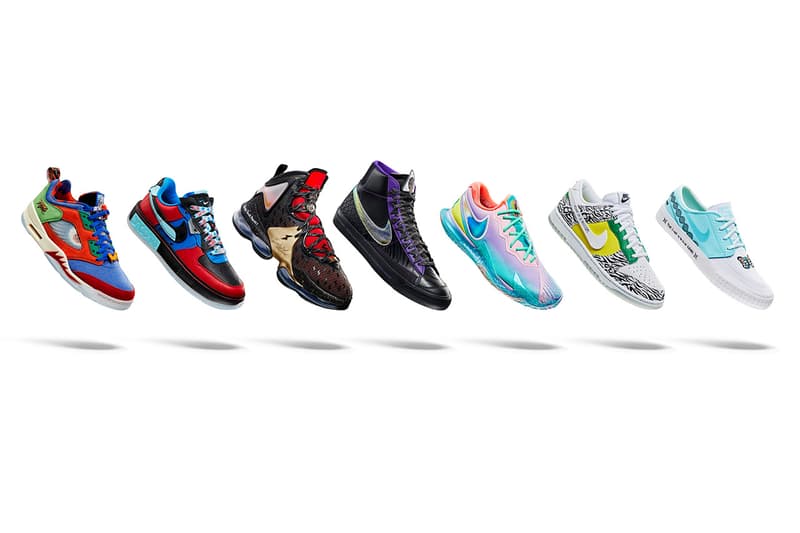 Since 2004, Nike and the OHSU Doernbecher Children's Hospital in Portland, Oregon have joined hands for its annual Doernbecher Freestyle program — a charity-focused initiative that has raised over $30 million USD and granted over 100 patients the opportunity to design their own kicks.
Catalina Vazquez, Zoe Taaffe, Cidni O'Brie, Maylee Phelps, David Phelps, Ayman Wamala and Michael Wilson are the seven young designers who have been tapped for the initiative's 17th collection, and it's through their own respective installments that they showcase their imaginative design qualities and shine a light on their personal life stories, medical journeys and personal interests. This year's collection involves footwear silhouettes and apparel pieces that span across the lifestyle and performance categories from both Nike and Jordan Brand.
Nike SB Stefan Janoski by Catalina Vazquez
Three days after Catalina Vazquez was born, she was diagnosed with Von Hippel-Lindau disease, a rare hereditary condition that causes tumors to grow in multiple organs throughout the body. To represent her fight, she adds a DNA helix along the sides of her shoes as well as across the outsoles. She also dreams of vacationing to the Galapagos Islands so she can one day immerse herself in its beautiful nature scene. This affinity for wildlife along with the concept of metamorphosis serves as the foundations for her design. "I've gone through a lot of changes, so I'm kind of like a butterfly," she says about her life, and so this is why she implements silhouettes of the gorgeous insect across the tongues and toe boxes of her Nike SB Stefan Janoskis and her accompanying hoodie and backpack. Additional touches include her own moniker on the tongues as well as the "The cure is in our genes" — an inspiring phrase from VHL Alliance — across the midsoles.
Nike Dunk Low by Zoe Taaffe
When Zoe was a sophomore in high school, she was diagnosed with an autoimmune disease that causes severe inflammation of the blood vessels. The condition is so rare that only one out of 1.2 million pediatric patients have it. Despite her condition and all of the grueling plasma transfusions, steroids and chemotherapy to keep her stable, her positivity and never-say-die mentality has given her hope and strength. On her adventurous Nike Dunk Lows, she nods to the Oregon Ducks – her favorite sports team — by utilizing green and yellow accents. Additionally, she plasters zebra-like stripes atop the Swooshes and overlays, all of which represent the stretch marks that the steroids created on Zoe's body and are designed to spell out her name in various sections. "I never really knew much about being in a hospital until OHSU Doernbecher and now I feel like I have an even bigger family" she says. "There's not a lot you can do to give back to your doctors and nurses after they saved your life, nothing measures to that, and this is just one way that I can give back to the hospital make sure that they know that they're appreciated and that we love them for everything that they do."
Nike Air Force 1 Fontanka by Cidni O'Brien
Four years ago, Cidni O'Brien was playing soccer and started to feel a strange pain in her chest that caused her to be admitted to the hospital. After being examined by medical experts, she was diagnosed with an anomalous aortic origin of the left coronary artery, meaning that a critical artery that feeds blood to her heart was attached in the wrong place and Cidni's heart wasn't receiving enough oxygen. After undergoing a major heart surgery, she was thankfully able to recover and get back on the pitch and compete with her Lebanon Warriors high school team. Her Air Force 1 Fontanka is a tribute to her soccer squad as well as all of the animals that she holds close to her heart. Peep the laces and you'll find the names of Tito her parrot, Basco her donkey, Cheez-its, Thober and Jonathan her goats, Carol Bask-hen her chieckn, Copper her dog and SwimShady her fish printed atop the laces. Her horse Tank is paste to the left sock liner while Nikki — her mother — gets a shout out on the right side. "I got Tank because I didn't know if I'd ever play soccer again, and he really helped cheer me up," Cidni explained. "And my mom is my hero. I wouldn't be here without her." Other striking details include the outsoles which have been decorated with shrimp pasta to nod to her favorite food as well as the heels which feature soccer-inspired overlays, her name and metallic heart embellishments.
NikeCourt Zoom Vapor Cage 4 by Maylee Phelps
15 year-old Maylee Phelps was born with spina bifida, a condition where the spine and spinal cord fail to develop properly. Don't be fooled by her current state as she is an accomplished junior wheelchair tennis player that's ranked #11 in the world. For this Doernbecher initiative, she elected to design her own Air Zoom Vapor Cage 4, and it's replete with personal elements and vivid color-blocking. Hand-drawn stars and marbled treading are done up ini her favorite colors and spine graphics and a blue spina bifida ribbon grace the iridescent tongues and heels to raise awareness for adaptive athletics. Her initials also arrive under the tennis silhouettes on the tongues as well as on the lateral heels. Midsoles are devised with a reminder for you to keep pushing no matter what obstacles life tries to throw at you. "That phrase helps keep me motivated on the court and in life," Maylee said. "I thought it might help other people, too."
Nike LeBron 19 by Sam David Phelps
Like his sister, Sam David Phelps was also diagnosed with spina bifida, but that hasn't slowed him down from becoming a beast on the hardwood. He has aspirations to one day suit up for the Portland WheelBlazers and his favorite baller is LeBron James, and so it's only fitting that he chose a Nike LeBron 19 to design to his liking. Sam adds a plethora of striking details on the six-time champion's signature model such as metallic gold panels, lightning bolts to represent his quickness on the court as well as his own sporty wheelchair insignia. His initial, birth year and go-to mantra "Never Back Down" are also positioned on the airbag pods down below. "I want to inspire people to never quit on their dreams," he said. "If you set your mind to it, there's no limit to what you can do."
,
Nike Blazer Mid '77 by Ayman Wamala
Ayman Wamala is no stranger to adversity as he was diagnosed with sickle cell anemia at an early age. However, he possesses an unwavering drive to overcome the hurdles that life presents him with, and to do it with a superhero mentality. Ayman gravitated towards the Nike Blazer Mid for this year's Doernbecher capsule, and he spruced up the lifestyle silhouette to represent his alter-ego: a mind-reading character that you'll find on the tongues. A Black Panther-esque black and purple palette is applied to the kicks, and they come accessorized with triangular panels that are symbolic of protective armor as well as tiger stripes that glow with a blue hue when exposed to UV light. Additionally, the bottoms of the kicks appear with red blood cell-inspired patterns to mirror hi s condition. Nike also crafted a special zip up jacket and cap that also sport elements from the shoes. "When people see my shoes I want them to feel happy," Ayman says. "If someone is going through something and they see this quote "Life is uncertain…be quick to act…make tough decisions in worst-case scenarios" it can help them too."
Air Jordan 5 Low by Michael Wilson
Just two months after Michael "Spitfire Wilson born, he was diagnosed with a rare genetic condition that destroys the protective coating of nerve cells in the brand and nervous system called Krabbe disease. The doctors were able to catch it early life and thus were able to supply him with treatment immediately by giving him a life-saving stem-cell cord blood transplant. Today, Michael lives a healthy and happy life and has passions for airplanes, sharks and mac 'n' cheese, and he implements all of these elements into his eccentric Air Jordan 5 Low design. Mac 'n' cheese graphics are lasered throughout the suede base layer and are seated adjacent to vicious sharks across the side panels. Tongue patches are interchangeable so you can personalize the kicks in your own style and the kicks are bolstered with "eject" loops on the heel tab whenever you want to slip them off. "Sometimes when I get really down, I imagine flying through the air, dunking the basketball and winning the ultimate championship like Michael Jordan did," Michael said about his sneakers. "When people see those words, I want it to make them feel powerful like me. Take flight badges are pasted to the lateral heels, and the rear end is fitted with Michael's initials for extra flair.
OHSU's virtual livestream and official unveiling of the announcement is available here. An eBay auction for the collection will be live from February 26 at 4pm PDT to March 5 at 4pm PDT. After that, the products will hit retail during Spring 2022.
In other news, the UNDERCOVER x Nike Dunk High 1985 "Chaos/Balance" in "White" has been unveiled.