Danny Lomas and Loro Piana for Hypebeast's Sole Mates
From his Yorkshire roots to the fantasy of a sun-soaked Riviera, this is how Loro Piana's White Sole is with Lomas every step of the way.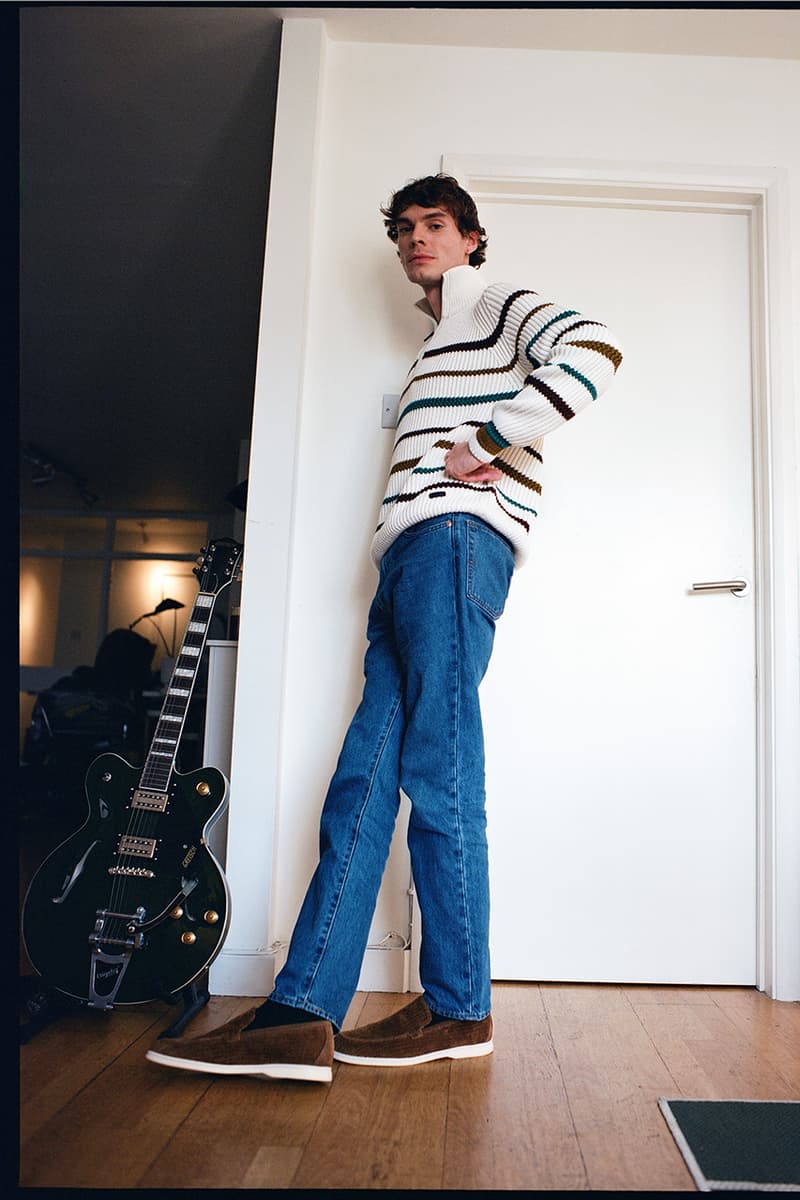 Danny Lomas and Loro Piana for Hypebeast's Sole Mates
From his Yorkshire roots to the fantasy of a sun-soaked Riviera, this is how Loro Piana's White Sole is with Lomas every step of the way.
From trading wool in the early 1800s to founding Loro Piana & C. in 1924 under the helm of Pietro Loro Piana, the Northern Italian brand established itself as the pinnacle of luxury; earning a reputation for sourcing some of the finest raw materials in the world and using them to create masterpieces of understated elegance. 
As the brand notes, its selection is a global affair – "cashmere and Baby Cashmere from goats in Mongolia and Inner Mongolia, vicuña from the Andes, extra-fine Merino wool from Australia and New Zealand and lotus flower fiber from Myanmar." Couple this with minimal branding and a clientele as discerning as the brand itself, and you've got a House renowned for offering only the most superlative quality. Likewise, this week's Sole Mates participant also prides himself on enjoying the finer things in life. 
Danny Lomas is 25 and from the sleepy English market town of Driffield in Yorkshire. It doesn't scream Monaco yacht parties, the Riviera, Mediterranean tans and an espresso, and nor does Lomas' current home of Shoreditch in East London. But, through the power of fashion (coming up through PAQ on YouTube before launching his own podcast and working with dozens of luxury labels), Lomas has become the undisputed King of IYKYK luxe. Think sharply tailored suits, plush knitwear, vintage watches (working or not), and an overarching penchant for proper good clobber – particularly a pair of loafers or driving shoes. 
This is where Lora Piana comes in. "Loro Piana is unexpected and surprising" shared Lomas over a pint of beer in his local pub. On his top, Loro Piana's baby cashmere Haston Mock Neck in a bold "Flaxen" yellow hue, with his feet donning a pair of the iconic Loro Piana White Sole shoes. 
For this week's issue of Sole Mates, Hypebeast sat down with Danny Lomas at home (and at the pub) to discuss his upbringing, descent upon fashion, and how Loro Piana's White Sole range is by his side every sun-drenched step of the way. 
Hypebeast: What got you into footwear?
Danny Lomas: I can't remember "getting into footwear." I might not seem it but I'm a massive sneakerhead. Not so much anymore, but when I was younger – I've always loved them. Having an adidas and Nike outlet store near my home opened me up to not just buying the same silhouette at full price. I missed out on the Air Force 1; I used to be fascinated with Air Max models with the bubbles, I thought they were quite cool at the time, even Sports Direct versions in a million variations. 
My earliest memories are of being fascinated with trainers. If I earned three quid an hour, I was like, "Bloody hell, I could buy a new pair of shoes every month!" Never did. But it was that kind of thing. It grew from there and naturally progressed into formal shoes, a lot of loafers and other styles. Brands like Dr. Martens are big where I'm from (near Hull), my mom and auntie had them, so I got a pair of those and then got into loafers, and then onwards. 
Your taste is nuanced, you have the ability to mix lots of styles. When did you start to appreciate what is now your definitive style?
I like the idea of dressing sharp. I love the idea of dressing up to go to the pub. When you hit 18 and you start to go out in Driffield, no one dresses up to go to the pub – it's blokes in simple  T-shirts. But from there I had a reason to wear loafers. Air Max was for when I was a kid, and there's a [big appreciation for] adidas up North with Spezial and Sambas, because of casual culture. 
Going to the pub was nice, I'd wear a nice pair of trousers and loafers but mix it with a denim jacket. It's not quite indie, but it was music-influenced. It was the lads at 25, 26, that'd I'd think looked cool. It blended into my style. 
I found my roots again in London. I appreciated streetwear and found my way to wear it, but I'd take cycling jerseys, quarter zips, merinos and nicer materials.
I remember that time vividly – Miles Kane, Alex Turner, wearing such brands but playing it down with loafers or some streetwear. Is it this, combined with your upbringing, that has defined your style?
I think it's the small-town, Northern market mentality. You don't have much choice in where you get stuff from. 
English subcultures have always influenced how I've dressed and my Northern identity is a big part of that. You'll always be able to find stuff that will suit that. 
Does a wider understanding of style help inform your daily style choice?
For sure – or it's just what's clean in my bedroom. 
I wore the same style of trousers for years. You could dress them up or wear them with trainers. But I'd pair them with a nice cable knit, like the one I'm wearing now. It's dead easy to wear this – it becomes a look, I guess. 
It's quite easy to just pair such trousers with a pair of Loro Piana shoes, for example. 
For sure!
With that in mind, you're not afraid of rocking a pair of Loro Piana shoes. What is it about Loro Piana that interests you?
It's the same way how everyone buys into luxury goods: you want to be part of that community. It's the same as buying a nice watch, it's a milestone. Clothes are subjective and you can't wear the same stuff every day, but to have that one piece that you wear on a special occasion makes you feel good, like a good suit. 
Loro Piana is cool, it's understated elegance. You're not plastered in logos to show how much money you've got. It's about the materials, it feels cracking. It feels fantastic and it makes you feel posher, you walk around with an air of undeserved swagger. 
When you wear a suit you feel like the best version of yourself. When you wear Loro Piana, it gives you that same feeling and confidence. 
How does that feel for you?
Heavy imposter syndrome! But it does also feel natural because it's what I like. 
But I do think, "how the hell did I get here?" I wanted to be a menswear buyer or a stylist but then I saw how much f*cking work goes into it! I could never do that. It's humbling, but I also know no different – it's felt very dreamy, but I need to take [these opportunities] and run with them. 
Imagine you go to a Victorian kid and show them an iPad, they'd have a heart attack. If you showed people Loro Piana up North, Christ alive. It's juxtaposition. 
A pair of Loro Pianas do look right on you. What attracts you to the Loro Piana White Sole and the house's other shoes?
It's the lifestyle that it portrays. It feels like you're in the Riviera, you're somewhere in Italy or in Monaco and you're off to a yacht party. When you wear a pair of Loro Piana White Soles, you get an air of fantasy and they transport you there. I'm not just in central Shoreditch, it feels like I'm in a little bubble. 
Aside from fantasies, there's also an appreciation for it. 
Absolutely. There's such an attention to detail, the fabrics feel luxurious. Loro Piana is the epitome of luxury. 
It is top tier.
As for the shoes… Anyone that knows me knows I love a good loafer. The Open Walk are what I've chosen, and I might not have chosen these over the Summer Walk at first, but they're actually really cool. There's something about them that's effortlessly cool. It's such a clean silhouette that works with everything. 
Why do you think people should pay more attention to Loro Piana's footwear?
Clothing is great, but if you get a great pair of shoes you can turn an average outfit into a great outfit. And vice versa, you don't want a great outfit with a terrible pair of shoes. 
Coming from a sneakerhead background, the first thing I notice is someone's shoes. If you want to invest in a great pair of shoes then Loro Piana is the top. It's IYKYK – I saw someone wearing the Open Walk in royal blue and [we chatted about them], it opened up a conversation. A good pair of shoes can do that. 
How would you encourage someone to consider Loro Piana footwear?
A good pair of trousers. Don't do Loro Piana injustice by wearing a pair of its shoes with skinny jeans. If you've spent a good amount of money on some proper shoes, put that energy into some good trousers as well. 
You can even wear it with a vest, some good knitwear, anything and it'd work. A good pair of trousers sets the rest off. 
What are your thoughts on the formal footwear scene?
The Throwing Fits boys put it best: "we're in a post-sneaker world." I've always appreciated trainers and loafers, but since streetwear brands have moved towards menswear, your footwear has done the same. Streetwear brands have taken a smarter approach, and now silhouettes that didn't really "exist," like mules, are really cool at the moment. 
Is it time for us to stop just wearing sneakers?
Yeah. You need a pair of sneakers, but everyone needs something that isn't. We also get a lot of transitional shoes now, too [shoes fit for multiple occasions], like moccasins. You can dress them up or down. The way footwear is moving now is definitely cooler.
Why do you think that's happened?
Tastes change. Streetwear got blown into the spotlight so much that everyone became anti-streetwear. It became so saturated that it imploded. It still exists, but you don't get the hype style as much now. You want to wear Supreme but you don't want to shout about it. 
Why should people explore different fashion references, as you do?
It's not like a football team that you're born into and die with. Fashion is so subjective and there is no right and wrong. My style is so natural because it's not based on anything in particular; I see things and think it looks sick, so I'll get one of those. I'm obviously fascinated by subcultures and music and this goes hand-in-hand, so I do get sucked into a wormhole. 
I used to study fashion at college and I was absolutely terrible at it because I couldn't use the sewing machine, and I'd just get lost in it all. I'd research someone and then find their references, and then I'd find their references, I'd end up in this big full circle and could never settle on one thing. There's so much out there, it's not hard to look for it – no magazine needs to be your bible. See what your parents wear, you like a jumper? Then there's probably a variation of that now. 
Find what you think's cool and just go for it. Fashion's not just about looking daft. 
How does Loro Piana evoke this?
I love Loro Piana so much because my favorite style is very Riviera and Mediterranean. Loro Piana embodies that while also keeping quite an English spirit. It's the relaxed Italian way with British sharpness. Sartorial-leaning steeze. 
Loro Piana is the pinnacle of that. 
Shop the Loro Piana White Sole collection now on its website and at select boutiques.