Dr. Dre Officially Inducts Eminem Into Rock and Roll Hall of Fame
The producer and rapper's longtime friend and collaborator always "knew that his gifts were undeniable."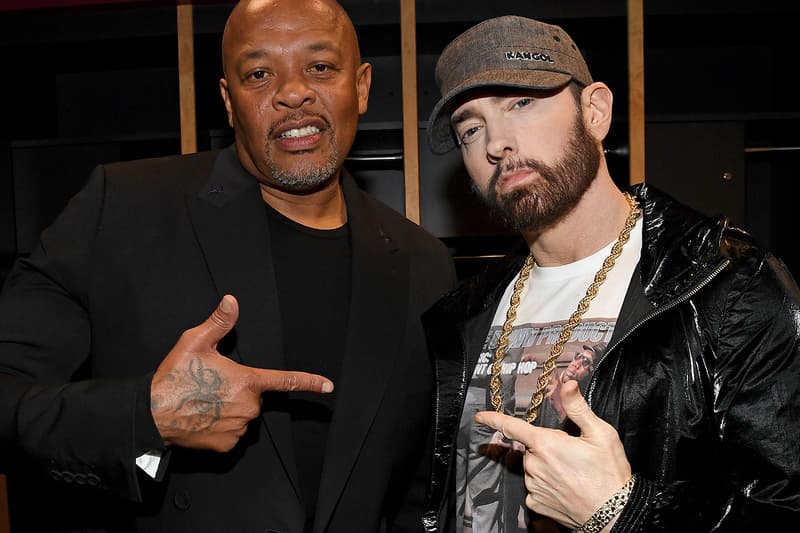 Eminem is officially part of the Rock and Roll Hall of Fame, with none other than Dr. Dre inducting the rapper.
As per Billboard, the producer took to the stage and recalled the story of how he signed Em in 1998. Dre received a call from music exec Jimmy Iovine to inform him that Eminem was white, which "completely f*cked me up," he said. Most people attempted to dissuade him from signing the young Missouri-born rapper as none of them really saw nor believed the vision, but Dre "knew that his gifts were undeniable." He continued, "Each of us was what the other one needed — and I was willing to bet my entire career on it."
With Eminem bringing "hip-hop to middle America," he eventually became one of the most respected and successful rappers in history. The likes of Adele, Elton John and Rihanna shared their love for the rapper in a video montage, followed by a performance from the rapper himself that featured the likes of "My Name Is," "Forever" and "Not Afraid" and special guests like Steven Tyler and Ed Sheeran.
"I'm not supposed to be here tonight," Eminem said after his performance. "One, I'm a rapper; two, I almost died from an overdose; and three, I really had to fight my way through… I'm a high school drop-out with a hip-hop education."
The Rock & Roll Hall of Fame induction ceremony will air on November 19 on HBO.
Elsewhere in music, Lil Yachty clarified Drake's controversial line on the track "Circo Loco."