Best New Tracks: Rihanna, Stormzy, Nas x Hit-Boy and More
10 music projects to dive into this weekend.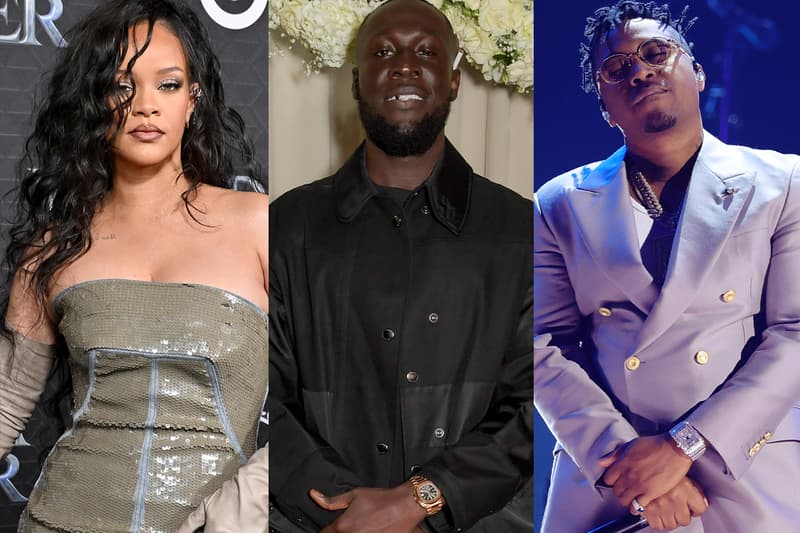 As the week in music comes to a close, HYPEBEAST has rounded up the best projects for the latest installment of Best New Tracks.
This week's lineup is led by Rihanna, Stormzy and Nas x Hit-Boy, who released "Born Again" with the Black Panther: Wakanda Forever soundtrack, "FIREBABE" and the album King's Disease III, respectively. Also joining this selection are fresh offerings from Mahalia, Phony Ppl, Wizkid, MGMT, Lil Tjay, Channel Tres and GloRilla.
Rihanna – "Born Again"
Rihanna follows up her Black Panther: Wakanda Forever track "Lift Me Up" with "Born Again," her second contribution to the film's soundtrack. Despite releasing new music this year and performing at next year's Super Bowl Halftime Show, the artist and businesswoman recently confirmed that she has no plans to release a full album any time soon.
Listen: Spotify | Apple Music
Stormzy – "FIREBABE"
Stormzy preps to release his third studio album This Is What I Mean with its second single, "FIREBABE." The emotional, lovestruck cut features guest vocals from Sampha, Jacob Collier and Debbie, and is described by Stormzy as "a song about that first spark when you meet your partner and how it feels. That first time, when you're really observant of them. You might go to a party, or you're having dinner, and you're watching how they move, how they work the room." This Is What I Mean drops November 25.
Listen: Spotify | Apple Music
Nas x Hit-Boy - King's Disease III
Nas and Hit-Boy continue their collaborative work with King's Disease III. The album is the third installment in their franchise, with King's Disease II receiving a GRAMMY nomination for Best Rap Album and King's Disease winning the award in 2021.
Listen: Spotify | Apple Music
Wizkid - More Love, Less Ego
Wizkid drops his stellar fifth studio album More Love, Less Ego, following 2020's GRAMMY-nominated Made in Lagos. The 13-track effort features Ayra Starr, Skillibeng, Shenseaa, Skepta, Naira Marley and Don Toliver, and will be supported by an Apple Music Live performance on November 14 and his first-ever Madison Square Garden show on November 16.
Listen: Spotify | Apple Music
GloRilla - Anyways, Life's Great
GloRilla keeps the momentum up with her debut EP, Anyways, Life's Great. The nine-track project features Cardi B on the viral hit "Tomorrow 2," Niki Pooh on "Get That Money" and Hitkidd on "F.N.F (Let's Go)." Speaking to Apple Music 1's Zane Lowe, the artist called the album "raw" and opened up about how she's handling her newfound success. "I get to take care of the people that I love, all my family and friends. I used be broke…I ain't broke no more. And it's by doing the thing that I love. I'm making money doing what I love to do. So, that's everything," she said. "Yeah. I just stay prayed up, you know what I'm saying? Do right by everybody. I try not to let too much get … I try not to let everything just get to me so much."
Listen: Spotify | Apple Music
Channel Tres – "6am"
Channel Tres drops his latest REAL CULTURAL SH*T single "6am," which arrives with an accompanying music video helmed by Tajana Williams. Calling it a "happy song," the artist shared, "…I never really let myself make happy songs. For me right now, this song represents the grind, and sometimes when things get hard you just gotta dance your way through it. I wanted to create a song for people to come together and dance. Some people get off work at 6 am, some people leave the club at 6 am and this can be the soundtrack to it all."
Listen: Spotify | Apple Music
Lil Tjay – "Give You What You Want"
As Lil Tjay continues his recovery from his near-death experience, the young rapper delivered his powerful "Beat the Odds" followup "Give You What You Want." The latest single arrives shortly after he announced his "I'm Back" tour, a five-date engagement set to kick off on December 11 in Los Angeles and will close out in New Jersey on December 29.
Listen: Spotify | Apple Music
Mahalia – "Bag of You"*
Mahalia releases her first new material since Letter To Ur Ex, "Bag of You." Produced by JD. Reid, the three-minute track hears the UK artist yearning over a partner who has decided to temporarily leave, admitting her her neediness to create a raw and emotional track.
Listen: Spotify | Apple Music
MGMT - 11-11-11 (Live)
Exactly 11 years after MGMT's performance at the Solomon R. Guggenheim Museum, the pair has decided to officially release the 45-minute piece on streaming and vinyl. The music in 11-11-11 accompanied 130 suspended art pieces, with the pair stating at the time, "We're creating a musical experience that works for the building and for the construction and presentation of the Cattelan exhibit." They continued, "It's an art exhibit done in a completely original way, so it deserves music which is completely original."
Listen: Spotify
Phony Ppl – "dialtone."
Brooklyn's Phony Ppl share their latest single "dialtone." as the prepare to release their upcoming album Euphonyus, which drops November 18. The single was previewed in the fifth season of Issa Rae's HBO series Insecure, with Elbee Thrie, Aja Grant, Matthew "MaffYuu" Byas, Elijah Rawk and Bari Bass sharing, "lyrically written in split screen, dialtone. is actually two different sonGs at once! one sonG (the cause) is about a Guy realizinG space is only expandinG between him and his lover. the other sonG (the effect) is about a relationship that only exists in the mind of said Guy. either way, there's somethinG wronG!- did thrifted. either way, sinG to the cause, whistle to the effect and dance to both at once."
Listen: Spotify | Apple Music