Alessandro Michele Officially Exits Gucci
After an almost-eight-year run as creative director of the century-old label.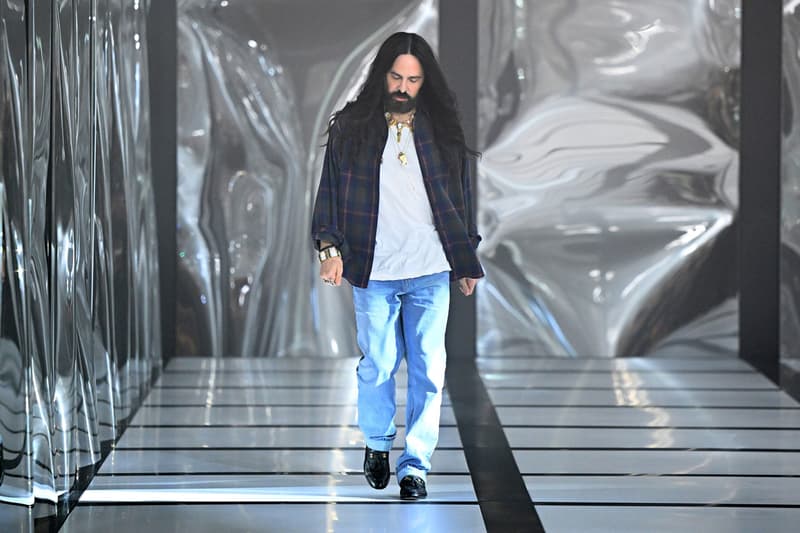 Alessandro Michele's time at Gucci has officially come to an end, Kering announced on Wednesday. The Roman visionary achieved massive success during his almost-eight-year run at the helm of the storied Italian label, injecting new life into the heritage House — and fashion, at large.
The designer took to Instagram to bid farewell, writing, "There are times when paths part ways because of the different perspectives each one of us may have. Today an extraordinary journey ends for me, lasting more than twenty years, within a company to which I have tirelessly dedicated all my love and creative passion."
View this post on Instagram
Hired by Tom Ford, Michele first entered the Gucci team in the early aughts, working under Frida Giannini in the accessories studio. In 2015, Gucci CEO Marco Bizzarri eyed the designer's highly-original vision and invited Michele to become Gucci's creative director, following Giannini's dismissal. At the time, he was mostly unknown to the company, but he was fastly given the controller for the brand's collections, storefronts, campaigns and communications. The then-fresh face came out for his first bow with a menswear collection in August of the following year.
In a statement, Bizzari said, "I was fortunate to have had the opportunity to meet Alessandro at the end of 2014, since then we have had the pleasure to work closely together as Gucci has charted its successful path over these last eight years. I would like to thank him for his 20 years of commitment to Gucci and for his vision, devotion, and unconditional love for this unique House during his tenure as Creative Director."
From the beginning, Michele left nothing unsaid — and his first collection, Fall 2015, let showgoers know that he was directing the House toward the eclectic. Throughout his tenure, he proved just that, welcoming a uniform rid of gendered archetypes and expanding fashion's scope with an almost-anything-goes aesthetic.
For Spring 2018, the designer debuted the "Utopian Fantasy" campaign, which presented the label's designs inside magical reinterpretations of famous paintings; and for Fall 2018, he sent severed heads, which took six months to craft and were identical to their models, down the runway. Fall 2020 welcomed Michele's 360-degree theater, in which onlookers received intimate behind-the-scenes looks at hair and makeup artists prepping fully-dressed models for the show.
Across seasons, Michele cultivated the Gucci family, pulling influential figures as fans and then friends, including Jared Leto, Billie Eilish and Harry Styles, whose collaborative collection with the designer, titled HA HA HA, just hit shelves.
Speaking of collaborations, Michele was a master broker of enormously talked-about partnerships. Think back to the Fall 2021 Hacker Project, which saw the designer team up with Demna's Balenciaga, or more recently, Gucci's Fall 2022 crossover with adidas. He also revived Dapper Dan's Harlem-based couturier, and he established the Gucci Vault, which let the designer resell updated gems from the brand's archives and spotlight the works of emerging visionaries. But his most touching teammate was (and still is) his longtime partner Giovanni Attili, who played a pivotal role in penning the House's impressive show notes.
However, nothing lasts forever in fashion. Despite the awe-factor of Michele's forward-minded designs, Gucci's sales slowly began to slip, and by extension, Kering's shares declined. According to "well-placed sources" at WWD, Michele was "asked to initiate a strong design shift" to transform and reinvigorate the brand, though it appears he was unable to meet the standards of their request. Instead, Michele's final Gucci collection, Spring 2023, manifested the entirely new dimension he had crafted as the House's lead visionary, with 68 sets of twins gracing the runway in an impactful, double-take-worthy presentation.
Reflecting on his time at Gucci, Michele concluded, "During this long period, Gucci has been my home, my adopted family. To this extended family, to all the individuals, who have looked after and supported it, I send my most sincere thanks, my biggest and most heartfelt embrace. Together with them, I have wished, dreamed, imagined. Without them, none of what I have built would have been possible. To them goes my most sincerest wish: may you continue to cultivate your dreams, the subtle and intangible matter that makes life worth living. May you continue to nourish yourselves with poetic and inclusive imagery, remaining faithful to your values. May you always live by your passions, propelled by the wind of freedom."
In more fashion news, Raf Simons has closed his namesake label after 27 years.