RANRA Is Stepping Into a New Era
Hypebeast speaks to co-founders Arnar Mār Jōnsson and Luke Stevens on their label rebrand, new studio space and what the refreshed identity means for the brand.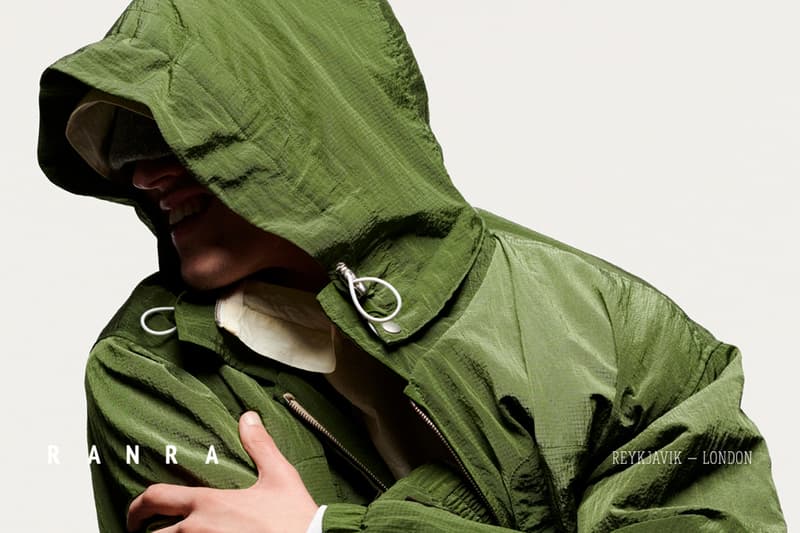 1 of 4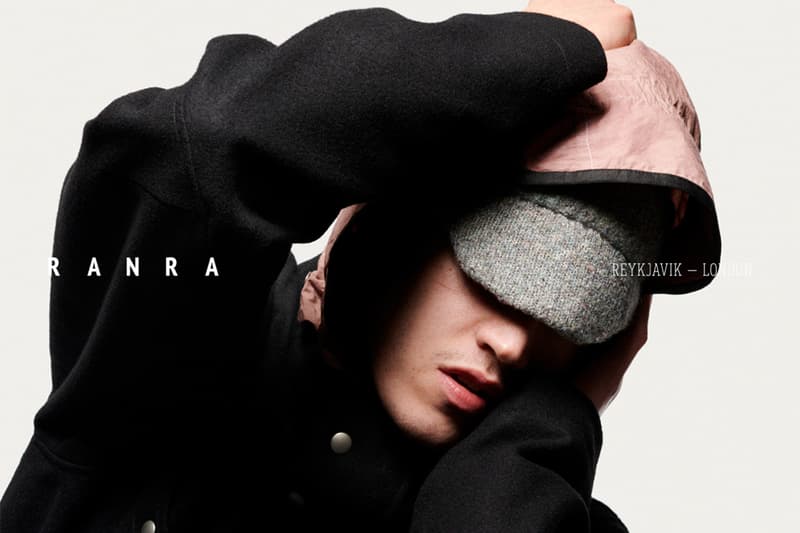 2 of 4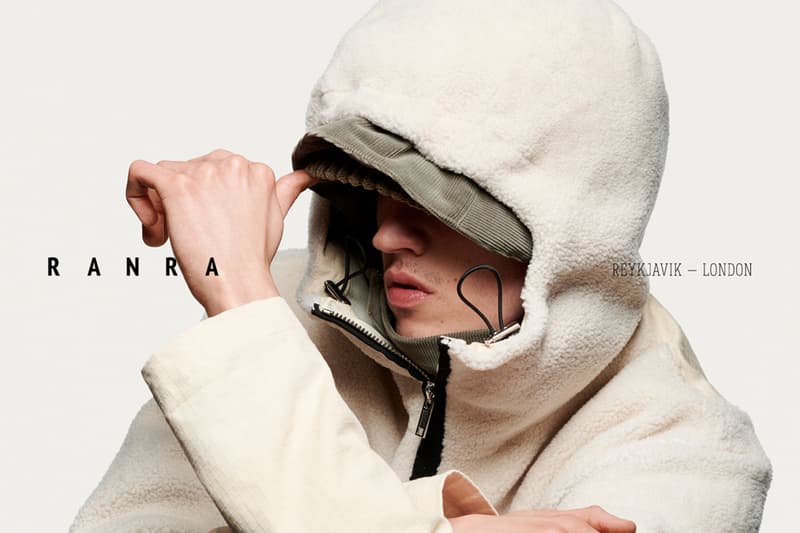 3 of 4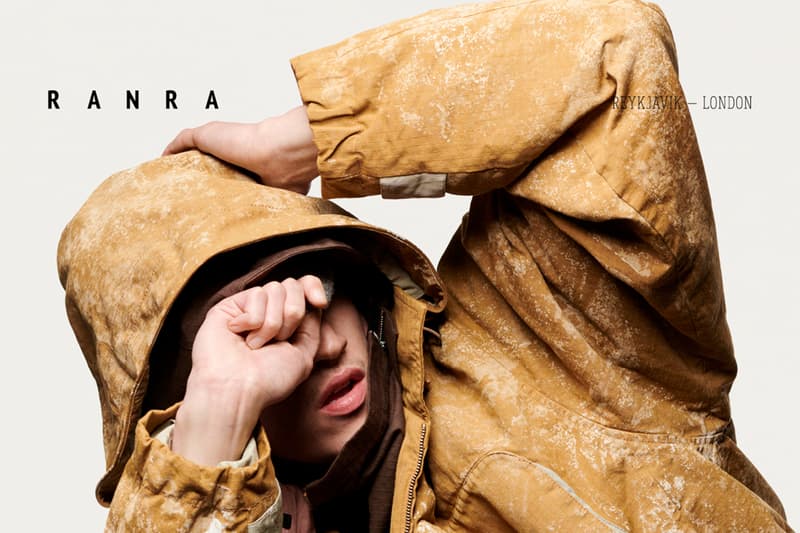 4 of 4
You may already be acquainted with RANRA, but perhaps via its former moniker, Arnar Mār Jōnsson – eponymously named after its co-founder who developed the brand alongside fellow Royal College of Arts alumni Luke Stevens. Now, the emerging label is rebranding itself under a fresh identity, which promotes a new studio for global collaborative practices, alongside material and genre exploration. The London-based brand is recognized for its attentive approach to performance-based outerwear paired with sustainable practices and quality craftsmanship made to last a lifetime. Designed for nature explorers and city-goers alike, the brand produces modern interpretations of core performancewear styles merged with streetwear influences to craft garments for any occasion. 
This summer, the design duo behind the label dived head first into a refreshed mindset, giving Arnar Mār Jōnsson a clean slate under a new identity. Now formally known as RANRA, the rebrand marks the debut of its new studio, which will work to expand the brand's outlook beyond the realm of fashion. The space will act as a hub for forthcoming collaborations, welcoming global creatives through its doors with innovation at the fore. It will also allow RANRA to explore further areas of the design spectrum, from sustainable textile production to furniture assembly and more.  
The duo has a clear target in mind, to merge premium craftsmanship with functionality and performance, restoring the everyday wardrobe into a versatile offering for all. RANRA aims to deliver the previous through an environmentally-aware lens that bleeds into its production practice from start to finish.   
This summer, Jōnsson and Stevens presented their first collection under RANRA, marking a new era for the brand and, subsequently, giving an insight into its future. The pieces maintained Arnar Mār Jōnsson's traditional DNA, while highlighting collaborative practices and renewed materials that derived into upgraded technical gear for contemporary mountaineering. 
Plunging into the universe of the London-based imprint, Hypebeast spoke to founders Jōnsson and Stevens to further understand the development of RANRA, its new identity and what it means for the future of the brand. 
Hypebeast: "What was the original idea behind the creation of Arnar Mār Jōnsson? 
Arnar Mār Jōnsson: We specialize in transitional outerwear pieces designed for both nature and the urban environment. The studio produces in Italy using performance-oriented and responsibly sourced fabrics with a mix of sportswear-inspired techniques contrasted with artisanal hand-dyed finishes. Our approach is always to think about functions for different scenarios not only for the outdoors but to help with a wardrobe as a whole system. 
Luke Stevens: The studio is built around collaborative working practices and a commitment to thinking through an expanded definition of design. Alongside producing seasonal collections, we engage in multifaceted projects operating at a range of scales from textile development and product design to knowledge production and systems-level interventions. These projects act as a space for poetic yet pragmatic experimentation that challenges existing industry practices and forever questions how and why something is made. 
The brand has for long grounded itself in technical sportswear. How does your approach differ from the rest? 
AMJ: Although this is key to informing our design process, the idea of designing for a particular purpose, environment or scenario is more how we approach our designs, not necessarily only for one purpose. It just makes sense most of the time to factor in the weather whilst designing, so automatically people's perception is that we make technical sportswear because that's where most of the technology in menswear is at the moment. Our approach is more about how we use these ideas as a starting point to re-evaluate ideas of functionality and performance within the context of a contemporary wardrobe. Our design ethos is heavily based on the reimagining of classic menswear garment archetypes through environmentally-conscious design decisions – updating them to become more relevant for today, whether that's through silhouette, fabrication,  function or a particular manufacturing method. 
LS: A good example from our recent SS23 collection would be to look at our take on a classic 3-layer outerwear jacket. The jacket is made from "Loomstate" unprocessed recycled cotton twill with a bio-membrane derived from castor beans. It's lightweight and durable, while also providing waterproof and windproof protection. The goal here wasn't to produce the most protective shell on the market, (honestly, there are other brands doing that better than we can) but to push the use of natural materials within a high performance, sportswear context and establish a new technical language around this particular archetype. 
In June of 2022, Arnar Mār Jōnsson became RANRA. How did the rebrand come to be and what was the inspiration behind it? 
AMJ: RANRA could be seen as a recalibration or reset for the studio. It's about refocusing our energy on the design activities and outputs which matter to us as designers; digging deeper into new manufacturing methods, working with suppliers to develop innovative material treatments or dye processes, intervening with existing methods and understanding how these manufacturing approaches can, in turn, inform decisions in fabrication, methods of construction or design for disassembly within the garment itself. 
LS: It's about expanding the remit of us as fashion designers. Thinking about what we are producing beyond the clothes themselves, the role of creative problem solving within the manufacturing process and exploring the ways in which this approach might translate into products and services outside of clothing. These ideas are not new, they were always present in the formation of Arnar Mār Jōnsson, however, during the early years, we did not have the infrastructure or support to implement these ideas. 
"It's about refocusing our energy on the design activities and outputs which matter to us as designers."
What is the inspiration behind the name RANRA and what does it mean? 
The RANRA name could mean anything – it could be a fridge company or a perfume brand. We liked how ambiguous it was. 
What does the rebrand entail for you as a brand and how will it change your established design identity? 
AMJ: On a more immediate level, we're thinking about studio culture itself; how a fashion studio operates, establishing a more effective, collaborative working culture – essentially questioning what we put out and how we go about producing it. 
LS: The studio model provides us with space to expand the RANRA design ethos beyond the scope of a single collection. We're currently working on a number of projects ranging from textile design and manufacturing models to uniform design and furniture. It's a move to a more sustained, research-led, collaborative approach to design. We're expanding our community through industry partnerships and collaborations with practitioners from other fields: product design, furniture, and publishing. Really thinking about how we operate as a team, focusing our specialisms and broadening our output. 
What are the steps that you will be taking to establish these changes in the near future? 
AMJ: RANRA's focus is on things that go on behind the scenes: supply chains, new manufacturing methods or interventions in existing approaches, and sustained research on recyclability and repair. It's about understanding that "better design" should extend beyond clothes and all the way into infrastructure. Things you might not see, but can feel. 
LS: As a studio, we believe sustainable design cannot just be about producing more of the same product with more ethically-sourced materials. Our focus is on design-led approaches or interventions which inform each decision within the design and manufacturing process. For RANRA,  "better design" is as much questioning existing methods, approaches, and assumptions as providing solutions. These ideas are as important as consideration around shape, silhouette, colour and fabrication – and in many cases, a particular manufacturing method or approach will dictate these aesthetic decisions. For us, the design process starts at the beginning of the supply chain and extends into the ways in which a customer uses a particular product, how we prolong that lifespan, and what happens when it is no longer in use. 
"It's about understanding that "better design" should extend beyond clothes and all the way into infrastructure."
With the launch of RANRA comes a new design studio for the brand. How will the space enable a new collaborative practice? Do you have any collaborative plans currently in the works? 
The studio will operate partly as a space to trial different techniques, while also providing more open space for all designers in the studio to work on projects. We are currently working on our upcoming Salomon collaboration as well as some exciting projects that we will announce soon! 
The brand has historically focused on natural materials and finishes. How will this practice be developed/continued throughout the rebrand? Are you trying anything new? 
We are now currently focusing on 4 main problems to work on for our FW23 collection. It is definitely the most progressive work we have done so far. It is really healthy for us to think about the whole process, not just as garments and their relation to fashion. 
RANRA recently presented its SS23 collection which was the first under the rebrand. How did the design and ideation process differ from past Arnar Mār Jōnsson collections? 
AMJ: We wanted to start the collection with the idea of archetypes – a pair of jeans, an oxford shirt, a knit jumper and a windbreaker – and explore how we can use different treatments to give different properties. For example, the oxford shirt and jacket use the same material, but are treated in different ways which create different weights, when you hold up the two items next to each other you cannot tell that they are the same fabric and that makes it really exciting. 
LS: Our approach was really to explore this approach through a full wardrobe. One of the things we wanted to push was washing treatments – these are key to these particular garment references, but can historically be very unsustainable to produce. The washes we developed are different depending on the garments, but each one proposes a more sustainable alternative to a classic technique. For example, stone washing is a laser-embedded binder that we control via a drawing. The treated garment then has a single dye cycle with natural indigo dye to achieve the look of aged denim with far less water consumption. Another technique we used is sun bleaching. With this technique, you leave the dyed fabric in the light until you achieve the required look. 
What can we expect to come from RANRA in the rest of 2022? 
We have our first RANRA FW22 shoe coming out in collaboration with Salomon. We tried to make the perfect hiking shoe using natural materials and processes without compromising performance. We also have our FW22 collection coming to stores in the fall! 
Shop RANRA's SS23 collection now, and discover more via the brand's website.
In other news, LEMAIRE's FW22 drop keeps seductive layering at the fore.