Nike Presents the Doernbecher Freestyle XVIII Collection for 2023
Meet the six inspiring young designers and their creative works.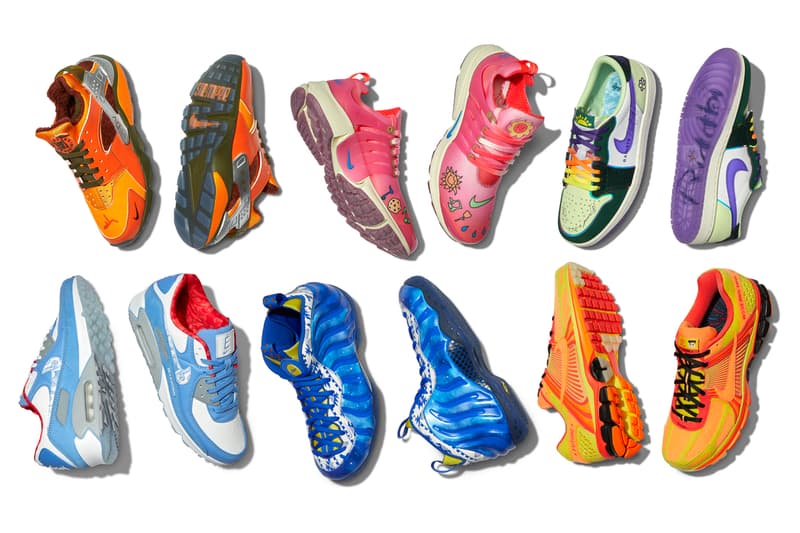 Beginning in 2004, Nike and OHSU Doernbecher Children's Hospital has worked together, raising nearly $31 million USD for the hospital since. A key aspect of the duo's partnership is the Nike Doernbecher Freestyle Program. Each year, a small group of OHSU Doernbecher patients teams up with Nike Employee Design volunteers to create inspiring footwear, apparel and equipment designs. These are auctioned as a fundraiser and later sold to the public in limited quantities.
Today, the Doernbecher Freestyle XVIII Collection for 2023 is being showcased at the Portland Art Museum as the auction is set to take place in-person for the first time in three years. With this, the entire roster of talented young designers has been introduced alongside their imaginative creations. This year's six designers include Dario Villaseñor Valdivia, Kylee Young, Riddhi Mahajan, Emerson Harrell, Coley Miller and Jaren Heacock who have shared their journeys and passions with each design.
Nike Air Huarache by Dario Villaseñor Valdivia
Kicking things off, 13-year-old Dario Villaseñor Valdivia has reworked the Nike Air Huarache with references to several of his favorite things in life such as oranges, creating stick animation for his YouTube channel and his long-haired plush toy. Additional designs include pants and a long-sleeve tee featuring a shoe skeleton. Pivoting back to the kicks, the "Siempre Fuerte" text at the outsole translates to "Always Strong," an approach to life Dario has stuck to throughout his battle with juvenile myelomonocytic leukemia. Fun facts about Dario include that his perfect day is eating Chinese food and seeing the people he loves and when he grows up, Dario wants to become an animator.
Nike Air Presto by Kylee Young
Next up, 12-year-old Kylee "Cookie" Young shows off her favorite color, pink, with her take on the Nike Air Presto, presented with a matching hoodie and hat. Kylee's perfect day is to see her family and going on an adventure, which pairs perfectly with the presentation of her Air Prestos. The colorful sneakers showcase everything that brings her joy, like flowers, springtime and most of all, cookies. A hemolytic uremic syndrome survivor, Kylee is a never-give-up girl who's positivity shines bright with all three of her creations.
Air Jordan 1 Low by Riddhi Mahajan
Taking on the Air Jordan 1 Low with a complementary sweatshirt and hat, 15-year-old Riddhi Mahajan recreated her endless radiating positivity with her designs. Diagnosed with cystic fibrosis, Riddhi's "Brand New Day" phrase has allowed her to maintain a consistently positive mindset. Resulting from this determination, Riddhi has already accomplished major goals such as earning a black belt in Tae Kwon Do. Aiming to be a doctor when she grows up, Riddhi will continue to share smiles with the world in everything she does.
Nike Air Max 90 by Emerson Harrell
For math wiz Emerson Harrell, his Nike Air Max 90 is the latest pair to be joining his growing sneaker collection. The 15-year-old is full of energy and drew inspiration from his love for video games, sports and his dream of becoming an investor. An Arizona Wildcats fan, Emerson added the "Bear Down" phrase to the shoe to shout out his team while also symbolizing a rally call for life's challenges. Fighting inflammatory bowel disease, Emerson continues to push forward each day, looking up to his parents as the heroes in his life.
Nike Air Foamposite One by Coley Miller
Customizing the Nike Air Foamposite One, pants and a backpack, 11-year-old Coley Miller looked to her favorite sport of basketball. Utilizing the retro hoop shoe, Coley pays homage to her Klamath Tribe heritage, featuring a basket weave graphic that showcases a quail plume and the Klamath mountains. The stargazing-themed graphics are inspired by time spent with her mother, who donated a kidney when Coley underwent a kidney transplant. Looking to the outsole, the phrase "ho mas gi" in the Klamath language translates to "Just Do It," further connecting her culture with the project. When she grows up, Coley aspires to be a veterinarian.
Nike Zoom Vomero 5 by Jaren Heacock
Rounding out the collection, 10-year-old Jaren Heacock has tackled the Nike Zoom Vomero 5, a hoodie and backpack in matching designs, tapping into his inventive spirit. The ambitious creator, coder and robot builder discussed that when growing up "I want to be an engineer, artist, designer – and maybe a doctor." His favorite athletes are his brother and sisters, all of which are named inside his shoe's design. Additional detailing includes interchangeable patches and a nod to his Chinese heritage with dragon-inspired elements. Diagnosed with a cleft palate, Jaren's lively energy and imaginative ideas keep his mind on designing the future.
While the in-person auction is ongoing, the entire Doernbecher Freestyle XVIII collection will be available via Nike and select retailers in early 2023. Stay tuned for more information regarding its retail release and be sure to read more about the collection and its superstar designers via Nike's website.
In other footwear news, the Nike Air Penny 2 has been outfitted in a fall-ready color scheme featuring green and burgundy.