Aaron Donald and Jaylen Brown Are Both Leaving Donda Sports
Following Ye's antisemitic comments.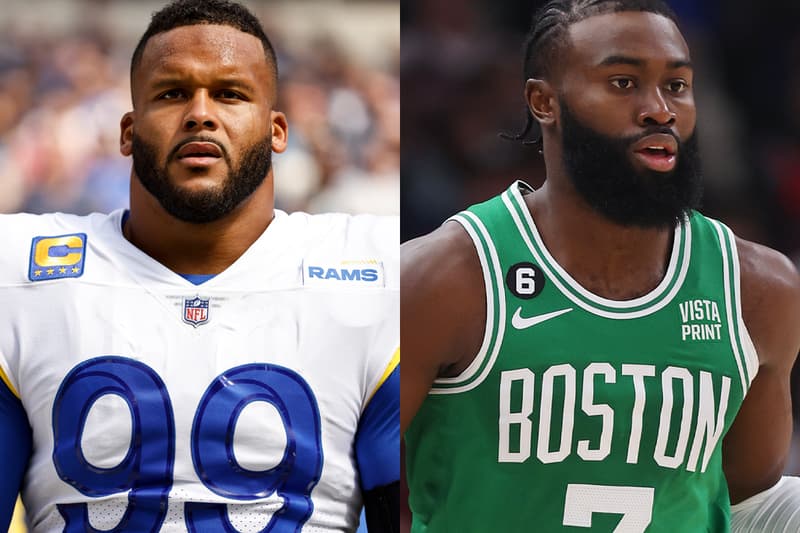 Los Angeles Rams defensive tackle Aaron Donald and Boston Celtics forward Jaylen Brown have announced that they are both parting ways with Donda Sports.
The two athletes have parted ways with the agency, founded by the artist formerly known as Kanye West, due to his recent antisemitic comments. The announcement came just hours after adidas stated that it is terminating its relationship with Ye. Brown's decision came just a day after he told The Boston Globe he would stay with Donda Sports, despite Ye's controversial remarks. His statement said, "In the past 24 hours, I've been able to reflect and better understand how my previous statements lack clarity in expressing my stance against recent insensitive public remarks and actions." He then claimed he will be officially terminating my association with Donda Sports." Donald also announced that his family would leave Donda Sports, stating Ye's comments ""are the exact opposite of how we choose to live our lives and raise our children."
Both Donald and Brown signed with Donda Sports earlier this May. Ye's comments have caused a slew of brand partnerships to fall through. Due to his antisemitic remarks, Ye is also no longer a billionaire. Take a look below at the official statements from Aaron Donald and Jaylen Brown.
— AD_99 (@AaronDonald97) October 25, 2022
— Jaylen Brown (@FCHWPO) October 25, 2022
In other sports news, Chris Paul recently became the third ever player in NBA history to hit 11,000 or more assists.