YouTube's Head of Hip-Hop Music Discusses How Streaming Services Changed the Genre Forever
Tuma Basa told HYPEBEAST that hip-hop has become even bigger and more connected in the digital age.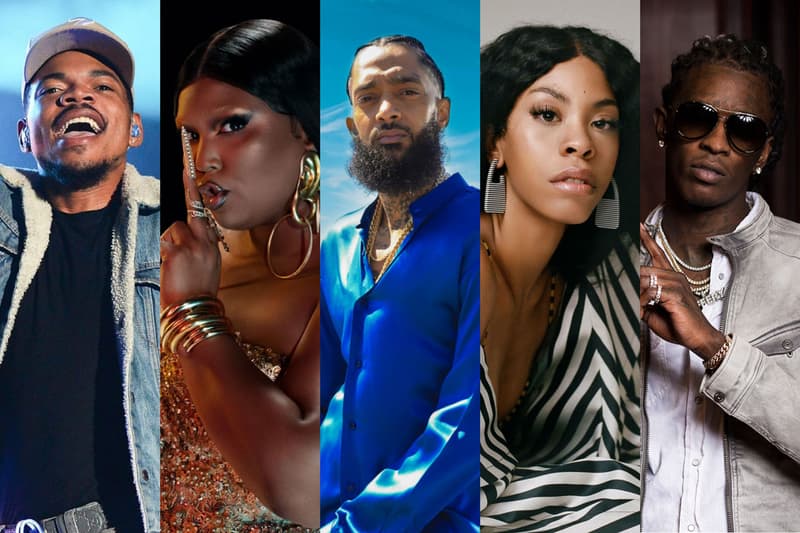 Prior to the introduction of streaming platforms like Spotify, Apple Music and YouTube Music, hip-hop was mostly shared between people on urban streets through physical mixtapes and CDs. Beginning in the mid-1970s in New York City, homemade cassettes launched the careers of artists like Kool Herc and Afrika Bambaataa — two Bronx-based DJs who are credited with influencing the development of the now-worldwide genre. Years later, the same tools helped foster the early careers of rappers like 50 Cent, T.I., Young Jeezy and more.
While hip-hop undoubtedly bred a new subculture during that time period through the introduction of rap, new dance forms, graffiti art and distinct style codes, it wasn't until the evolution of the internet in the 1990s and early 2000s that the genre received widespread credibility. The 21st century brought about technological advancements that impacted the way people consumed music — 2001 saw the introduction of the iPod, 2002 welcomed algorithm-based music platform Last.fm and 2003 birthed the iTunes Store. From there, platforms like Pandora, YouTube, SoundCloud, Bandcamp and Spotify launched in quick succession, while social media platforms started to emerge across the internet, connecting artists to fans in more immersive ways.
"Before, I don't think people understood the scale of the genre because hip-hop was living in hidden markets on the streets, whether it be during the DVD era or the mixtape era," YouTube Music's head of Hip-Hop, Tuma Basa, told HYPEBEAST. The music industry mainstay has previously held managerial roles at BET, MTV and Spotify and has witnessed more than two decades of the genre's development.
According to Basa, streaming services and social platforms offered something of an industry stamp of approval; an art form that previously existed in fragmented hard copies on the streets could now be measured against other types of music and monetized.
"Streaming services were almost some type of certification that hip-hop was even bigger or better or more connective or more competitive than people thought."
"Something that we knew in culture was that hip-hop had been the most dominant genre for a long time," he said. "But it didn't get officially recognized until it started getting measured and monetized via streaming services."
"There was this formalization where it could all be contained," he added.
In the mixtape era, artists would hand out entire albums for free and attempt to profit off of their work through brand partnerships and live performances, the industry expert explained. With the proliferation of streaming services, more artists began to enter the hip-hop space and could now monetize their music directly.
"Streaming services democratized music. They made hip-hop more accessible to the average person," he said. "You didn't have to walk into a building in New York City or Los Angeles or London in order to get your music out there anymore."
Enter the "succeed-from-anywhere era," as Basa puts it, which ushered in a new wave of hip-hop artists who started putting out music from all over the world with or without the support of a label. Several of today's top-shelf artists first captured the industry's attention by posting on SoundCloud, including Chance the Rapper, who first joined the platform in 2011, followed by Young Thug in 2012 and Nipsey Hussle in 2013, to name a few.
"You can now learn how to make beats on YouTube and start posting them on social media," Basa said on how the internet reshaped the blueprint for success in the genre.
Streaming services have quickly become the number one source of revenue in the music industry. By the end of 2020, streaming services alone accounted for 83% of recorded music revenues and contributed to $10.1 billion USD in overall generated revenue, according to the Recording Industry Association of America's (RIAA) most recent year-end revenue report. This marks a jump from 2015, when streaming services only accounted for 34.3% of recorded music revenues. YouTube's total number of users almost doubled in that same time period, increasing from about 1.2 billion in 2015 to 2.3 billion in 2020. Other social media platforms like Instagram saw the same type of user growth, jumping from an estimated 370 million active accounts to 1.3 billion, while Spotify's premium subscribers grew from approximately 28 million to 155 million during the same period.
"Now, we were speaking the language of the academics in the music industry, the check-writers."
"We have to remember that streaming services, social media, YouTube, etc., they were all happening concurrently," Basa said. "It wasn't that one was replacing another. They were blooming concurrently in terms of their usage and differentiation."
Aside from their economic impact, streaming services provided artists with substantial creative flexibility, whether through enhancing an artist's digital presence with advanced visual components or with the ability to go back and change tracks once they had already been released.
"Do you remember when Life of Pablo came out?" Basa asked, referring to Kanye West's No. 1 album in 2016. "Kanye was updating and changing things after it was released. I thought Kanye was onto something. I thought every artist was gonna go back and tweak certain things."
Last year, Drake revisited his Certified Lover Boy album, adding various mix changes and a different outro transition to "Knife Talk" featuring 21 Savage and Project Pat, as well as an entirely new line from Kid Cudi on "IMY2." Similarly, Kanye changed several parts of DONDA following its release, replacing KayCyy and Chris Brown on "Keep My Spirit Alive" and "New Again" with himself and the Sunday Service Choir during the hooks, adding more bass on "Junya" and altering the mixes for "God Breathed," "Come to Life" and "Jail pt 2."
As society continues to adapt to new digital platforms and updated technologies, it's unclear what exactly the future of the music industry will look like. Basa, however, is sure of one thing. "Hip-hop has a tendency to stay ahead of the curve. It will be interesting [to see] what's going to happen from a technological innovation perspective, but it will be more interesting to see how hip-hop disrupts it."
Elsewhere, watch the official music video for Juice WRLD's Fighting Demons track "Already Dead."