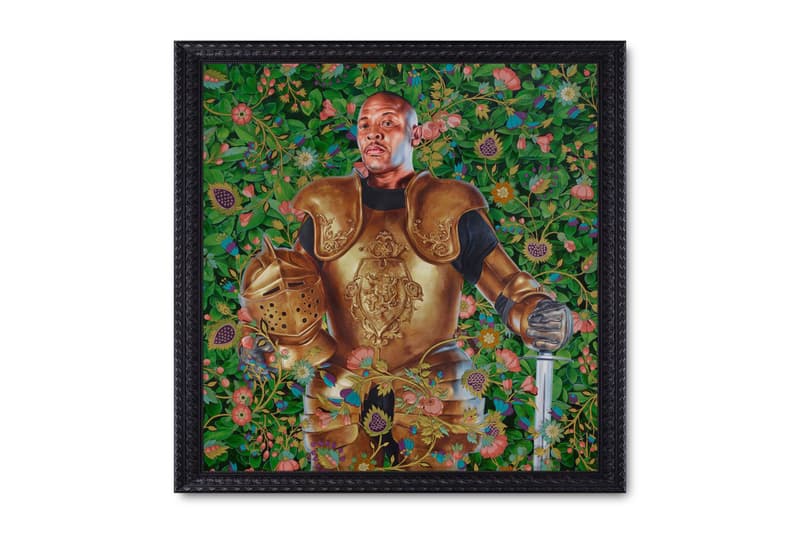 LACMA and Interscope Records to Showcase 50 New Artworks Inspired by Seminal Album Covers
To commemorate the label's 30th anniversary.
---
Recent visitors to LACMA will have likely noticed a giant wall of records that were placed at the entrance of the Yoshitomo Nara exhibition. Opening later this month, album artwork will serve as the premise of a new show, titled "Artists Inspired by Music: Interscope Reimagined."
To celebrate the 30th anniversary of Interscope Records, the exhibition brings together 50 new works made by artists, such as Julie Curtiss, Shepard Fairey, Damien Hirst, Kehinde Wiley, Takashi Murakami, and many more. Each artist has revisited one of the many influential musicians that Interscope has represented over the past three decades, that range Tupac, Kendrick Lamar, Lady Gaga and Dr. Dre, amongst many.
The project was conceived by a number of Interscope executives, including co-founder, Jimmy Iovine, who reiterates, that the label's "original mission was to find the most profound artists, empower their creativity and watch what happens…For the 30th, we wanted to continue that vision by assembling the most admired visual artists and empower them with that same creative license to honor the musical artists we have worked with over three decades."
Additionally, the institution is working with Snapchat to provide an AR component that will further transform the experience. "Artists Inspired by Music: Interscope Reimagined" will be on view at LACMA from January 30 to February 13. Check out the full list of exhibiting artists below, along with the album they were inspired by.
Elsewhere, Milo Matthieu presents "Flowers Beyond the Sunset" at Sorry We're Closed.
Artist List and Album:
Adam Pendleton: Dr. Dre – The Chronic

Amoako Boafo: 6LACK – FREE 6LACK

Anna Park: Billie Eilish – When We All Fall Asleep Where Do We Go?

Anna Weyant: Gwen Stefani – The Sweet Escape

Burnt Toast: Timbaland – Shock Value

Burnt Toast: N.E.R.D. – Seeing Sounds

Cecily Brown: Billie Eilish-dont smile at me

Chloe Wise: Yeah Yeah Yeahs – It's Blitz!

Damien Hirst: Eminem – Entire Catalogue

Derrick Adams: Mary J. Blige – The Breakthrough

Ed Ruscha: 2Pac – All Eyez On Me

Emily Mae Smith: Nine Inch Nails – Broken

Ferrari Sheppard: Blackstreet – "No Diggity"

Genesis Tramaine: Summer Walker – Over It

Henni Alftan: Olivia Rodrigo – SOUR

Henry Taylor: Kendrick Lamar – DAMN. ("DNA")

Hilary Pecis: Selena Gomez – Rare

Issy Wood: Gwen – Love. Angel. Music. Baby. ("Cool")

Jenna Gribbon: Lana Del Rey – Born To Die

Jennifer Guidi: BLACKPINK – THE ALBUM

John Currin: U2 – "Beautiful Day"

Jordy Kerwick: MGK- Tickets to My Downfall ("My Bloody Valentine")

Julie Curtiss: No Doubt – Tragic Kingdom ("Just a Girl")

KAWS: Snoop Dogg – Doggystyle

Kehinde Wiley: Dr. Dre – The Chronic 2001

Lauren Halsey: Kendrick Lamar – To Pimp a Butterfly

Lisa Yuskavage: Billie Eilish – Happier Than Ever

Loie Hollowell: Lady Gaga – Fame Monster

Lucy Bull: No Doubt – Tragic Kingdom ("Spiderwebs")

Mark Quinn: MGK – Tickets to My Downfall

Matthew Wong: Lana Del Rey – Paradise

Fulton Leroy Washington

AKA Mr. Wash: The Game – The Documentary

Nicolas Party: Lady Gaga – Joanne

Nina Chanel Abney: 2Pac – The Don Killuminati: The 7 Day Theory

OSGEMEOS: Black Eyed Peas – The E.N.D.

Rashid Johnson: Kendrick Lamar – Good Kid MAAD City

Raymond Pettibon: Lana Del Rey – Norman Fucking Rockwell

Reggie Burrows Hodges: Kendrick Lamar – Good Kid M.A.A.D City ("Swimming Pools" (Drank))

Richard Prince: Nine Inch Nails – The Downward Spiral

Sayre Gomez: 50 Cent – Get Rich or Die Tryin'

Shepard Fairey: Yeah Yeah Yeahs – Fever To Tell

Stanley Whitney: Kendrick Lamar – To Pimp A Butterfly ("King Kunta")

Takashi Murakami: Juice WRLD – Goodbye and Good Riddance

Titus Kaphar: Eve – Scorpion

Toyin Ojih Odutola: Kendrick Lamar – DAMN.

Umar Rashid: Tupac – Me Against The World

Will Boone: Helmet – Meantime
LACMA
5905 Wilshire Blvd,
Los Angeles, CA 90036