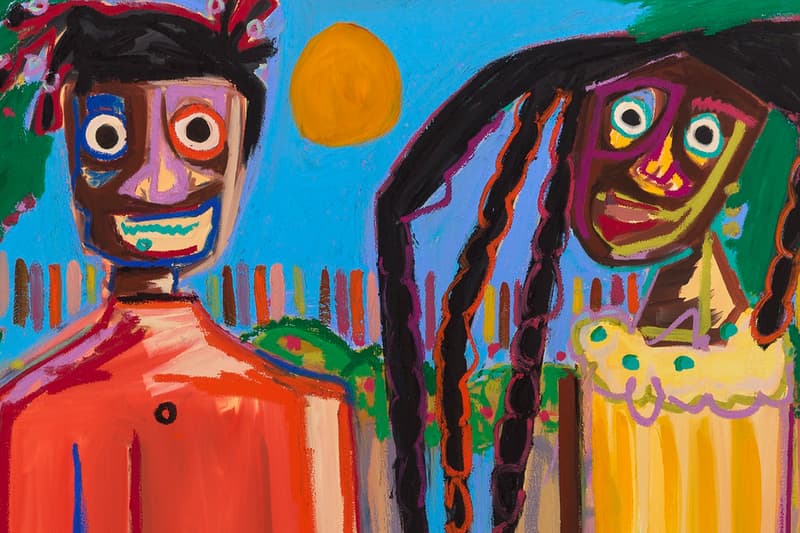 Milo Matthieu Presents "Flowers Beyond the Sunset"
On view at Sorry We're Closed in Brussels.
---
Milo Matthieu is a Brooklyn-based artist best known for gestural portraits that ruminate on identity and self-perception. As his first exhibition in Belgium, Matthieu presents "Flowers Beyond the Sunset" at Sorry We're Closed.
The exhibition focuses on Matthieu's experience visiting the Colombian city of Cartagena. Through 13 paintings and two sculptures, the artist injects the traditions of the Creole storyteller, where a number of disparate themes are composed to question the interrelationships between cultures, people, language, and landscapes.
Memories and observation serve as the foundation of his practice. Where he takes his own life experiences, along with those of anonymous people, to create distorted figurations that invite the viewer to reflect on the human psyche. Matthieu achieves this mark through a method first coined by French writer, André Breton, known as "Psychic Autonomism" — which essentially promotes a rapid process of creativity — where unconscious thoughts take over the process.
"Flowers Beyond the Sunset" is on view at Sorry We're Closed until March 5, 2022.
Sorry We're Closed
Rue des Minimes 39,
1000 Bruxelles, Belgium