DRIVERS: Wilson Tang and His 1996 Porsche 911 Targa 993
Much like his restaurant Nom Wah Tea Parlor, his 911 Targa stays true to its roots.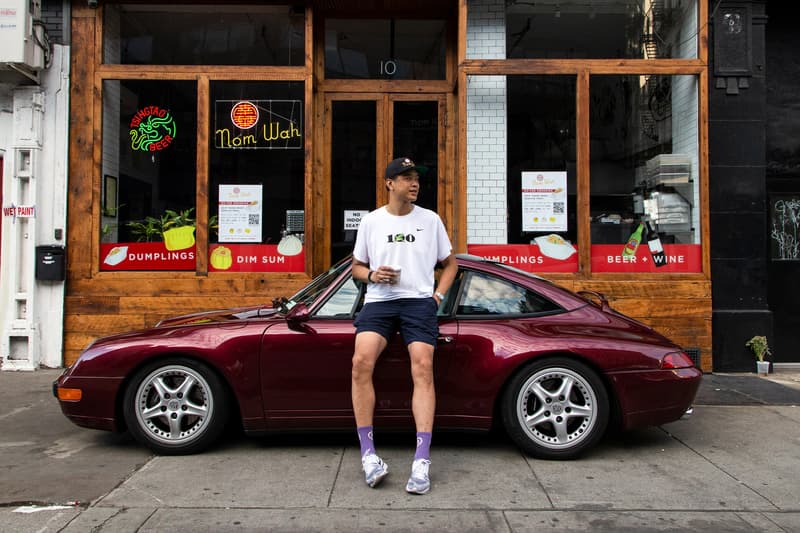 DRIVERS is a series highlighting influential individuals in the HYPEBEAST sphere and their passion towards all things automotive. The approach is simple: what is car culture to you, and why do you have a passion for it? Each contributor is given a chance to shine light on their personal vehicle or vehicles, and asked to remark on how they are driving culture forward, both metaphorically and literally.
---
For our latest edition of DRIVERS, we're crossing into a new cultural divide, sinking our teeth into the world of food. If there was ever a time-honored restauranteur to feature with a car that equally speaks volumes, it's NYC's very own Wilson Tang and his Porsche 911.
Wilson is the owner and purveyor of Nom Wah Tea Parlor, Chinatown's oldest restaurant that's still standing and running after as astonishing 101 years of operation. Tang, 42, took ownership of the original shop on Doyer Street back in 2011, off his uncle who commandeered the namesake in the mid 70s. The shop has since expanded to multiple locations: three in NYC and even one in Philadelphia.
While tastes and styles have definitely changed since 1920, Nom Wah's pride remains in its simplicity and offerings in go-to Chinese cuisine – primarily the ancient tradition of Dim Sum, or Chinese breakfast/lunch made up of small dishes. Tang has prided himself and the Nom Wah name by respecting the history of things, in an era when recipes get lost in translation, palettes get dumbed down, and authentic and traditional is replaced by modernization and "fusion."
Much like the Nom Wah ethos, Wilson Tang highlights this "sticking to your roots" mentality with his weekend car, a driver-grade 1996 Porsche 911 Targa. The spec is fantastic: while the 993 generation Porsche is hard to find already, Tang's example checks off a bevy of additional rare boxes. 6-speed manual. Targa Top. Arena Red Metallic. Factory wheels. Everything he has done to the car maintains its authenticity to keep it original as possible, with only headlights and suspension on the list of mods. To finish it all off, Tang's 993 gets driven. A healthy and respectable 67k miles is clocked through its 3.6L flat-six air-cooled engine – original, of course.
Read more about Wilson Tang's 993 Targa and in case you missed it, our first edition of DRIVERS was with designer Ryo Ishikawa and his similarly classic 911 Turbo 964.
Make, model, year of your car?
1996 Porsche 911 (993) Targa in Arena Red. This is 1 of 462 cars made for the North America market.
When did you acquire it?
I got this car in the fall of 2018. With the help of Drive Auto Works in NJ, New Hope Auto in Brooklyn and Detailers Domain in NJ. The car is kept in tip top shape from its original paint to all the mechanicals.
What made you choose this car specifically?
This generation of Porsche (993) was what I grew up dreaming about owning. I remember my dad taking me to the NY Auto Show every year back then and this was the car that changed everything for me. I had the poster on my bedroom wall with this car in the Turbo version and in the same color with the marketing slogan "KILLS BUGS FAST." I will never forget that!
But the other interesting fact about this car is that this is the first generation Targa that did not have a removable roof and the Targa roof was integrated into the body of a Cabriolet. I totally nerd out about the glass house experience and how advanced Porsche was back then in creating this functional masterpiece.
What is the main purpose for this car for you?
This is the weekend warrior for me. I love taking it out to local Cars and Coffees to meet other Porsche enthusiasts, taking rides with my son Ryan, and finding tranquility with detailing it and keeping it fresh.
What has been done with this car? Where has it gone?
The car is an art piece for me. So I drive it sparingly and only in good weather. I have taken this car as north as Bear Mountain to stretch its legs and on weekend trips south to the Jersey shore.
Any details? Modifications? Changes?
Not much here. It is all stock except for HID headlights for better visibility and a suspension upgrade to Bilstein PSS10s for a better stance and feel in the twisties.
What is a car to you: aspirational achievement, functional tool, stress-reliever, etc?
I think this car is a combination of all three. I love being able to achieve a childhood dream of getting a car of this caliber. It's really great to share my love of this brand with my son, [and] it is one of a few sports cars that have functional back seats to take the family out to dinner (short distances only. It's tight back there ?). And the sound that air-cooled Porsches make is like music to my ears…there is nothing like it.
What was your dream car growing up?
This was it… a 993 generation Porsche 911. I mean I wouldn't mind having the Turbo or C2S/C4S version with the wider hips but the prices of these old Porsches have gone through the roof, and I am happy I got mine before it got crazy.
What have you owned before? What would you like to have?
I've had growing up:
1998 Honda Accord
1992 Honda Civic Si
1995 Honda Civic Si
1997 BMW 528i
2007 BMW 328xi
What I have now:
2010 Audi A4 Avant
2019 Porsche 911 Turbo S
1996 Porsche 911 Targa
I picked up the Turbo S for my 40th birthday and that was my modern dream car and it gives me a big fat grin every time I drive it. But I think the next car I would love to have and experience is a Ferrari FF or a GTC4Lusso. Although it's been discontinued, I love having back seats in a sports car so my kids can experience the ride with me.
"The future of the auto industry is all about EVs. … But with that said…I think that actually makes people love and appreciate older cars."
What is the future of the automotive industry? Car culture?
The future of the auto industry is all about EVs. I love what Tesla has done, paving the way and how Porsche and other car makers are following suit. It's really exciting to see how far technology has gone in cars especially with safety and reliability.
But with that said…I think that actually makes people love and appreciate older cars which continues to make car culture strong especially at the intersection of cars/fashion/art. I love what ALD and Daniel Arsham have done with Porsche and what KITH has done with BMW. I think that fuels the next generation's appreciation of cars as not just a means of transportation but an interpretation of their style and personality.