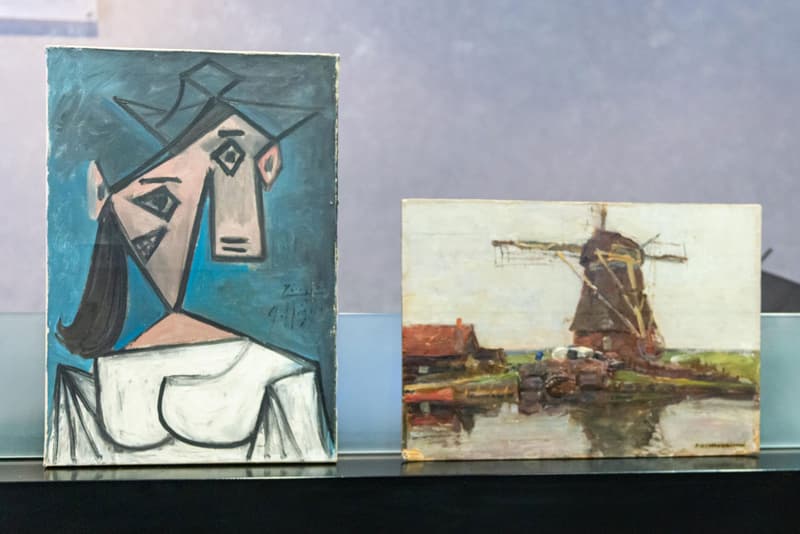 Greek Police Recover Picasso and Mondrian Paintings Stolen in a Museum Heist Nine Years Ago
A 49-year-old construction worker was arrested as a suspect.
---
Missing artworks by Pablo Picasso and Piet Mondrian that were stolen from the National Gallery in Athens in a 2012 museum heist have been recovered by Greek police almost a decade later.
The two paintings — Picasso's Head of a Woman and Mondrian's Landscape with a Mill — were discovered earlier this week, along with the arrest of a 49-year-old construction worker as a suspect in connection with the theft, according to CNN. A third item stolen in the heist — a pen-and-ink sketch by Renaissance artist Guglielmo Caccia — has not yet been recovered.
The suspect, who operates under the Twitter name "ArtFreak," is reported to have told officers that he had "always been interested in art," while speaking before an investigating magistrate on Thursday, according to The New York Times.
Additional comments that the suspect made to the police were leaked across Greek media, which the suspect's lawyer, Sakis Kehagioglu, confirmed to be accurate.
The suspect recounted his one-man heist, telling authorities, "In 2012, I entered the National Gallery and got three paintings," according to the leaked confession. He also said that he "deeply" regrets his actions. Authorities have not yet disclosed the name of the suspect.
Following his statement, the suspect took authorities to a ravine in a forest near Porto Rafti, east of Athens, where he handed over a plastic-wrapped briefcase containing the Picasso and Mondrian paintings.
Both paintings will now return to the National Gallery, which reopened in March following nine years of renovation, as part of celebrations for the 200th anniversary of the Greek War of Independence in Athens.
Elsewhere in the art world, FEWOCiOUS NFT collection sold for over $2 million USD at Christie's.