Nigeria Becomes First African Basketball Team To Beat U.S. Men's National Team
The historic upset saw Nigeria defeat a stacked all-NBA roster in an Olympic exhibition match.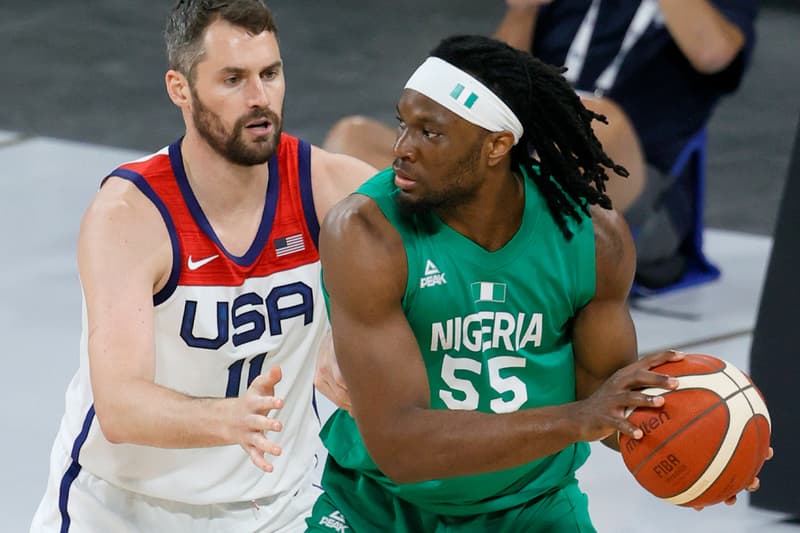 The start-studded all-NBA U.S. men's basketball team roster was upset by Nigeria in their first exhibition match ahead of the upcoming Tokyo Olympics.
Nigeria became the first African basketball team to defeat the stacked U.S. team, coming out victorious with the final score 90-87. Although the loss will unlikely affect the United State's gold medal ambitions, the feat is more symbolic than ever. The loss saw Team USA's record drop to 54-3 in exhibition games, which it has held since 1992 when NBA players were first given the go ahead to play in the Olympics. The last time Team USA lost an exihibtion game was in 2019 against Australia at the FIBA World Cup.
Nine years ago, Team USA beat Nigeria 156-73 at the 2012 London Olympics. It appears that the team has made its vengence in a game that saw Kevin Durant score a team-high of 17 points, Jayson Tatum scoring 15 and Damian Lillard with 14.
Nigeria's roster also featured a number of NBA players including Sacramento Kings' Chimezie Metu, Minnesota Timberwolves' Josh Okogie and Utah Jazz's Miye Oni. Nigeria is coached of Golden State Warriros assistant, Mike Brown. The team was able to conver almost half of its 40 3-point attempts against Team USA. Gabe Vincent, who plays for the Miami Heat, scored a game-high of 21 points for the African team, sinking two free throws in the final seconds of the game.
In a press conference after the game, U.S. team's coach Gregg Popovich said, "That loss means nothing if we don't learn from it, but it can be the most important thing in this tournament for us to learn lessons from it."
Post NBA Finals, Milwaukee Bucks' Jrue Holiday and Khris Middleton and Phoenix Suns' Devin Booker are expected to joing the Team USA roster.
Precious Achiuwa with the big block for Nigeria!

? LIVE on NBC Sports Network & https://t.co/HbtDcrFgfZ pic.twitter.com/TuUm7JSi1l

— NBA (@NBA) July 11, 2021
21 PTS. 6 3PM. 4 AST.

Gabe Vincent led all scorers in Nigeria's exhibition victory over #USABMNT! pic.twitter.com/HFclF14xvN

— NBA (@NBA) July 11, 2021
Final score in Las Vegas!

Nigeria defeats #USABMNT 90-87 in exhibition play in preparation for Tokyo.

Gabe Vincent: 21 PTS, 6 3PM
Kevin Durant: 17 PTS, 5 REB
Jayson Tatum: 15 PTS, 7 REB pic.twitter.com/QRmBKOGM5g

— NBA (@NBA) July 11, 2021
In other sports news, Novak Djokovic has won Wimbledon for a record-tying 20th Grand Slam title.