Sole Mates: Nick Sisombath and the Supreme x Nike Blazer
The Collegium founder discusses his love for the sneaker community — and how he's creating a new one from the ground up.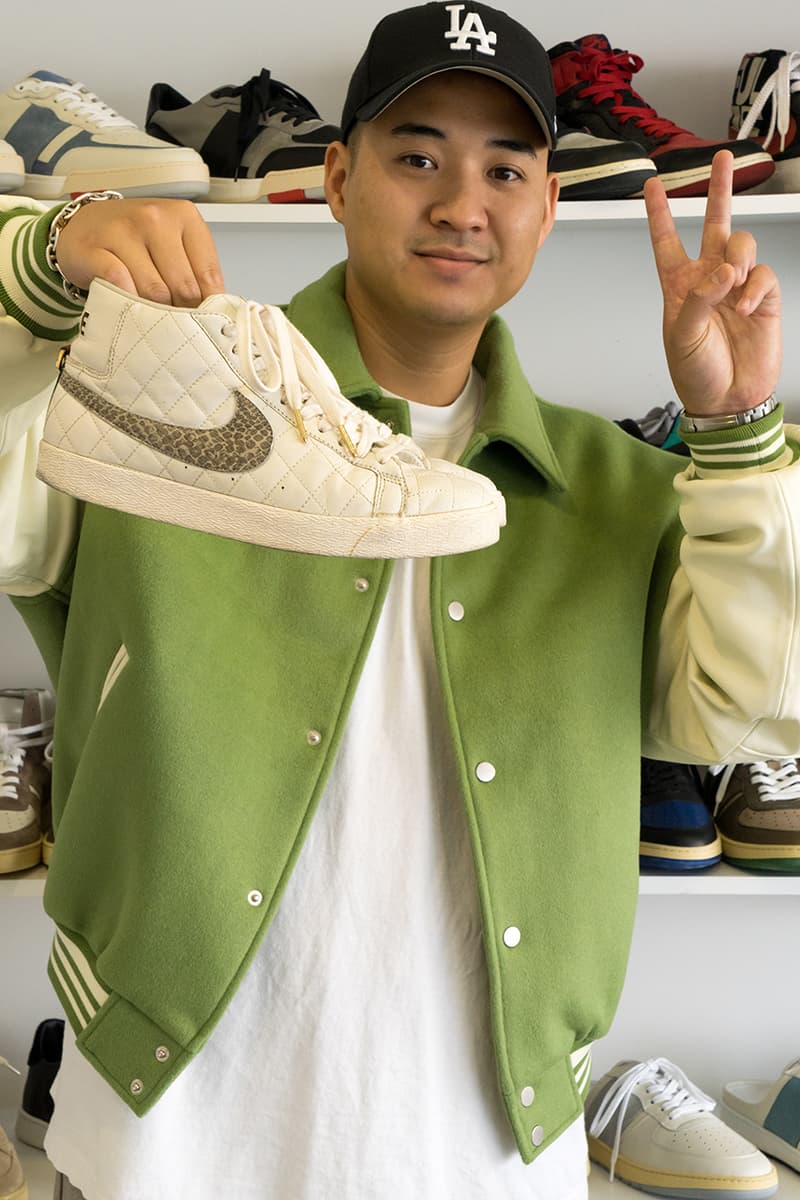 Sole Mates: Nick Sisombath and the Supreme x Nike Blazer
The Collegium founder discusses his love for the sneaker community — and how he's creating a new one from the ground up.
For some, sneakers are an expression of taste, but for Nick Sisombath — the founder of the emerging footwear brand Collegium — sneakers are more than just a materialistic commodity: they're representative of his life. 
As a kid, Sisombath knew more about sneakers than most of us. Whether that was the reduced kicks on the back wall of Payless, or a pair of the hottest SBs around, he knew everything about the shoes he admired, even down to its color code. It's this attention to detail that has helped the footwear designer carve out his own niche in the saturated sneaker market.
When he spoke to HYPEBEAST, Sisombath said that the reason he chose the Supreme x Nike Blazer for his installment of Sole Mates was because of how perfect they were, and not really for the hype at all. There's a level of detail to these shoes that was unparalleled and seldom seen in sneakers when they dropped back in 2006, which in turn inspired not only his brand, but him as a person. 
Everything Sisombath touches is handled with the utmost attention and precision. But, he's not a perfectionist either — at least, not in the pedantic sense. It's this that makes him more than just an educated sneaker collector, or a footwear designer making the right moves; Sisombath has a deepened understanding of the culture of sneakers, and it all stems from his upbringing. 
To find out more, we sat with Sisombath to discuss everything there is to know about his life with sneakers, the Supreme x Nike Blazer, Collegium for this week's very in-depth iteration of Sole Mates. 
HYPEBEAST: What got you into sneakers?
Nick Sisombath: I grew up in a lower-middle-class family so I never had the coolest kicks, but my basketball teammates always had the good Jordans. It was like, "Man you're good at basketball and you're wearing the Kobes," that became part of the style for me. Growing up they'd give me pairs from Payless — you'd go to the back wall and pick up whatever was on markdown. 
The Jordan 2 was my first real Jordan and I was super proud to have those. Having that first Jordan from the clearance — in the "Chicago" colorway — was my first [moment of] heat. After that it became an addiction, my mom would give me $20 a week to buy school lunch but I'd just starve myself and freeload off my friends and save it. 
I had an older cousin who introduced me to NikeTalk and other forums, before Facebook Marketplace or Instagram, you know you lie about your age and start posting stuff. I'd finish homework and start obsessing over the cool sneakers, getting really hyped. I'd save that lunch money and the first pair I bought with my own money was the Baby Bear SBs — as a kid they were wild, you got a little Medicom BE@RBRICK toy with it, it was so sick. That first touchpoint wasn't about cool shoes, it was about the little details on these shoes, there was fur on them, crazy insoles, a toy that comes with it. 
How did your style adapt along with your growing appreciation for sneakers as you were getting older?
You know I was 12 or 13 on ISS and understanding what my holy grail was. The Supreme Blazers, for me, isn't everyone's holy grail. I remember in the early 2000s it was the Supreme Dunks, the Cement pack, the DMP pack, Paris Dunks, those are all holy grails — we're talking like $1.5k which is totally not the same today. The game completely changed.
There was an event called Dunkxchange that my older sister used to drive me to, and I was probably 13 doing sneaker deals with older guys smoking cigarettes in my face with my sister saying "Is this safe!?" I was collecting sneakers, from kid to university student to today, that just never left [me]. 
And is this how you stumbled across the Supreme x Nike Blazer?
I had about three pairs of these — the Supreme Blazers — because I needed to fund Collegium but they always came back into the daily rotation. They're probably the most expensive pair I've ever bought for about $1,500 three times over, but it was the shoe that I just wore so much. I fell in love with the storytelling and the design ethos — it's actually such a simple shoe. 
The Supreme Blazer isn't just a cool hyped shoe. You've got a snakeskin Swoosh, a quilted pattern that you'd never seen before, the leather felt crazy, there was a leather lining where you typically got nylon or polyester, it has the gold foil on the Swoosh, the gold anodized finish with the laser edge Supreme on it — having so many touchpoints that you didn't see in any other Nike… this was quality. 
What this shoe means to me is like… the first pair I got I traded my Baby Bears and everything. They're a grail outside of monetary value. 
Breaking all of this down then: what was your relationship with shoes such as this back in the day?
I knew what Dunks were, there was a site called PickYourShoes where I started to discover all of these different silhouettes. It was about recreating that feeling of having a great pair of shoes (going back to the Jordan 2s). I deep-dived into NikeTalk and that's where I discovered cool silhouettes and I always gravitated towards Blazers and SBs. I picked something unconventional, and even today Blazer collabs are not the hottest thing. I like the Supreme Blazers, and not necessarily the Supreme Dunks, because they just don't get the [same] love. 
Do you view the Blazer differently today?
I'm not influenced by anything that goes on because, for me, it was almost like a first love. Whether the Blazers were cool or not, I always appreciated it. I got the Thrashers, the Made in 81, the Milk Crates. 
I just like this unconventional route and they're always lowkey. One of my favorites is the Beautiful Loser Blazers. No one ever talks about those. I fell in love with the words "Beautiful Loser" because I felt like it signified me, growing up trying to figure out who I am. 
"I'm not the typical cool guy, I'm not a Jerry Lorenzo, I'm just a random kid from a small city that's just a pure sneaker collector."
As an Asian-American kid, there are typically stereotypes with your parents making you do all the honor classes and get straight-As. When you're in these nerdy classes you're kinda picked on, and for me, just discovering yourself (and a lot of my friends didn't understand this culture so I was alone in this), I wanted to be like the cool kids but I actually like school too. So the "Beautiful Loser" phrase, outside of the collaboration, was a special thing for me that I took into Collegium. 
I was scared to launch the brand — no one was going to support some Asain kid from the lower-middle class and f*ck with us. I went online and there were five people there and I was like, whatever I have to do this, no one else is putting us on or writing articles. I still stick with that term "Beautiful Loser" to remind myself that was me as a kid. I was the nerdy guy, but at home I low-key knew all the cool sneakers. 
Is "Beautiful Loser" a metaphor for Collegium?
It's absolutely a metaphor! I was talking about this with my friends and they were like, "I don't know how you guys are popular, you're a goofy goober." I'm not the typical cool guy, I'm not a Jerry Lorenzo, I'm just a random kid from a small city that's just a pure sneaker collector. 
I feel like if we're going to exist, I want to exist because people don't think we or I am cool. I don't have to have so-and-so wearing Collegium to be cool. I've built a community where it's a not-so-secret society, you don't have to buy this because Travis Scott or Kanye West wore them. It's a pure appreciation for product. I don't want to say if you wear our product you're a loser, but that's the metaphor. 
I heard that the Supreme Blazer actually inspired your brand Collegium.
It so heavily influences it. You can tell. Even down to the laces — the Supreme Blazer had premium cotton laces with a metal aglet and it came with sail, red, and black pairs, and the little lace bags, it's exactly what Collegium has today.
Given your understanding of sneakers, how does that influence what you do at Collegium?
My passion for sneakers is what drove this. Growing up with my obsession with collecting went into all aspects of life — my first job I was 15 and I needed to get this permit signed so I could work at Finish Line and backdoor myself all these Jordans! 
Going through school as a stupid sneaker collector, buying and reselling to make as much money as I could, I wrote my personal statement for university and sneaker reselling wasn't really much of a thing. But I wrote about reselling sneakers at Dunkxchange and I got a 4.2 and played every sport, a flawless resume, and I got rejected from every university. But I stuck with it and went to a basic community college, and at the time I upgraded to Nordstrom — you used to have to wear a suit and dress shoes, penny loafers and combat boots with the suits — and I started to understand designer shoes. The [Balenciaga] Arena, the YSLs, Common Projects, and that became that. 
We started this Instagram about the Nike Roshe Run. I was part of an online group called Team Roshe and it was one of the first to get to half a million followers, and I was doing customizations, and we had a network. I love the global community and the analog dialogues are very different from what they are today. Nike caught wind of my account and flew us out to the campus and wanted to know how we amassed these followers. That's what my second university letter was about — you might not get sneaker reselling, but what about this and getting flown to Nike? That got me into every university. 
I was sketching sneakers, drawing my atmos x Nike Air Max 1s, not paying attention to the classes, barely making it through. You see these job fairs and everyone's wearing suits trying to get into a consultancy firm — I didn't want to do that, I knew footwear. 
I sold my sneaker collection which was pretty much a life's savings, and I met a vendor at Nordstrom and asked him about leather, fitment, insole plans and he explained that to me. By the time I graduated I wanted to do this crazy dream, and all I needed was a contact in Italy. 
"I was the nerdy guy, but at home I low-key knew all the cool sneakers."
Me and my family flew to Rome — it was a whole mess — we got lost in the mountains and I had to knock on doors to get to the factory. We got started and had an all red, all black, and all-white colorway because that was 2014 — Buscemi had his things going on — and not knowing anything in the industry I just DM'd people to share the brand. Then I just kept going.
[Years later] during covid, we were stuck in wholesale. Bloomingdales couldn't take an order we did a year before, and I was like holy sh*t we're about to go under. I had no way of selling these Common Project-like shoes. So I took the last $50k in the account and said f*ck it, I'll make an original Destroyer.
With Collegium and the Supreme Blazer in mind, how does everything come together?
That attention to detail and materialization that was done, combined with collecting sneakers from an early age and [understanding] why I love the Supreme Blazers, became three pillars for Collegium: material, craft, wearability. These are all of the things that this Blazer had. 
It developed into where the Collegium Destroyer is today. This mentality and what it means to Collegium is why I chose it, it's the epitome of the journey of Collegium and why we make products and develop products, always reminding me why I do it to our quality level, but reimaging it through Collegium.