New NASA Images Show Drastic Effects of California Drought
Snow has completely melted almost a month ahead of schedule in the Sierra Nevada.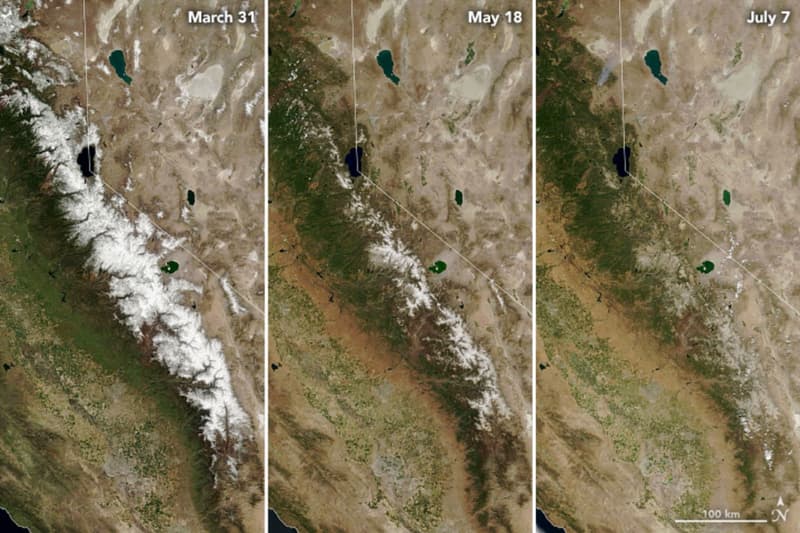 NASA has released a series of new images showcasing the devastating effects of a drought plaguing much of the western United States, as California endures dry conditions not seen since the 1970s.
Images taken by Moderate Resolution Imaging Spectroradiometer on NASA's Terra satellite depict the progression of melting snow in the Sierra Nevada, where snow has completely melted almost a month ahead of schedule after a below-average snowfall season. The rapid melt, which the space agency photographed on March 31, May 18, and July 7 when the snow had fully vanished, has left reservoirs without their necessary water supply for the drier months in summer and fall.
An additional series of images, taken by the Operational Land Imager on the Landsat 8 satellite, show Shasta Lake and Lake Oroville's worsening conditions between June of this year and June 2019. The 2021 images show "tan fringes" around the water that are normally underwater when the reservoirs are filled closer to capacity, according to NASA.
Shasta Lake — the largest reservoir in California — saw its lake level drop 106 feet in elevation in the two years since the first image was captured, the space agency said. Lake Oroville's lake level dropped 190 feet in that time.
Mountain snow melted away nearly a month ahead of schedule, leaving reservoirs without their usual inflow of freshwater. https://t.co/f8gVJKzsqu pic.twitter.com/6nZoLMdVfV

— NASA Earth (@NASAEarth) July 15, 2021
NASA said that California has conserved enough water to alleviate concern regarding water shortages at this time, but continual snow droughts could potentially pose serious danger in the future.
Earlier this week, NASA warned that a "wobble" in the Moon's orbit could potentially worsen the climate disaster.