Best New Tracks: Lil Nas X x Jack Harlow, Isaiah Rashad, Tyler the Creator x Lykke Li and More
Head into the weekend with these 10 music projects.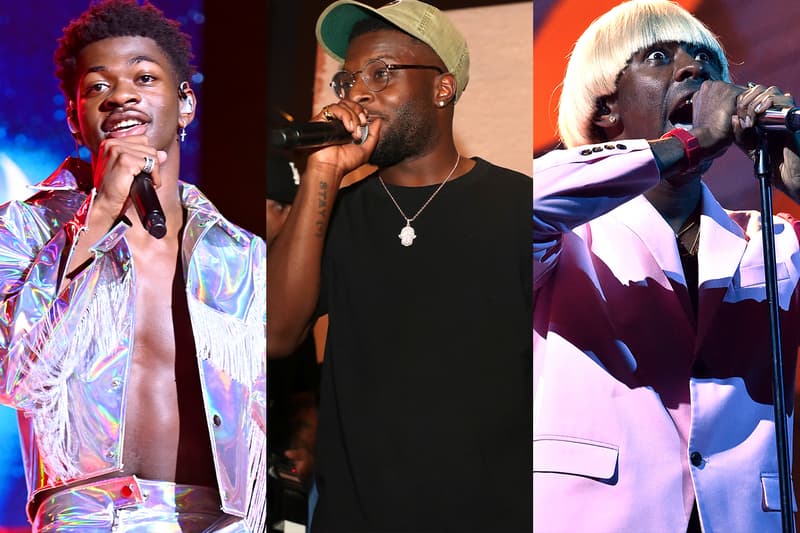 As the week in music comes to a close, HYPEBEAST has rounded up the 10 best projects for the latest installment of Best New Tracks.
This week's list is led by Lil Nas X x Jack Harlow and Isaiah Rashad x Doechii x Kal Banx, who both released brand new singles from their forthcoming albums, as well as a Lykke Li remix from Tyler, the Creator that's finally on streaming. Also joining this selection are Dave and Leon Bridges with their latest full-length releases, singles from Samm Henshaw, Logic, Jordan Rakei, Boys Noize and TOMMY €A$H, plus a Metallica cover from J Balvin.
Lil Nas X x Jack Harlow – "INDUSTRY BABY"
Lil Nas X enlisted the help of Jack Harlow for "INDUSTRY BABY," his newest single that's produced by Kanye West and Take A Daytrip. The track is set to appear on his forthcoming debut studio album Montero, which he revealed to Apple Music is "pretty much finished." He added, "But you know, secretly, I, as we were just talking about like moments and whatnot, I pushed the album back from where I was originally going to drop it because of that fact that I want to give these singles some more time to breathe before I like drop music videos for songs that are already been out for a long time or whatnot. But yeah, I'm really in a great space. I'm in a happy place. I'm in a super creative place. Really just going with the flow, making the best out of any situation that's thrown at me right now."
Listen: Spotify | Apple Music
Lykke Li x Tyler, the Creator – "I Follow Rivers"
Tyler, the Creator's remix of Lykke Li's "I Follow Rivers," which he debuted a decade ago, is officially available to stream as part of the Swedish artist's anniversary edition of Wounded Rhymes. For those who have never come across the remix, it includes a lovesick verse from Tyler that is reminiscent of his Goblin era.
Listen: Spotify | Apple Music
Isaiah Rashad x Doechii x Kal Banx – "Wat U Sed"
As the release of his upcoming album The House Is Burning looms near, TDE's Isaiah Rashad unveil the brand new single "Wat U Sed" with Doechii and Kal Banx. This marks the third track from his next record following "Lay Wit Ya" featuring Duke Deuce and the solo "Headshots (4r Da Locals)." The House Is Burning
Listen: Spotify | Apple Music
J Balvin – "Wherever I May Roam"
J Balvin channelled his inner heavy metal side for a cover of Metallica's "Wherever I May Roam." The rendition is set to appear on The Metallica Blacklist, a compilation album with covers of the band's most influential tracks. Proceeds from the cut will go to Metallica's All Within My Hands Foundation and St. Jude Children's Research Hospital.
Listen: Spotify | Apple Music
Dave - We're All Alone In This Together
Following up his Mercury Prize-winning album Pyschodrama, Dave finally returned with We're All Alone In This Together. Featuring appearances from Stormzy, Snoh Aalegra, James Blake and more, the new project's title was born from a conversation the artist had with Hans Zimmer during lockdown. "To anyone that feels how I felt in my highest points and my lowest, anxious, defeated, depressed, to the victims of the wind rush scandal, the victims of grenfell, the victims of war crimes in the Middle East, the victims of racism and corruption at the highest levels and all the other things that this albums about. To every single one of the kids that's ever sent me a message, listened to my music, bought a ticket, or done anything for me. I love you and just like my family, my people and my fellow migrants. Never forget. We were born of the water. But tried in the fire. We're all alone in this together," he wrote in a lengthy Instagram post.
Listen: Spotify | Apple Music
Leon Bridges - Gold-Digger Sound
Leon Bridges finally dropped off his first studio album in three years, Gold-Digger Sound. The 11-track project follows 2018's Coming Home and features Terrace Martin, Robert Glasper and Ink. "I spent two years jamming in what often felt like a musician's paradise," the Texas-raised artist said. "We effortlessly moved from the dance floor to the studio. We would be finishing our tequilas at 10:00 AM and waking up with coffee and getting to work at 10:00 PM. It was all for the love of R&B and musicianship."
Listen: Spotify | Apple Music
Boys Noize x TOMMY €A$H – "Nude"
German producer Boys Noize teamed up with TOMMY €A$H for "Nude," a new single from his forthcoming album Polarity. "This song is the epic result of the moments Tommy and I had together in my studio in Berlin raving till the sun came up, alternating between those opposite musical forces that drive rushes of energy: soaring melodicism and hard, atonal percussion," he said in a statement. "Catching that rare moment of Tommy singing softly is a personal highlight. "Nude" is an expression of our 2020 utopian dreams, everyone raving naked and free together in a time of social distance."
Listen: Spotify | Apple Music
Samm Henshaw – "Grow"
Samm Henshaw unveiled his latest single "Grow" and an accompanying music video with Tiana Major9. Produced by Josh Grant, "Grow" is the second installment of his Untidy Soul series project and chronicles the ups and downs of a relationship. "Grow is just a song about understanding that the hard parts of a relationship (any relationship) are necessary for growth & strength and that we shouldn't give up at the first sign of trouble," the British-Nigerian R&B/Soul singer said in a statement.
Listen: Spotify | Apple Music
Jordan Rakei – "Family" (Acoustic)
Jordan Rakei shared a stripped-back, solo acoustic version of his latest single, "Family." The cut is set to appear on his upcoming album What We Call Life, which drops September 17 and is billed as "the most personal" the artist has ever been with his lyrics.  "I wanted to hit my vulnerability barrier and be really honest," he said in a statement. "It's about my parents' divorce in my mid-teens but still having love for them no matter what."
Listen: Spotify | Apple Music
Logic – "Call Me"
Logic is steadily returning to music after a brief retirement, this week releasing a track called "Call Me." Produced by 6ix and Coop The Truth, the three-and-a-half-minute cut hears the artist deliver at a slower and more melodic pace, falling in line with last week's "My Way."
Listen: Spotify | Apple Music