Red Bull Announces 2021 BC One Breaking Competition Schedule
Coinciding with the announcement of breaking's inclusion in the 2024 Paris Olympic Games.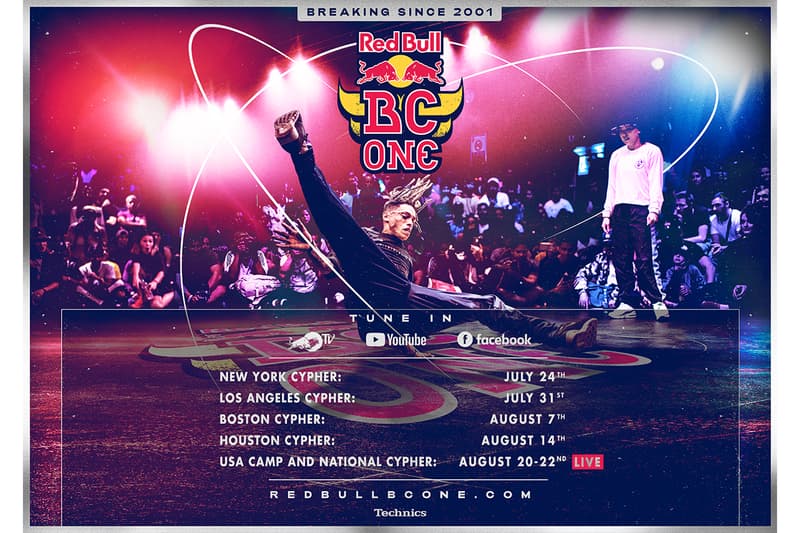 Red Bull's BC One breaking (competitive breakdancing) competition has announced its 2021 US competition schedule. Coinciding with the announcement that breaking will be included in the 2024 Paris Olympic Games, the BC One circuit will see qualifying stops in New York City, Boston, Los Angeles and Houston before a National Final in Orlando that will send its winners to the World BC One final in Gdańsk, Poland.
Each of the four qualifying stops will see breakers bring their best moves to a series of one-on-one showdowns, granting four b-boys and b-girls earn the right to head to Orlando for the national final. The decision to kick off the season in New York City was a purposeful one, as the Big Apple is the birthplace of breaking. "Bringing Red Bull BC One back to New York City, the foundation of our culture, gives the community a chance to embrace the scene's transformation while honoring the legacy of those who came before," said BC One All Star and former breaking world champion Neguin.
"I'm excited that the increased female representation in breaking is reflected at every Red Bull BC One cypher in the US, all the way to the National Finals with a full 16 B-Girl bracket," added b-girl Logistx, the youngest member of the BC One All-Stars. "It continues to affirm that B-Girls deserve to be highlighted in battles and can compete at a high-level just like B-Boys."
See the full contest schedule and a video of the 2020 BC One World Final below. Each event will be viewable on Red Bull TV, YouTube Live and Facebook Watch.
Red Bull BC One US Contest Dates
July 24 – New York City, NY – 350 Grand Street
July 31 – Los Angeles, CA – Avalon Hollywood
August 7 – Boston, MA – Big Night Live
August 13-14 – Houston, TX – Warehouse Live
August 20-22 – Orlando, FL – Ace Cafe
For more sports news, check out how how Cristiano Ronaldo became the first person to reach 300 million Instagram followers.