Lebron James and Netizens React to Alex Caruso's Weed Arrest
An off-season trip back home didn't quite hit the spot for the Lakers' guard.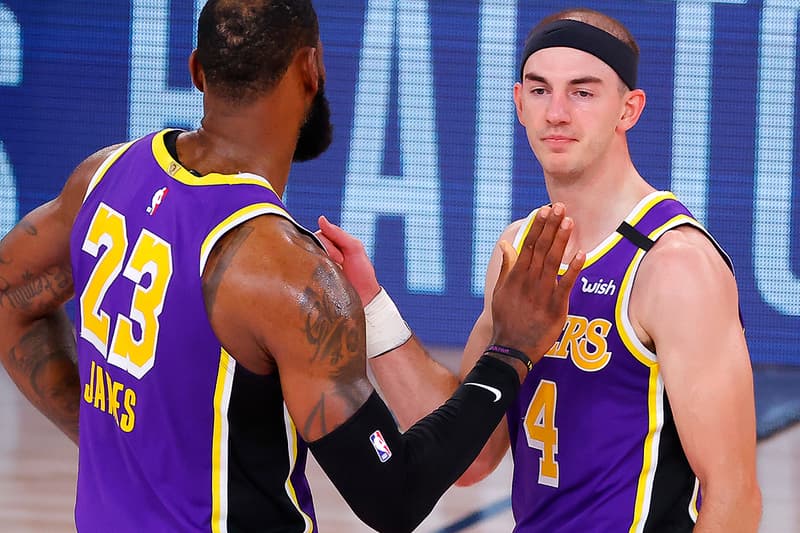 After the Los Angeles Lakers have been eliminated from the 2021 NBA Playoffs, Alex Caruso is having quite the off-season as the Lakers' guard was arrested on Tuesday for possession of marijuana and drug paraphernalia.
According to arrest records, the 27-year-old Texas native was arrested at his alma mater Texas A&M University as he attempted to board a plane at the Easterwood Airport in College Station with less than two ounces of weed along with a grinder. He was released the same day after paying a $4,200 USD bond.
Alex Caruso has reportedly been arrested in Texas for possession of weed. pic.twitter.com/iYqq4gc23b

— The Laker Files (@LakerFiles) June 23, 2021
A fan favorite of the Lakers' community, Caruso is an unrestricted free agent this summer and remains to be seen if the front office intends to extend his contract. The 6-foot-4 guard is known to have great chemistry with teammate Lebron James but didn't quite make a major impact in the 2020-2021 season as he averaged 6.4 points, 2.9 rebounds and 2.8 assists.
The NBA and Lakers organization have yet to respond to the matter, but James along with netizens had a field day with the news. Check out the reactions to Caruso's arrest below.
https://t.co/XSncnrFc25 pic.twitter.com/sq8HS3niXJ

— LeBron James (@KingJames) June 23, 2021
Alex Caruso coming back from Texas like pic.twitter.com/K7wcTveNd4

— Foo Foo (@BrownFOO_1) June 23, 2021
lebron having to leave cancun to bail alex caruso out of jail pic.twitter.com/VsYNKCRCab

— buckets (@buckets) June 23, 2021
Alex Caruso tomorrow morning pic.twitter.com/QL486Nn9nU

— Basketballfosho (@basketballfosho) June 23, 2021
Alex Caruso x "I got 5 on it" pic.twitter.com/RUIKgpKXv8

— Alex. ??????? (@Dubs4O8) June 23, 2021
The Clippers Alex Caruso
?

Day ruined with 1 possession

— Mike Goldfarb (@MikeGoldFool) June 23, 2021
Bronny James when Lebron takes him to Alex Caruso house knowing he about to go up in his weed stash pic.twitter.com/1xPLEGGiG0

— Rich (@UptownDC_Rich) June 23, 2021
For more sports news, Steph Curry joins growing list of NBA players not attending the Olympics.
DISCLAIMER: We discourage illegal cannabis consumption. Please be mindful of your local rules and laws on the use of marijuana.