Melvin Tanaya of Song for the Mute Shares His Father's Day Essentials
Balancing the role of a designer and father of two.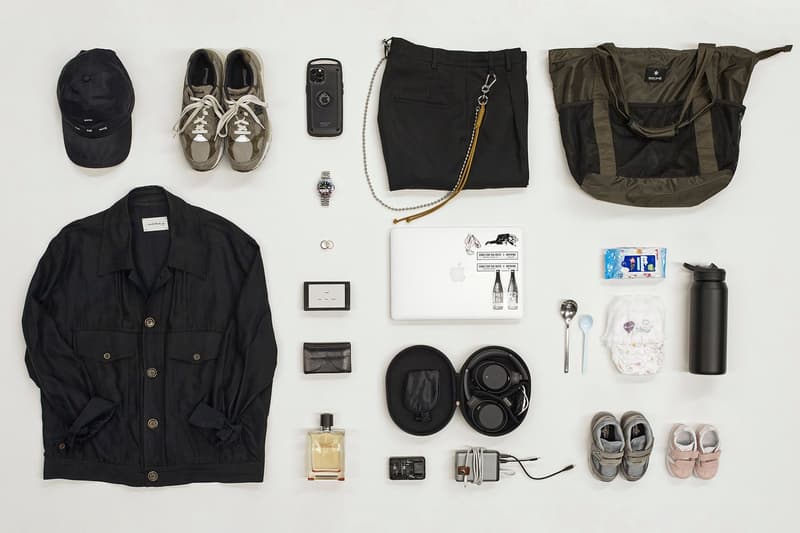 This latest Essentials celebrates fatherhood with Father's Day just around the corner. Joining us is Song for the Mute's Melvin Tanaya — a new father of two with both children under the age of two.
Preparing for the upcoming 2022 Spring/Summer season for SFTM, Tanaya has been experiencing a different kind of busyness as he juggles playing both the role of a designer and father. Showing off his assortment of everyday carry items, Tanaya details items that he's been using for years as well as newly acquired possessions that he considered "essential" for his job as a full-time dad.
Terre D'Hermes (Eu de Parfum)
The only fragrance that I've used in the past 15 years since it was first released back in 2006. I have both the super large 200ml bottle that I keep in my room and also the travel pack that I always keep in my bag. I've never been good when it comes to scents so it's one of those things that I like to keep simple.
Song for the Mute OG Worker Jacket (SS17 BEAU)
Not only is it my most worn jacket to date (even 4 years later!) but it was also the piece that changed everything for the brand. It was the first time that we introduced the Worker Jacket silhouette into our collection and the rayon used in this piece was the first collaboration between SFTM and an old traditional Japanese mill located in Gifu, Ichinomiya. The mill is run by one single man currently in his 80s. It's the perfect all-season jacket. As you can see, it still features the old SFTM logo and the old buttons we used to do.
Rolex GMT-Master 1675 (1971)
I've always preferred vintage watches and this is the gift that I bought for myself when SFTM turned 10 years old.
Loewe Business Card Wallet + Song for the Mute Business Card and MA+ Wallet in Calfskin
These are the two wallets I always have with me wherever I go. My role in the business requires me to have my business card at all times. The Loewe was a birthday gift from my SFTM team from a few years back. The MA+ wallet is a gift from my wife over 13 years ago.
Tumi All-Region Converter + USB Charger
Absolute travel essentials that I can't live without. It must have been over 10 years ago that my mother gifted me this Tumi converter and until this day people still ask me where they can their hands on this. It's super compact and it features a USB plug as well on the side.
Sony WH-1000XM3 Headphones + Sleep Mask
These trusty Sony headphones have great noise canceling and are probably my most used item after my phone and laptop. When the kids fall asleep, these come on. Sleep has also become somewhat scarce for me so the sleep mask really helps.
Dad Supplies
Nappies
Pigeon Anti-Bacterial Wipes
Camelbak Water Bottle
2x Sized Spoons
New Balance 990v5 for Kids
adidas Gazelle for Kids
Dad life essentials. We have two kids (both under two years old) so these are the items that I have in my Snow Peak tote. It has become our official baby bag due to its super lightweight and generous size. Every parent knows that you always need extra nappies for emergencies and anti-bacterial wipes are a must. There's an 18-month difference between my two girls so we need different sized spoons. A family water bottle that we all share and the two shoes are just a representation of my kids – who both have become the "essentials" in my life.
In other fashion news, Wave Kentaro preps "POCARI SWEATS 2.0" collection for Father's Day.