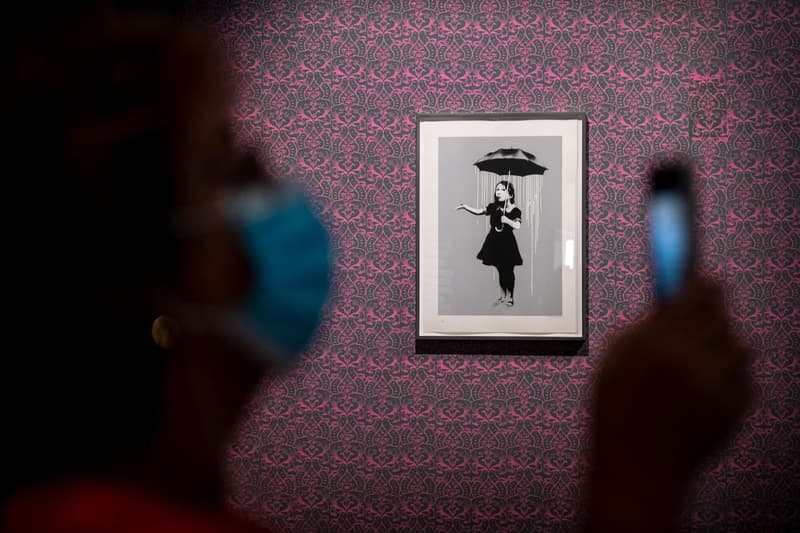 Banksy May Soon Have To Unmask Himself To Keep His Trademarks
The enigmatic artist has reportedly lost rights to four of his artworks.
---
One of the art world's most enigmatic artists, Banksy, has amassed international attention due to his anonymity. The high-profile street artist has had works appear all over the world, with one recently fetching over $20 million USD at auction. But the reclusive figure may soon have to come out of the shadows in order to claim ownership of his artworks.
According to The Telegraph, The European Union Intellectual Property Office has recently stripped the artist of trademark rights to two of his artworks, citing his refusal to disclose his identity. The EU panel found that his trademarks filings were made in "bad faith," and that his "identity cannot be legally determined," thus hindering himself from being protected under copyright laws.
According to the outlet, these works were Girl With Umbrella and Radar Rat. UK card greeting company Full Color Black, who has recreated Banksy's artwork for use in their products, persuaded the EU office to cancel Banksy's trademarks. In total, the artist has reportedly lost the rights to four of his artworks, the other two pieces being Flower Thrower and Laugh Now.
Banksy's representatives, Pest Control Office Ltd, commented on the situation in a statement on their website:
"You are welcome to use Banksy's images for non-commercial, personal amusement. Print them out in a color that matches your curtains, make a card for your gran, submit them as your own homework, whatever."
It continues: "But neither Banksy or Pest Control license the artist's images to third parties. Please do not use Banksy's images for any commercial purpose, including launching a range of merchandise or tricking people into thinking something is made or endorsed by the artist when it isn't. Saying 'Banksy wrote copyright is for losers in his book' doesn't give you free rein to misrepresent the artist and commit fraud. We checked."
In related news, Sotheby's started accepting cryptocurrency with a recent Banksy artwork auction.