Sotheby's Will be Accepting Cryptocurrency in Upcoming 'Love Is in the Air' Banksy Auction
Uniting the biggest disruptors in finance and art.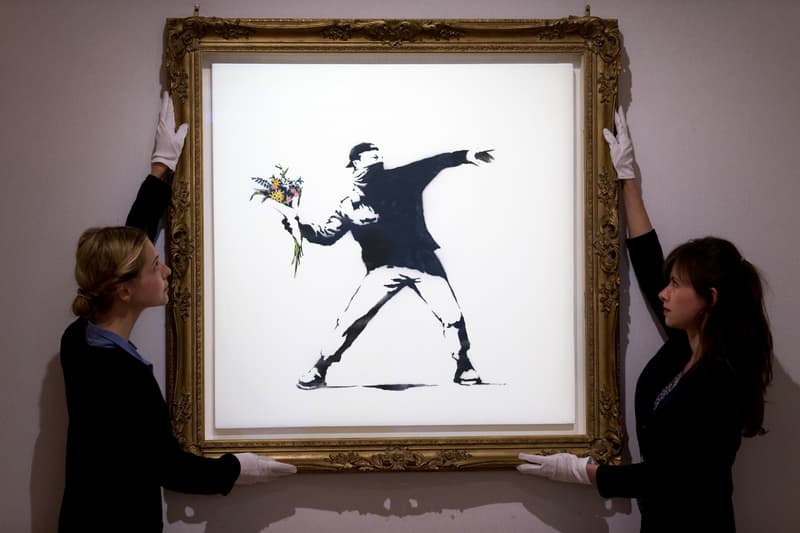 Sotheby's has announced that it will be accepting Bitcoin (BTC) and Ethereum (ETH) payments in the upcoming Banksy art sale, paving the way for the use of cryptocurrency in the art world.
The auction house is no stranger to the world of crypto, as they organized non-fungible token (NFT) artist Pak's The Fungible collection sale back in March. Due to indifference of the decision to accept digital currency, Sotheby's stated in its announcement: "The pairing brings together the biggest disruptor in finance [cryptocurrency], with one of the most notable disruptors in the art world – Banksy."
Banksy's Love is in the Air painting is estimated at $3 million USD to $5 million USD and payments will be processed through Coinbase Commerce.
The art world has been slowly adopting the use of the blockchain as it delivers a way to conserve data immutably as well as to authenticate artwork. Rivaling auction house, Christie's has also hopped on the wagon as it sold Everydays NFT by Beeple in March, followed by conducting sales for a series of Ethereum-based NFT artworks, called CryptoPunks.
In case you missed it, Joseph Lee animates impasto portraits in his first NFT collection.