Seth Rogen Says He Will No Longer Work With James Franco After Sexual Misconduct Allegations
"It has changed many things in our relationship and our dynamic," he said.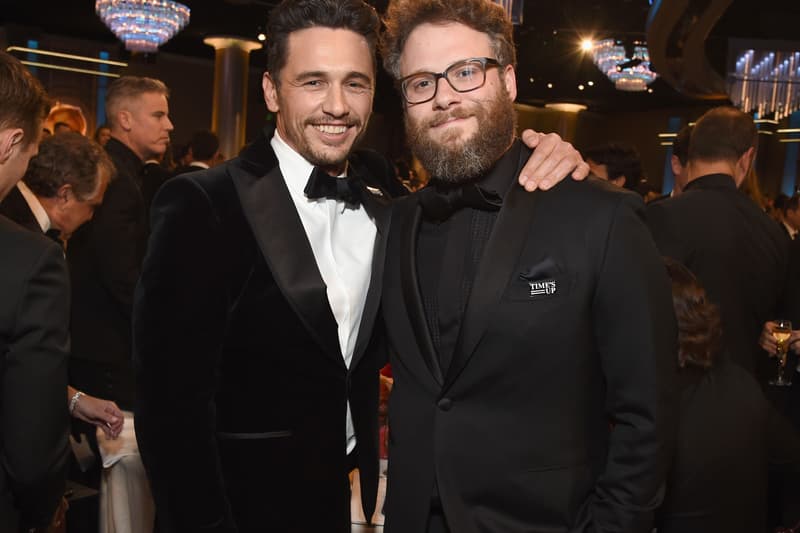 Seth Rogen said in an interview on Sunday that he has no plans to work with longtime friend and collaborator James Franco after several women accused Franco of sexual misconduct.
In an interview with The Sunday Times to promote his new memoir, Yearbook, Rogen confirmed that he stopped working with Franco in 2018 after five women came forward accusing the Oscar-nominated actor of inappropriate or sexually exploitative behavior.
"I … look back to that interview in 2018 where I comment that I would keep working with James, and the truth is that I have not and I do not plan to right now," he told the publication.
"I can say it, you know, it has changed many things in our relationship and our dynamic," he said of his personal and professional relationship with Franco, who he starred across in the 1999 series Freaks and Greeks as well as films including Pineapple Express, This Is the End, and The Disaster Artist.
Most recently, actress Charlyne Yi took to Instagram to share her experience working on The Disaster Artist set.
She wrote: "When I tried to break legal contract & quit Disaster Artist because James Franco is a sexual predator, they tried to bribe me with a bigger acting role… They minimized & said Franco being a predator was so last yr and that he changed… when I literally heard of him abusing new women that week." Yi then goes on to address "Seth Rogen and enablers," stating that they need to be held accountable.
View this post on Instagram
When asked about Yi's claims by The Sunday Times, Rogen responded, "What I can say is that I despise abuse and harassment, and I would never cover or conceal the actions of someone doing it, or knowingly put someone in a situation where they were around someone like that. However, I do look back at a joke I made on Saturday Night Live in 2014 and I very much regret making that joke. It was a terrible joke, honestly."
The joke in reference was made during Rogen's 2014 monologue as the host of Saturday Night Live, where he referenced messages that had surfaced at the time between Franco and a teenage girl, in which he allegedly arranged to meet up with her.
Reading from a pretend journal entry, Rogen said, "I decided to prank James Franco. I posed as a girl on Instagram, told him I was way young; he seemed unfazed. I have a date to meet him at the Ace Hotel."
Franco has not yet commented on Rogen's interview.
In other news, Rogen was the reason that Jonah Hill turned down a role on Transformers alongside Megan Fox and Shia LaBeouf. Read the industry advice the comedian had to share.