Louis Vuitton Debuts Official 2021 Monaco Grand Prix Trophy Travel Case
The start to a multi-year partnership.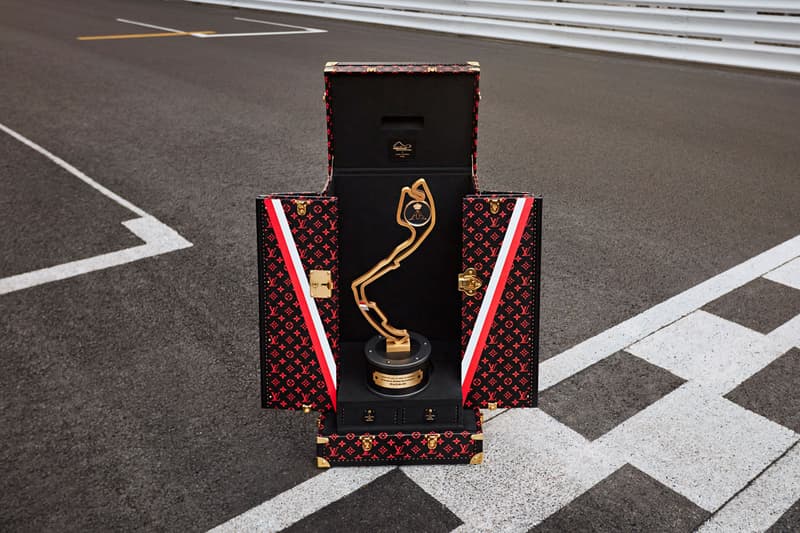 Following a basketball-backed capsule collection in line with its three-year creative partnership with the NBA, Louis Vuitton has just announced its next multi-year collaborator: Automobile Club de Monaco, the organization behind the leading Formula One motor racing event, the Monaco Grand Prix.
To kick off the collaboration, the winner of this year's highly-esteemed race will be presented the victorious accolade in a Riviera-inspired Louis Vuitton trophy travel case.
Built in the Maison's long-standing Asnières studio just outside of Paris, the trunk honors the Grand Prix's 78th year with a monogram canvas in the red shade of the Monaco flag, embellished with an enlarged letter V — for "victory" — in red and white stripes. The trophy, which portrays an outline of the 19 turns on the track, will be presented to the race's winner on May 23.
"At almost 300 kilometers per hour (186 mph) between the rails, it's the Formula 1 Grand Prix that all drivers aspire to win one day," said Louis Vuitton Chairman and CEO Michael Burke in a statement. "Today, we are proud to be associated with the race and to together start writing a piece of history. The trophy trunk epitomizes 'Victory travels in Louis Vuitton' — witnessing the next victories and continuing to carry legends."
At the pinnacle of motor racing, the Monaco Grand Prix — cancelled last year due to the ongoing pandemic — will make its grand return the last weekend in May. The event's organizers have set the capacity to 7,500 ticketholders per day, roughly 40 percent of the available seating in the stands. Previous winners of the Grand Prix include Sebastian Vettel, Nico Rosberg, Daniel Ricciardo and Lewis Hamilton, who won the last race in 2019.
The Monaco Grand Prix trophy travel case is the latest addition to Louis Vuitton's ever-growing repertoire of luxury award trunks. In the past, the label has crafted monumental iterations for the NBA's Larry O'Brien Trophy, FIFA's World Cup, and League of Legends' championship trophy.