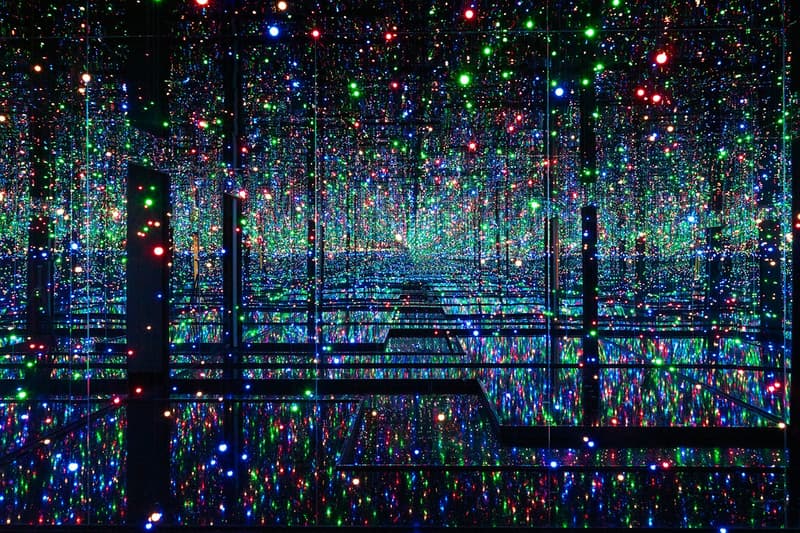 10 of the Best Art Exhibitions Reopening in London in 2021
From big names like Hockney and Kusama to the launch of London Gallery Weekend.
---
After non-essential retail and outdoor hospitality reopened last month, allowing the U.K.'s bars and restaurants to welcome customers after months of closures, the U.K. is now poised to allow the next relaxing of lockdowns. One of the key changes in this phase of restrictions easing is the opening of art galleries, many of which have been closed for the entirety of 2021 so far.
While commercial galleries were permitted to open in April, next week marks the first time that national institutions such as the Tate Modern and Whitechapel Gallery can welcome guests. Additionally, a number of venues across London are due to take part in the London Gallery Weekend, welcoming people back to locations across the capital.
As spaces prepare to open their doors, we've highlighted a number of the best exhibitions coming to London.
"David Hockney: The Arrival of Spring, Normandy, 2020" at the Royal Academy
One of the U.K.'s best-loved artists David Hockney is due to stage a special exhibition of his recent works at the Royal Academy. All 116 works in the exhibition were inspired by watching Spring unfold at his house in Normandy, France, before being "painted" on Hockney's iPad. Each piece was then printed onto paper in a process overseen by the artist.
The Spring-inspired works were all produced by Hockney over a period of intense productivity in Spring 2020. The exhibition then shows these works almost exactly a year after they produced under the first COVID-19 enforced lockdown, as the gallery explains, "this exhibition will be a reminder of the constant renewal and wonder of the natural world — and the beauty of spring."
David Hockney's new exhibition opens at the Royal Academy on May 23 and runs until September 26.
"Sunil Gupta: From Here to Eternity" at The Photographers Gallery
The Photographers' Gallery's exhibition of Sunil Gupta's work — which reopens for just two weeks after being forced to close during the last lockdown — is the first major retrospective of the U.K.-based photographer. Covering a career that began in the 1970s, the exhibition explores the various styles used by Gupta across his career, as well as the role his work has played in the fight for LGBTQ+ rights across the world.
"From Here to Eternity" begins with Gupta's street photography in the '70s, before moving into his narrative portraits, staged scenes and explorations of digital image making in the early '90s. Alongside his photography work, the exhibition explores his activism, spanning from his time in New York's Gay Liberation Movement in the 1970s to his work campaigning for gay liberation in India.
Sunil Gupta: From Here to Eternity runs from May 17 until May 31 at The Photographers' Gallery.
Bloomberg New Contemporaries at South London Gallery
The Bloomberg New Contemporaries exhibition — an annual spotlight of emerging artists — will return to South London Gallery on May 19. The open-submission exhibition features work from 36 artists, each of whom was selected from over 1500 applicants by a panel of judges including Alexandre de Cunha, Anthea Hamilton and Linder.
The delayed 2020 edition features works from a variety of disciplines, covering drawing, painting, sculpture, installation, sound and moving image.
Bloomberg New Contemporaries opens on May 19 and runs until June 6 at South London Gallery.
"Tom Sachs: Ritual" at Thaddaeus Ropac
Tom Sachs is returning to London for the first time since his Swiss Passport Office installation in 2018. His new exhibition, titled "Ritual" and taking place at Thaddaeus Ropac, was originally shown in Paris and features sculptures that he has created over the last 12 months. All of the works in the exhibition are themed around urban ritual and consumerism, with familiar objects taking on new meanings ranging from freedom and domesticity to drug trades and urban surveillance.
There is a particular focus on household items, with Sachs taking inspiration from late night corner shops and their community roots. These items have been reconstructed using Sachs' signature bricolage aesthetic, from everyday materials such as plywood, cardboard, resin, tape and paint.
"Tom Sachs: Ritual" opens at Thaddaeus Ropac on June 3, and will run until July 31.
Jaclyn Conley at Skarstedt
As part of the inaugural London Gallery Weekend, Skarstedt is showing a collection of paintings from Connecticut-based artist Jaclyn Conley. The body of work on display sees Conley take inspiration from historical images to create pieces that look at the present-day social and political concerns of American life.
Using famous works and documentary photography as a basis, Conley creates collages using oil paintings on wooden panels. Speaking about the work, Conley says, "In my paintings I'm referencing historic photographs in which I can often glimpse the roots of our current moment, as parallels or connections that can act as a framework to comprehend the latest headline of chaos or hope. There's been such a shared experience in this last year. The idea of collective inherited memory is something I'm interested in."
Jaclyn Conley's show opens at Skarstedt on June 3.
"JR: Chronicles" at Saatchi Gallery
Saatchi Gallery's exhibition "JR: Chronicles" tells the story of the French artist's life and career from his earliest days as a graffiti artist to the large-scale installations he is now known for. Curated by a team from the Brooklyn Museum, the exhibit covers some of JR's best-known projects including The Secret of the Great Pyramid — which was installed at the Louvre in 2019 — and Tehachapi.
While "JR: Chronicles" had initially been scheduled to run from November last year until February, lockdown restrictions across the U.K. pushed back its opening. The exhibition will now open on June 4, and remain open until October 3.
"JR: Chronicles" is organised by the Brooklyn Museum. The exhibition will open at Saatchi Gallery 4 June.
"Sneakers Unboxed: Studio to Street" at Design Museum
The Design Museum's "Sneakers Unboxed" exhibition has been eagerly anticipated since it was announced back in late 2019. The major exhibition, which runs until October, explores the design origins of some much-loved silhouettes, as well as charting the future of the footwear industry through new technologies and innovations.
"Sneakers Unboxed" will also chart how the sneaker moved from athletic origins, through counter cultural importance and to its adoption by luxury brands. Another stand-out feature of the exhibition is its focus on some of the most important collaborations, ranging from YEEZY and Travis Scott releases to earlier projects such as the atmos Air Max 1 Safari and Yohji Yamamoto's work with adidas. Additionally, the exhibition includes data visualizations from StockX, showing the power of the global sneaker market.
"Sneakers Unboxed: Studio to Street" will open its doors on May 18, and run until October 24 at the Design Museum.
"Peter Hujar: Backstage" at Maureen Paley
East London gallery Maureen Paley is hosting its fourth exhibition of works by Peter Hujar. Titled Backstage, the exhibition focuses on images of drag performers backstage at the theaters and nightclubs of New York throughout the 1970s and early 1980s. The images, which give a glimpse at bohemian New York and the underground drag culture of Hujar's lifetime, also take on a new meaning after over a year of nightclubs and venues across the world being forced to close their doors.
"Peter Hujar: Backstage" opens at Maureen Paley on May 15, and will run for a month. The gallery is currently appointment only.
"Yayoi Kusama: Infinity Mirror Rooms" at Tate Modern
Yayoi Kusama's installation at Tate Modern had originally been planned to open in May 2020, beginning the London gallery's 20th anniversary celebrations. Instead, the Japanese artist's largest Infinity Mirror Room will open to Tate members on May 18, and the wider public on June 14.
The exhibition features two Infinity Mirror Rooms — titled Infinity Mirrored Room – Filled with the Brilliance of Life and Chandelier of Grief — alongside early photographs of Kusama's experimental performances and events.
"Yayoi Kusama: Infinity Mirror Rooms" is open from May 18 2021 until June 12 2022 at Tate Modern.
"Eileen Agar: Angel of Anarchy" at the Whitechapel Gallery
With more than 150 works, this Eileen Agar exhibition at the Whitechapel Gallery tells the amazing story of the British artist's career spanning seven decades. Titled "Eileen Agar: Angel of Anarchy," the exhibition begins with her early works influenced by her time at The Slade, before covering her Cubism period and her inclusion in 1936's International Surrealist Exhibition — alongside Pablo Picasso, Marcel Duchamp and Salvador Dali.
The exhibition, which runs until August 29, will also include a range of Agar's later works, including a number of pieces from private collections that are rarely seen. Complimenting the works on display will be a selection of archival material that has only recently been discovered.
"Eileen Agar: Angel of Anarchy" at the Whitechapel Gallery on May 19 and runs until August 29.