'Charlie Bit My Finger' Video Becomes Latest Meme to be Auctioned as an NFT
The boys spoke to HYPEBEAST about being a part of internet history.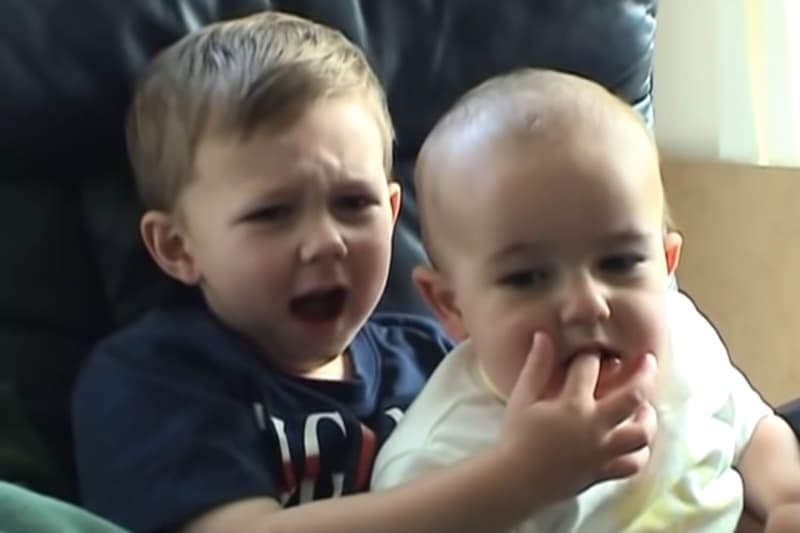 "Charlie Bit My Finger," the beloved YouTube video that has been viewed by over 880 million people, will soon be up for auction as a 1-of-1 NFT before being permanently deleted.
The 56-second clip first went viral in 2007 after Howard Davies-Carr, the father of the two children in the video, casually uploaded it to YouTube for family and friends to view. The recording was meant to capture a "random moment as the boys were growing up," but quickly became an internet sensation.
"The video went viral before I can remember and it's always been a part of our lives," said Charlie Davies-Carr, the eponymous finger-biting baby who inspired his brother Harry to utter the now-famous phrase: "Ouch Charlie, that really hurt."
Charlie, who was just one-years-old at the time of the video's filming, said that although he and Harry achieved internet stardom at such a young age, they have still managed to live "quite normal lives."
Harry Davies-Carr, now 17, told HYPEBEAST that the video afforded them many opportunities they may not have experienced otherwise. "We know life would have been different without the video," he said. "Like, we wouldn't have gone on interviews, had talking parts in advertisements or had gone on a morning show in America, stuff like that."
The video will be auctioned off on May 22 via NFT platform Origin Protocol, the same platform that musician 3LAU used to sell his multi-million dollar NFT collection. Once the auction is closed, the video will be removed from the internet forever.
On Sunday, May 23, 2021, the original viral video, Charlie Bit My Finger, will be taken off of @YouTube and auctioned to the highest bidder on Origin's NFT launchpad. One winner will own a piece of internet history.

Read more: https://t.co/KOFM76JwTG https://t.co/33zNJy0svT

— Origin Protocol (@OriginProtocol) May 17, 2021
The winning bidder will also receive the opportunity to create their own parody of the video featuring the original stars. "This is not the end of the beloved video, but rather a new beginning," the Davies-Carr family writes.
Harry explained that the family decided to auction off the video as an NFT after witnessing the successes of other meme creators that utilized the blockchain technology.
"We thought it would be cool to see if we could do the same, seeing NFTs as a new, interesting and exciting part of the internet," he said. "And maybe it's optimistic, but if enough people heard about this, the video might get a bit closer to one billion views before it goes down, maybe we'll hit 900 million at least."
Origin Co-founder Josh Fraser told HYPEBEAST that deleting the video from the internet serves to heighten the meme's scarcity as an NFT. "While videos are deleted from YouTube every day, no one has ever had the audacity to delete a video with over 880 million views before," he said. " The family agreed this would be a novel way to show how serious they are about this sale and also give more value to the one lucky bidder who wins this historic auction."
He added that Origin was a natural fit to help the Davies-Carr family in listing their video as an NFT because the platform allows users to build unique websites with specialized branding, creating a more personalized experience. "One of the most important aspects of launching an NFT is the community you build around it," he explained.
Matthew Liu, Origin's other co-founder, said the "Charlie Bit My Finger" video aligns with the platform's long-term vision of creating accessible collectibles for a widespread audience.
"Our long-term vision is to enable any creator, including aspiring and undiscovered artists, to sell NFTs to their mainstream fanbases," he said. "We want to democratize NFT sales much like YouTube democratized content creation."