Chris Bosh, Paul Pierce and Bill Russell Join Basketball Hall of Fame 2021 Class
Marking the first time that the Hall of Fame will enshrine two Classes in one calendar year.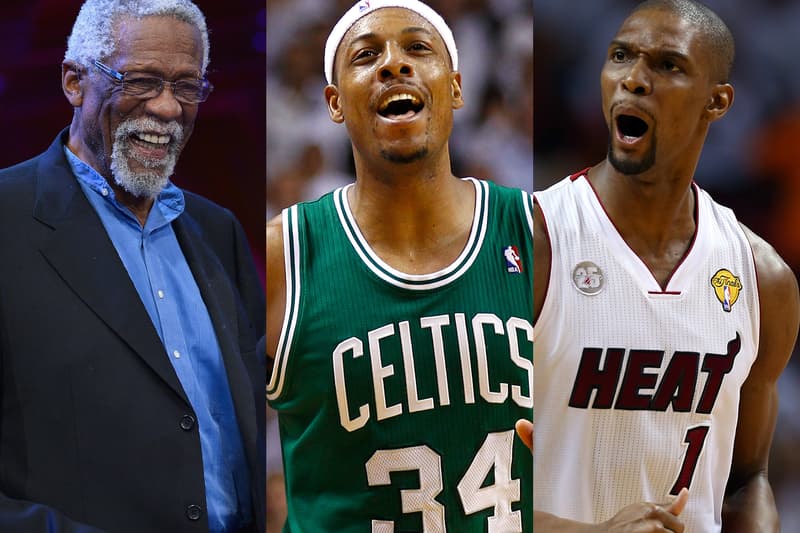 Following Kobe Bryant's induction into the delayed 2020 Basketball Hall of Fame, the NBA has announced the 16 honorees in the Class of 2021 Naismith Memorial Basketball Hall of Fame.
The league named two-time NBA champion and 11-time NBA All-Star Chris Bosh, NBA Finals MVP and 10-time NBA All-Star Paul Pierce, four-time NBA Defensive Player of the Year and NBA Champion Ben Wallace, seven-time WNBA All-Star and two-time Olympic gold medalist Yolanda Griffith and WNBA All-Star and three-time WNBA MVP Lauren Jackson, ninth-winningest coach in NBA history Rick Adelman, the first Black NBA head coach Bill Russell and two-time NCAA national champion Villanova coach Jay Wright from the North American and Women's committees, plus directly-elected enshrinees Val Ackerman, Cotton Fitzsimmons, Howard Garfinkel, Clarence "Fats" Jenkins, Toni Kukoc, Bob Dandridge and Pearl Moore.
"For the first time in our history, we'll enshrine two Classes in one calendar year," John L. Doleva, President and CEO of the Naismith Memorial Basketball Hall of Fame, said in a statement. "We couldn't be more excited to welcome the Class of 2021 to Springfield – the Birthplace of Basketball – where we can celebrate them and honor their remarkable achievements and contributions to the game."
The Class of 2021 Enshrinement kicks off on September 10 with the Enshrinement Tip-Off Celebration and Awards Gala, followed by the annual celebratory events on September 11.
In related news, watch Vanessa Bryant's speech during Kobe Bryant's enshrinement at the 2020 Basketball Hall of Fame induction ceremony.