Steph Curry Is Now the All-Time Scoring Leader of the Golden State Warriors With 17,818 Points
Surpassing Wilt Chamberlain's previous scoring record.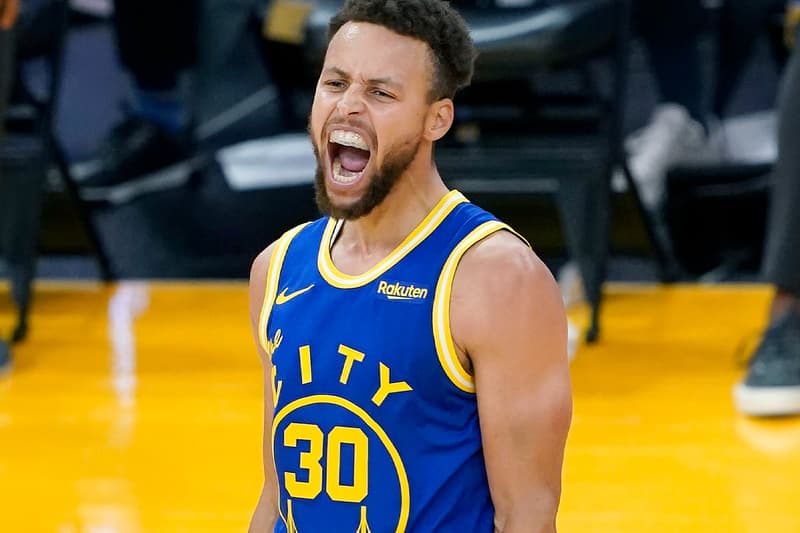 Steph Curry has made NBA history, once again. He is officially the all-time points leader for the Golden State Warriors, surpassing Wilt Chamberlain's previous scoring record of 17,783 points with 17,818 points.
Curry's record-setting basket came from a driving layup with just 1:40 left in the first quarter of the game against the Denver Nuggets on April 12. The sharp-shooter came into the game needing just 19 points to pass Chamberlain, finishing the first quarter with 21 points already under his belt. In a 116-107 victory against the Nuggets, Curry capped the night off with 53 points. He became the seventh player in all of NBA history to record multiple seasons with three or more 50-point games.
Warriors' head coach, Steve Kerr congratulates Curry stating, "It's just an incredible feat. Passing Wilt in anything statistically is sort of remarkable because his name is just all over the NBA record books. So the fact that Steph is about to break that record is just incredible and obviously a testament to what he's done here in his 12 years, what an impact he's made."
Curry comments on his achievement saying, "That's surreal to be honest. I don't know how many years he played here, but got a lot of buckets. Obviously, a legend who remains across the whole league, but obviously wearing a Warriors uniform and having been here my whole career, it's pretty crazy. So I've got a couple more points to score, hopefully some more wins in the process, but it's a wild thought in general."
Curry took to Instagram to commemorate the night. See the post below.
View this post on Instagram
Greatness. pic.twitter.com/Pb8nqWZtFR

— Golden State Warriors (@warriors) April 13, 2021
In other sports news, Julian Edelman is retrirting after 12-year career with New England Patriots.