Julian Edelman Retires After 12-Year Career With New England Patriots
The star receiver helped New England win three championships.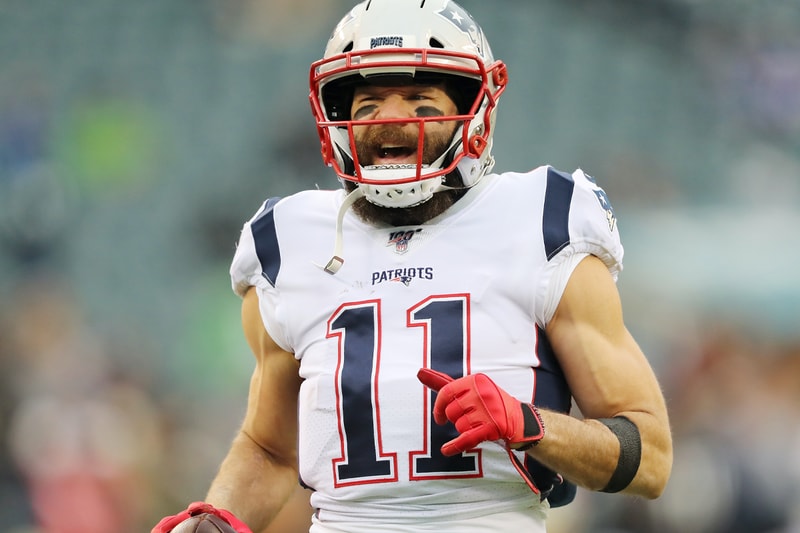 New England Patriots' star receiver, Julian Edelman has officially announced his retirement, taking to social media via a video post.
Sources have revealed to ESPN that Edelman's contract was terminated by the Patriots. In the course of his career, Edelman helped New England win three championships and was crowned MVP of Super Bowl LIII. The receiver, who turns 35 next month, was unfortunately limited to six games last season due to a chronic knee injury.
Edelman spent the entirety of his 12-year career as a Patriot, ranking second in NFL history with 118 postseason receptions, only behind Jerry Rice's 151. Patriots CEO Rober Kraft released a statement regarding Edelman's retirement, "Julian Edelman is one of the great success stories in our franchise's history. There aren't many players who earn an NFL roster spot at a position they have never played before. Julian not only did that as a seventh-round draft selection, but he is retiring with the second-most career receptions in franchise history and as a three-time Super Bowl Champion, including his last as Super Bowl MVP. No one was more committed to his craft and honing his skills than Jules. His explosiveness off the line, quickness in his cuts and elusiveness after the catch made him one of the hardest players to defend throughout his career."
Edelman finishes his career in second on the Pats' all-time chart for receptions at 620. He also takes fourth on the team's career receiving yards list with 6,8222 receiving yards behind Wes Welker, Rob Gronkowski and Stanley Morgan.
Final words from head coach Bill Belichick solidifies that Edelman was a force to be reckoned with on the field, "By any measure of what constitutes an elite NFL career — wins, championships, production — Julian has it all. Few players can match Julian's achievements, period, but considering his professional trajectory and longevity, the group is even more select. It is historic. This is a tribute to his legendary competitiveness, mental and physical toughness and will to excel. Day in and day out, Julian was always the same: all out."
Check out Julian Edelman's official statement below.
View this post on Instagram
View this post on Instagram
On the biggest stage and in the biggest moments, you always came through. You never lost that chip on your shoulder and you never let anyone define you as a person or player. I'm proud of you Jules. Love you @edelman11 https://t.co/7i5Qb6msor

— Tom Brady (@TomBrady) April 13, 2021
We 💙 you, @Edelman11. pic.twitter.com/NE2BpLvIfr

— Gillette Stadium (@GilletteStadium) April 12, 2021
What a statement by Belichick. He truly loved Edelman pic.twitter.com/vXJRWQfqMp

— Ben Volin (@BenVolin) April 12, 2021
In other sports news, Alex Rodriguez is finalizing a deal to purchase Minnesota Timberwolves and Lynx.