Starbucks Drops Special Merch to Commemorate 25 Years in Japan
Celebrating "The Power of Coffee" with exclusive mugs, tumblers and toys.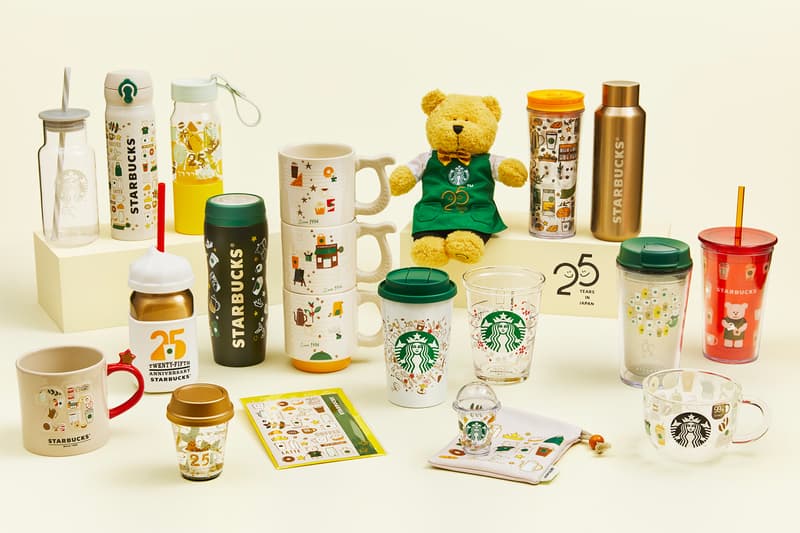 In the past two-and-a-half decades, Starbucks Japan has grown from a single store in Ginza to 1,600 outposts across the nation, serving over five million customers a week, according to the coffee giant. Now, Starbucks is launching a three-pronged celebration as part of the its 25th anniversary in Japan, centered around "the power of coffee and connection."
The first phase includes a limited edition merch collection rife with timely branding and crowdsourced smile-centric marketing campaign, coinciding with a video dubbed "#2525 ("ニコニコ," both "25" and Japanese slang for "smile") Replay" that explores the company's Japanese legacy.
Next, the company will roll out other measures that promise to foster community across all of Japan's 47 prefectures, perhaps hinting at campaigns that align with local chains. Starbucks Japan's final 25th anniversary endeavor will include a push to demonstrate the eco-conscious actions the company is taking "towards a sustainable future."
For now, the company is prepping a variety of Starbucks-themed merch that ties into the anniversary celebration. This ranges from tumblers, mugs and reusable cups to aprons and an adorable teddy bear all printed with a thematic logo and green accents that draw from the familiar Starbucks staff uniform. Starbucks Japan is no stranger to collectible merch: it frequently launches regional exclusives and even collaborates with famous brands like BEAMS and fragment design.
"As Starbucks first international market outside of North America, Japan has played a pivotal role in expanding Starbucks mission and values around the world through the power of coffee and connection," said Kevin Johnson, Starbucks President and CEO. "I'm proud of the remarkable achievements of our partners, and look forward to the next 25 years of leadership and growth in the Japan market."
"We would like to express our sincere gratitude to our customers in the Japanese market for the last 25 years," Takafumi Minaguchi, Starbucks Coffee Japan CEO and representative director continued. "Every day, we work with our now 40,000 partners to bring a the unparalleled Starbucks experience to Japan. We will continue to believe in the power of coffee, which is our roots, and take on the challenge of evolving and creating new connections in a new era."
Most recently, Japanese Starbucks stores imagined a series of banana-themed delicacies.