Dustin Poirier Calls Out Conor McGregor For Backing out of $500,000 USD Charity Donation
Going back and forth to outline the situation.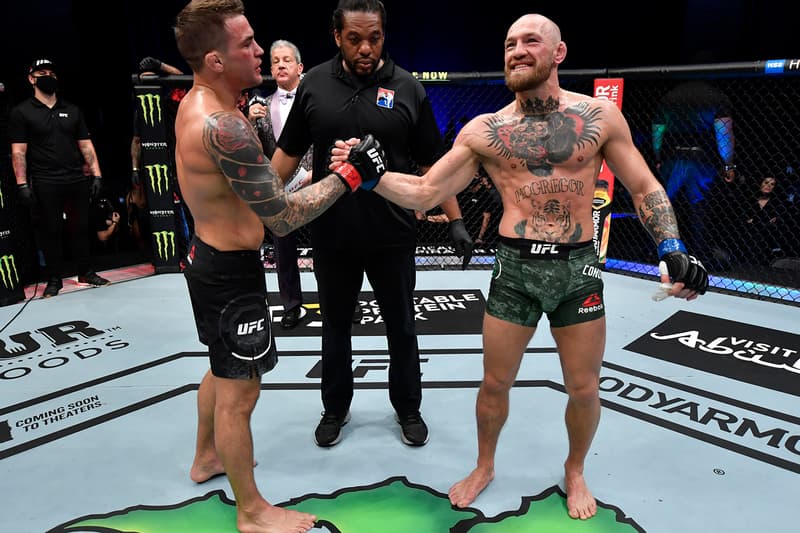 Shortly after predicting he would beat Dustin Poirier with a front kick knockout in the fourth round at UFC 264, Poirier scoffed at the bold prediction and called out Conor McGregor for backing out of a charity donation.
Ahead of their UFC 257 rematch, "The Notorious" has noted that he would be donating $500,000 USD to Poirier's The Good Fight Foundation. Reports reveal that both the verbal promise saw McGregor and Poirier's teams exchanging bank information ahead of the fight with plans for the donation to be made after. Responding to a fan, Poirier questions the sincerity of McGregor and revealing that his foundation has made three attempts to reach out without a response following his victory.
The call-out caught the attention of McGregor who outlined how the donation was not a debt and subtly questioning the legitimacy of The Good Fight Foundation as they did not detail where the money would be going.
Check out the back and forth between Dustin Poirier and Conor McGregor who are set to face off for a trilogy fight at UFC 264, July 10 below.
A donation, not a debt. We've been awaiting the plans for the money that never came. I do with all my donations. Know where it's going dot for dot. Otherwise it goes walking. As is the case with a lot of these foundations, sadly. You took the McG over the belt shows I was right.

— Conor McGregor (@TheNotoriousMMA) April 12, 2021
We thanked him because his team reached out fight week to initiate the process but ghosted us the past 2 months after the fight. My foundation has reached out 3 times since with no reply. We've moved past it! We will be announcing our next goal soon! Its a big one? https://t.co/mtiOFBsd2q

— The Diamond (@DustinPoirier) April 12, 2021
His team hasn't responded to our emails about anything involving my foundation after they reached out to us originally. All good, Dinner and talk was great but don't get on Twitter and be a tough guy lol.

— The Diamond (@DustinPoirier) April 12, 2021
You're ripped you inbred hillbilly. Why do you wink with your ears? You fucking brain dead hillbilly. 500k with no plan in place. Ye hang tight. Fool. You must be new to money. The fight is off btw. I'm going to fight someone else on the 10th. Good luck on your old contract kid.

— Conor McGregor (@TheNotoriousMMA) April 12, 2021
100% never a debt. You offered, we accepted, and like I said your Team never responded to our emails regarding the process of where funds would be put to work! July 10th you will taste defeat yet Again https://t.co/k3Cu9DG1Me

— The Diamond (@DustinPoirier) April 12, 2021
My team does their due diligence to make sure every donation meets the mark. My generosity is known. You will pay with your brain for this attempt at smearing my name. Shooting ass shelling ass bitch. Little bitch kicks from a shell. Good luck when you're caught. You're fucked.

— Conor McGregor (@TheNotoriousMMA) April 12, 2021
— The Diamond (@DustinPoirier) April 12, 2021
In case you missed it, get ready for the 50th-anniversary Birthday Cake Pebbles cereal Dymatize protein powder.