Doja Cat Unveils Debut NFT Collection and High-End Marketplace
Including a tier that will offer fans a chance to become the ultimate VIP for the artist's 2022 tour.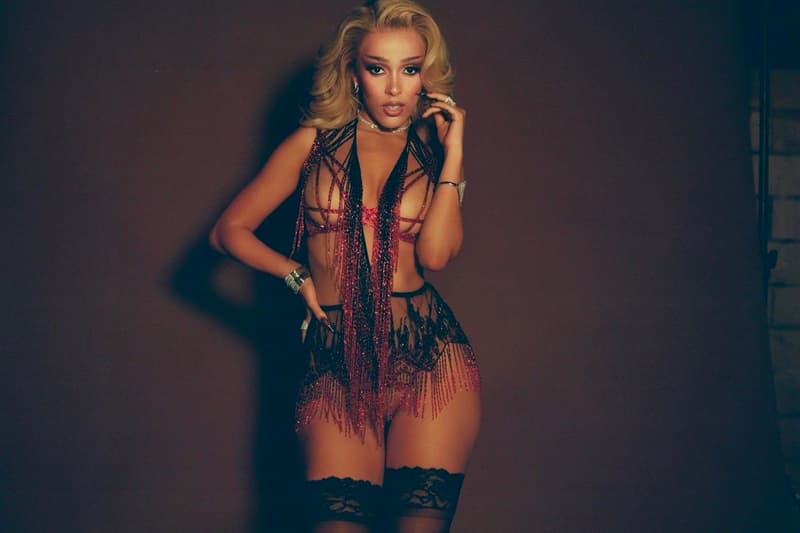 Doja Cat is cashing in on the NFT craze with her debut NFT collection and high-end marketplace, Juicy Drops.
The artist is giving fans the chance to own the company's very first release, which includes a collection of digital, 3D graphics features a spinning metallic Doja Cat in a gilded frame. Debuting in six different color variations, the collection is offered in several tiers: the Metallic tier arrives with platinum, gold and silver rarities, each individually numbered, while the Flavor tier has three additional rarities in Black Cherry, Watermelon and Plum. Fans who manage to collect all six of these rarities will also have the opportunity to be rewarded with an unlockable Mystery tier — a non-purchasable collectible drop that features highly-coveted perks, including becoming the ultimate Doja VIP for her 2022 tour.
In addition to being the home of Doja Cat's first NFT collection, Juicy Drops promises a highly engaging gamification and rewards system that will provide the most loyal fans one-of-a-kind experiences and sought-after 1 of 1 art pieces. Interested collectors will need an Ethereum-based crypto wallet as all purchases will be made via Ethereum.
"I'm helping to launch my NFT company so that I can actually own and control my art. I want to be able to make all decisions related to my creative vision and help other artists do the same. My ownership also allows me to direct how we can give back to causes that I truly believe in," Doja Cat said in a statement.
Alex Atallah, CTO and CoFounder of OpenSea, added, "Doja Cat is the first A-list female musician to drop artist-led NFTs on OpenSea, and we're excited to welcome her to the platform. We believe that blockchain technology and NFTs open up a wide range of new opportunities for the music industry, and we can't wait to see how her audience reacts to the content and unlockables."
Check out the official Juicy Drops store to pre-register.
Elsewhere in music, take a listen to Cordae's newest EP Just Until….