Rob Gronkowski's Debut NFT Card Collection Rakes in Over $1.2 Million USD
Capitalizing on the NFT craze with his own exclusive set of trading cards.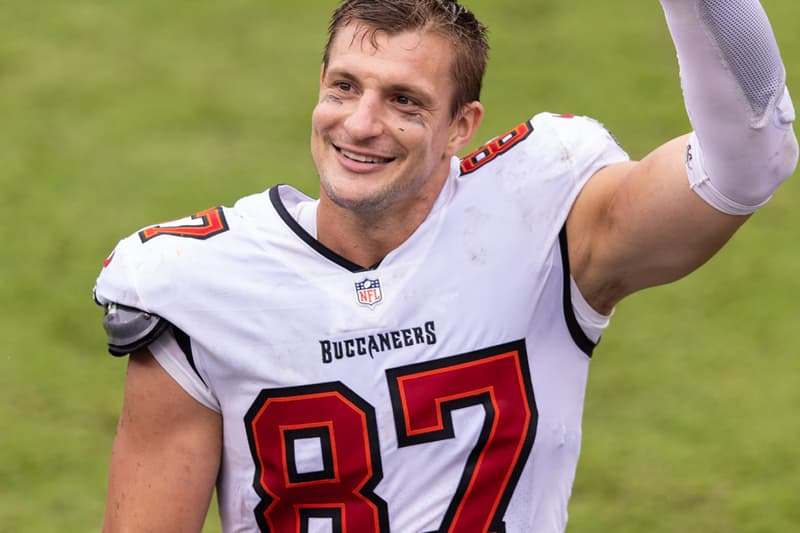 Rob Gronkowski's latest side hustle is proving to be quite successful after launching his own exclusive NFT trading card collection over the weekend.
According to reports, all but one of the 349 available trading card have been sold out. Gronkowski's collections included five unique cards with four of the cards featuring artistic renderings of one of Gronkowski's four Super Bowl appearances.
Each of the four cards has a total of 87 editions, synonymous with his #87 jersey number. However, the fifth card is limited to a single edition. The fifth card of the collection was the last to auction with the winner receiving a chance to meet Gronkowski in person as well as attend one of his NFL games with an all-access VIP pass. The total sale of the cards brought in more than $1.2 million USD, not a bad first auction for the tight end.
Rob Gronkowski is the first NFL player to hop on the NFT trading card phenomenon with his own exclusive collection. Check out Gronk's update on Twitter below.
My NFT features 4 cards that celebrate each of my 4 Championships! Each card is digitally signed by me & limited to just 87 editions. Plus, I'm releasing a special 1-of-1 card that's the crown jewel of the drop. Auction opens Thursday 7pm ET at @Opensea / https://t.co/YbQdX5DHbO

— Rob Gronkowski (@RobGronkowski) March 9, 2021
In other NFT news, Patrick Mahomes dropped NFT artworks on MakersPlace.