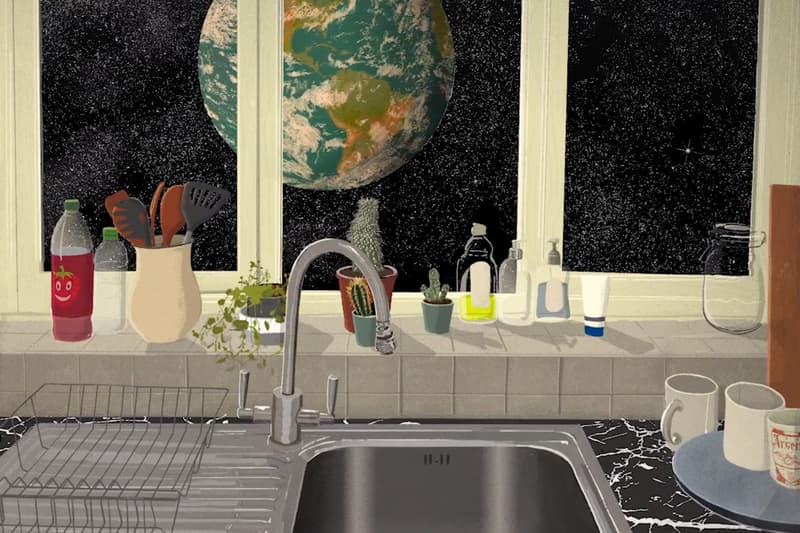 Reuben Dangoor Unveils NFT Animations of Life During Lockdown
Surreal scenes evoking the artist's personal experiences.
---
Acclaimed British illustrator Reuben Dangoor is preparing to launch his first collection of NFT artworks. Entitled Lockdown, the series reflects the artist's personal experiences from the past year amid the COVID-19 pandemic. One of the highlighted animations is a work called Anybody Out There? that portrays a scene of a kitchen sink and windows showing the Earth rotating as if the viewer is in outer space from the comfort of his or her home.
"I made this series whilst, like everyone, being stuck at home in lockdown. They have never been released because they were tricky to turn into screen prints. So i decided to take a step into the unknown with my first set of animated NFTs to bring these works to life a year after we first went into lockdown," said Dangoor on Instagram.
Dangoor is known for his whimsical illustrations and realist paintings that shed light on British culture and current affairs. He got his big break when his portraits of Stormzy, Skepta, Dizzee Rascal and D Double E. Reuben were unveiled in Tate Britain's "Legends of the Scene" exhibit in 2015.
The Lockdown series will launch on Maker's Place's platform this March 29 at 3 p.m. EST.
Elsewhere in art, Magnum Photos launched a Square Print Sale featuring iconic images of life's unexpected moments.